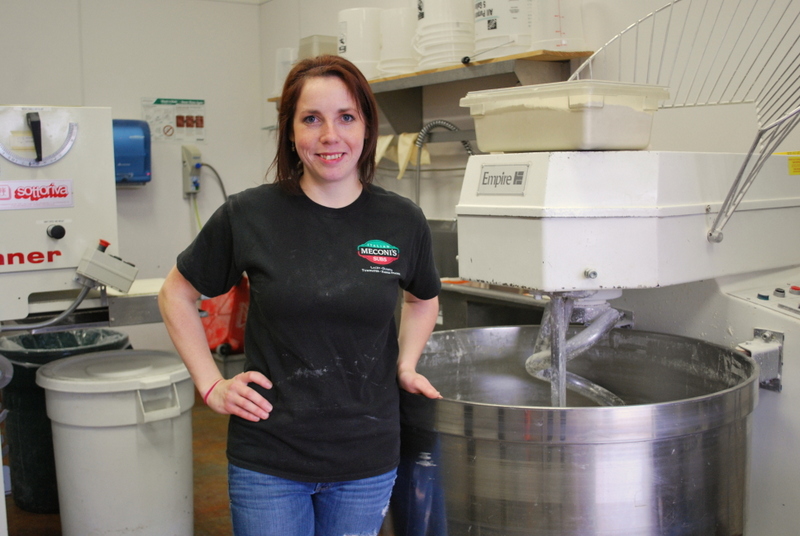 By Kate Scriven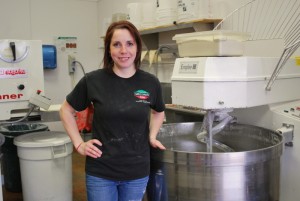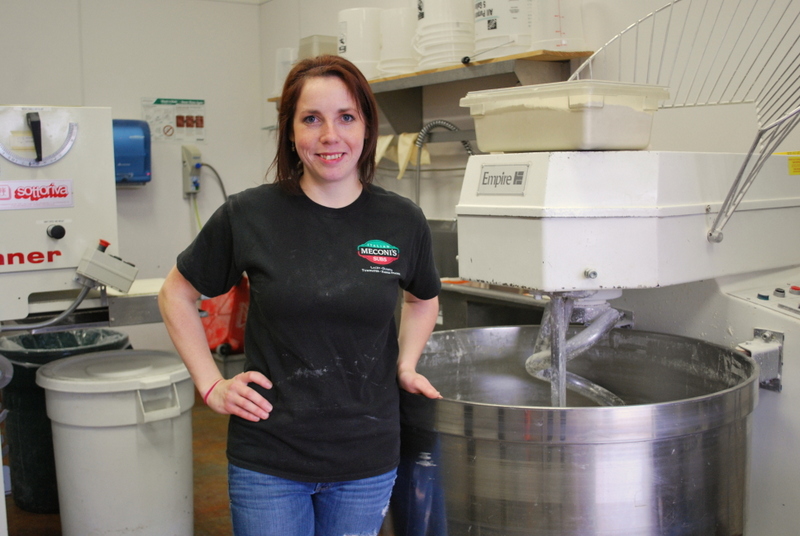 Olympia Beer's famous motto, "It's the Water," refers to the fresh artesian spring water used in the original Tumwater brewery's production and showcases what set the brew apart from the competition. Likewise, when you ask area sandwich lovers what sets local sub shop Meconi's Italian Subs apart from the rest you'll likely hear, "It's the Bread."
Six days a week you'll find Meconi's head baker, Callie Robello, up before the sun, heating the ovens to bake Meconi's signature breads and baked goods. Along with a crew of three additional bakers, Callie arrives at the bakery between 2:30 and 3:00 a.m. each morning (except a well-deserved Sunday off). Yes, you read that right – 2:30 a.m.
Meconi's and Robello know the early hour is what it takes to create scratch-baked bread each day so you can enjoy your favorite sub on a roll baked that morning. It's a promise and commitment that Meconi's makes to its customers and you can taste the quality and baking know-how in each bite.
Meconi's Bakery, located next to the Lacey store, has been crafting their own baked goods for over 15 years. Operations Manager Robin Vaughn shares they used to purchase rolls in the early days, then rented space in a nearby building to begin creating their own signature bread. When demand grew, they built the bakery facility on site to suit the unique needs of their production.
The mixer alone is a stunning piece of machinery. Add to that the custom calibrated dough divider, huge proofer (where the rolls rise) and the rotating, walk-in oven and you have a facility that can easily handle the 1200 sub rolls and 12 dozen or more cookies baked daily.
Everything is made from scratch using the same ingredients you'd use in your own home, just on a lot larger scale. Flours and dry ingredients are weighed a day ahead, when the day's baking is done, and stored in bins ready to be mixed first thing the next morning. "We want to prep ahead," laughs Robello, "When we arrive in the dark, we can just add yeast and water and not have to think too much first thing when we arrive."
The dough is mixed for 9 ½ minutes then transferred to the bench table to be portioned into strips. These strips are then fed into the dough divider. This amazing machine sections the dough, weighing each portion, ensuring each roll is exactly the same. It then rolls each portion into perfectly sized rolls before depositing them on a baking tray for the final touches by the bakers.
The bread racks then spend 1 ½ to 2 hours in the "proofer" to rise before baking. "The amount of time spent in the proofer really varies depending on the weather," shares Robello. "Temperature and humidity can affect the consistency of the dough. If the temperature of the dough is off, the batch can be ruined." Sometimes even professionals make mistakes. "We've had to throw out a few batches," Robello admits, "but we get pretty good at what we do."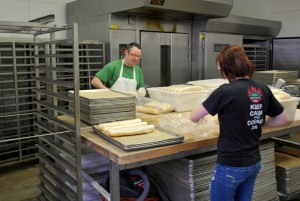 Robello joined the Meconi's team as head baker about two years ago. Raised in Elma after a childhood in Germany with her military family, she originally planned a career in forensics. But she loved baking at home and thought, "why don't I do this for a job?"
She enrolled in the pastry program at South Puget Sound Community College and worked as a baker in a few locations before joining Meconi's. "It's my first time as a head baker," she shares. "I really love seeing the satisfaction on people's face when they eat the bread I bake." That satisfaction comes from ensuring every roll is baked fresh each morning. Never is the bread par-baked and held for a later day. Each roll goes from flour and water to the signature soft, golden roll each day.
"Most people don't know we go the extra mile to make all our baked goods from scratch. No other sandwich shop does that and I think it comes from our passion to make truly fresh, homemade food for our customers," Robello shares.
In addition to the fresh rolls and delicious cookies, the bakery is starting to add some seasonal specialty items to the menu this year. In December, they offered a white chocolate-orange-cranberry scones. Be on the lookout for some new homemade treats in 2015.
Robello is also the genius behind the new Meconi's gluten-free rolls. The rave reviews from customers are a testament to Robello's dedication and skill.
Meconi's commitment to quality, from scratch cooking extends to its meatballs and chili (both made from scratch from the old Meconi family recipe), salads, and select dressings. Scratch-made salads include egg, tuna, pasta, macaroni, and potato salads. The balsamic vinaigrette, raspberry vinaigrette, and honey mustard dressings are also crafted in-house.
Meconi's Italian Subs are a local favorite for good reason. The commitment to crafting products from scratch keeps customers coming back for more. With Robello leading the baking team at Meconi's, fans of the sub shop can rest easy that they can say "It's the Bread" for years to come.