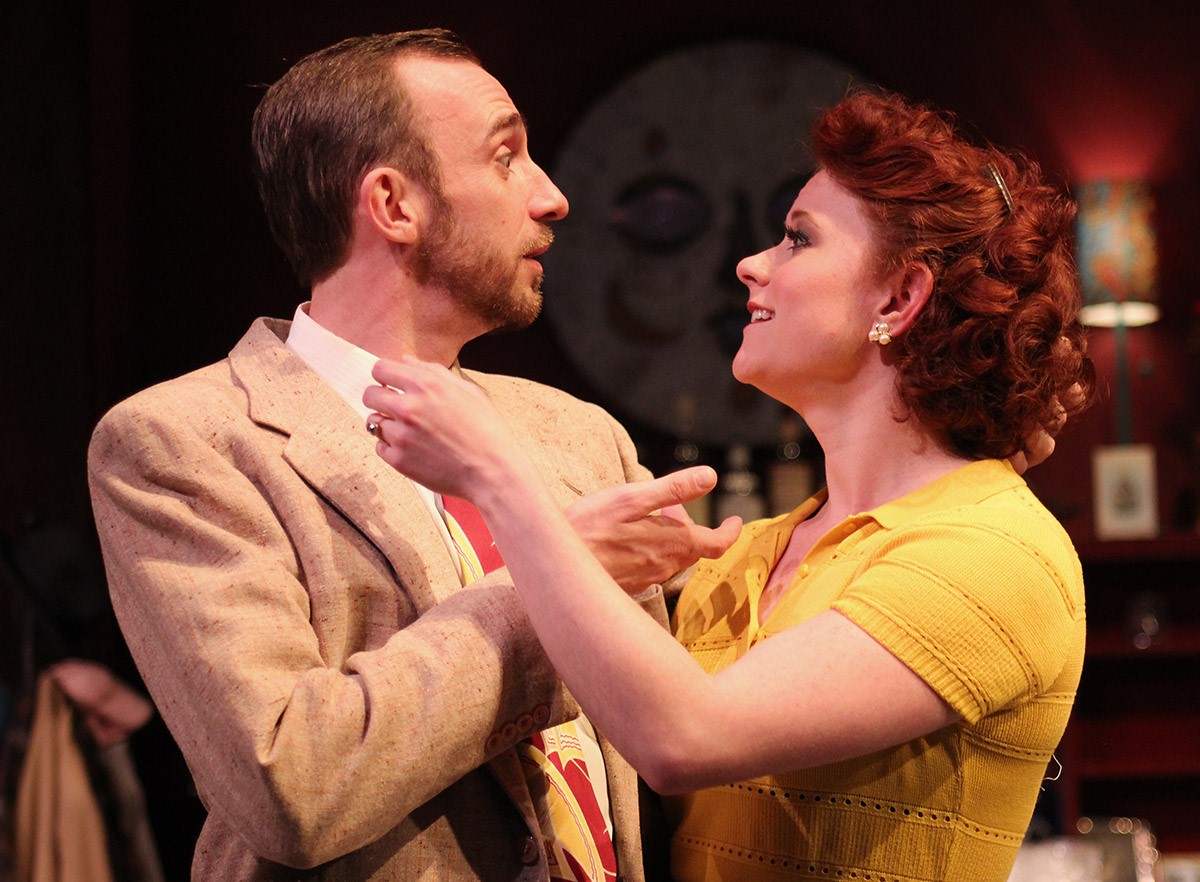 Submitted by Harlequin Productions 
With the start of the 2008 economic recession, financial woes began spreading across our local county. Individuals and businesses alike felt the blow as consumer confidence fell and unemployment rose. Arts organizations in particular were adversely impacted, and Olympia's own Harlequin Productions found itself right in the path of the oncoming economic storm.
It took a couple years for the non-profit theater company to feel the effects, but it happened soon enough. As Managing Artistic Director, Scot Whitney describes, "In November 2010, it was like someone flipped a switch and all of a sudden ticket sales, sponsors, and donations fell off."
Since that sudden and distinct drop off in support over four years ago, Harlequin has experienced a steady, discouraging decline in ticket sales and has struggled to find new sponsors and advertisers. "We are so grateful to those local businesses and donors who continued their support through it all because we wouldn't have made it without them." says Scot Whitney.
"It was heartbreaking," says Artistic Director, Linda Whitney. "Year after year our reserves were depleted. Heading into Season 2015, the forecast for the next year looked pretty bleak."  Early projections showed a cash flow shortage of about $50,000 come April 2015.  Yes, Harlequin was facing complete depletion of its reserves and had started planning a special campaign to increase working capital to make it through.
The company's leaders, however, were forced to face the possibility that Harlequin's story may be coming to an end. "We have always said that we would be here presenting our distinctive brand of theater as long as the community supported it," recalls Linda. "We decided that no matter what, we would not go into debt. If the day ever came that we couldn't make payroll, or we couldn't pay our actors, we'd shut the doors."
Then this past October, something happened. Harlequin opened their production of Clybourne Park, a Pulitzer Prize-winning comedy by Bruce Norris. It was a play that local critics praised, but tickets sales were lagging (a familiar story by this time). For the first two weekends, the show sold 20% under projections. But the final two weekends shocked the company by selling significantly over projections, with the final weekend nearly selling out. It had been years since they'd seen a non-musical performance come close to selling out.
"I came in for the show one night in the third weekend and thought the ticket sales report might have been a typo," remembers Scot. "It wasn't until I was standing in front of the audience during the curtain speech that I could let myself believe we actually had a sold-out crowd."
After Clybourne Park closed, Harlequin was scratching its head wondering what suddenly happened halfway through the run. But they didn't have too much time to think, because their next show, The Stardust Christmas Commotion, the latest in Harlequin's series of holiday musicals, was opening in a few short weeks.
Going into Stardust, Harlequin wasn't quite sure what to expect. Was the sudden success of Clybourne Park just a fluke? Or was it a sign that things were getting better?
They got their answer: Stardust not only sold extremely well, it broke records. The Stardust Christmas Commotion filled the theater to an average of 95% of capacity. Seventeen out of its twenty-four performances sold out, and the show set a new all-time Harlequin record for most consecutive sold-out performances with fourteen straight completely packed houses. "We added two performances to the run to try to accommodate the demand," said Korja Giles, Harlequin's Box Office Manager, "but in the final week, we had to turn people away. It was terrible to have to disappoint so many people during the holidays!"
"We think someone may have flipped the switch back on," declared Scot and Linda Whitney.
Has someone finally flipped the switch? They have reason to feel optimistic. With the success of The Stardust Christmas Commotion, the projected $50,000 cash flow deficit has been whittled down to about $15,000, a much more manageable challenge.
And things are not just looking up for Harlequin but for Olympia as a whole. People everywhere seem to be more optimistic. The Arts bring more than culture to a community. The success of Stardust brought more people downtown, enhancing local economic activity as Harlequin patrons shopped and dined before and after performances.  A recent Harlequin survey shows that 76% of their patrons dine out as a part of their theater excursion while 26% shop at local retail shops. "We see a 20% increase in our business on Harlequin show nights," commented Mark Arndt, manager of the neighboring McMenamins Spar Café.
This city is known for its appreciation of the arts. And the resurgence of its theater scene is good news for everyone who appreciates a vibrant and culturally diverse downtown.
Harlequin is clearly excited about its upcoming offerings for Season 2015. Up next is The 39 Steps by Patrick Barlow, an outrageously comic stage version of Alfred Hitchcock's 1935 film thriller in which four actors play an incomprehensible number of characters. Find a list of all Harlequin Season 2015 shows at harlequinproductions.org. If recent experience is any indication, you may want to grab your tickets sooner rather than later.
Next year's Season 2016 will mark the 25th year that Harlequin Productions has been producing extraordinary theatrical adventures for the greater Olympia community. "It looks like we just may be around to celebrate our silver anniversary year," says Linda. "And that's good news!"