By Katie Doolittle

'Tis the season for Ballet Northwest to delight us with their annual production of "The Nutcracker."  Two hundred dancers, ranging from age eight through adulthood, will once more delight audiences with their seemingly effortless performance. Is it magic? Yes, magic born of discipline and hard work.
Certainly, the dancers and directors are committed to the production. But a show of this magnitude couldn't exist without the cheerful devotion of many volunteers.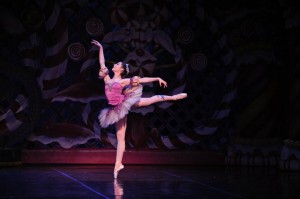 Take Andrea McNamara Doyle, for instance. Doyle and her eldest daughter Margaret have been involved with Ballet Northwest for seven years now. Doyle's position as Volunteer Coordinator involves a plethora of year-round responsibilities that she shares with three other colleagues. She summarizes, "We help organize and direct all the volunteer efforts of the parents who have kids in the shows." They assist with all kinds of backstage business ranging from auditions to fundraising, but their main focus is on communication: marketing posters for the community, instructional handbooks for the cast, and a master schedule for parent volunteers. Doyle and her fellow coordinators make sure that each volunteer has the information he or she needs in order to perform a task successfully.
Each dancer's family is expected to donate four volunteer shifts, though many choose to do more. Some parents sew costumes or help load sets in to The Washington Center. During the show, parents are out front ushering, running concessions, or selling raffle tickets. They are also backstage applying makeup and chaperoning children. After the run comes the set tear-down.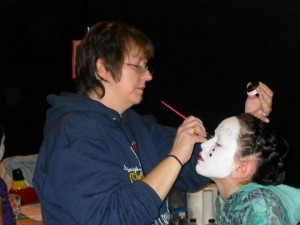 It's quite a bit of effort, especially during the already jam-packed holiday season. But Doyle has always enjoyed giving back. She says, "Once I had kids, I focused on finding volunteer opportunities that would fit well with being a parent—things I could do with and for my girls that also have a broader benefit." Certainly, doing the show fosters mutual appreciation between parent and child. "Seeing close up how much dedication is required by the dancers to attend so many rehearsals and work so hard to perfect their parts makes me really proud as a parent.  And I think Margaret has come to understand a little better how much time and effort it takes not just for me but for all the other parents who give so many hours to help their dancers participate."
Doyle enjoys supporting Ballet Northwest, "a high quality organization that does so much to promote the arts in the area." She is not alone in her admiration for the company. Fellow parent Meghan Muenchow adds, "They bring art, discipline, and theater into the lives of these kids, which is something that you take with you for the rest of your life."
This year, Muenchow will help run the Black Box, backstage home to the community cast for "Nutcracker's" duration. It's a huge job that involves leading a subset of volunteers in prepping the many young dancers, getting them on-stage, and chaperoning them off-stage. Fulfilling this role enables Muenchow to spend time with 11-year-old daughter Cayla. It's also an opportunity to bond with other volunteers, many of whom have become good friends over the course of multiple productions.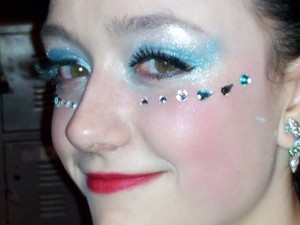 Actually, that's what is most striking in talking to these parents: the sense of community. Makeup Lead Sherri Evans appreciates how being involved with Ballet Northwest has introduced her three daughters to "a good group of people. Outside of their nuclear family there's this larger belonging – really great kids and adults."
Evans has four children, three of whom have kept her involved with "Nutcracker" for a decade. She certainly agrees with Doyle's statement that dance, like other sports, "teaches self-discipline, the value of practice and hard work, and the importance of teamwork." Evans's profession as a teacher gives her an additional perspective on how the interplay of movement and music helps dancers' brains build neural pathways and, therefore, strong academic performance.
Evans's eldest daughter, Kathleen, recently moved out of state for college. As such, she no longer dances with Ballet Northwest. But when Kathleen comes home for Christmas, she'll get to watch her sisters dance. In doing so, she'll join other company alumnae. After the show, they'll go on stage to give flowers and compliments to the girls currently dancing parts they once had. (For Kathleen, that will include Snow Queen and the Sugar Plum Fairy.)  Evans explains, "For these girls who are coming up and are like 'I always watched this older person dance these parts, and I always wanted this part… and now I have it,' it can be very meaningful."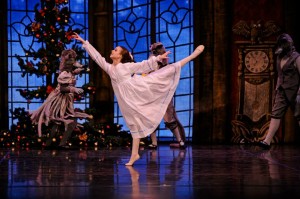 Meaningful, indeed. Kathleen's stellar college admissions essay recounted her devastation over not getting a big "Nutcracker" part one year–and how that experience, combined with her parents' perspective and love, taught her about perseverance and acceptance. And when her hard work eventually paid off with leads, Kathleen behaved kindly towards the people who didn't get the part. Evans is a bit teary-eyed as she says, "That's when I knew that this has been a really good thing for her personally. It has taught her empathy and kindness and  graciousness."
Ultimately, this is the true magic of "The Nutcracker," the way in which an entire family's participation leads to such intangible, immeasurable rewards.
Ballet Northwest's annual production of "The Nutcracker" runs from December 12 through December 21 at The Washington Center for the Performing Arts. Click here for tickets.