By Margo Greenman

France and Italy are both often revered as two of the most enchanting and romantic destinations on earth. Exquisite wines, sumptuous eats and breathtaking sights – all of which are offered in abundance – set a magical stage for charming visits through vineyards, candlelit tours across canals, and more.
While many may only experience the regality of these destinations during the occasional holiday abroad or vicariously through friends or photographs, Carolyn Lakewold and her husband Fred Goldberg are reminded of the region daily right here in Thurston County at their Bordeaux-inspired Tenino winery, Donedei Wines.
While Carolyn was teaching at South Puget Sound Community College and working as an NCAA Champion Fastpitch coach, she and Fred traveled to France and Italy often. Both interested in food and wine, they would focus their trips around visiting wineries and experiencing great meals. Because of this, it comes as no surprise that Carolyn and Fred both became well educated about identifying different varietals, understanding what makes some wines better than others, and knowing why fish pairs better with a buttery Chardonnay than a hearty Syrah.
When Carolyn decided to take a break from her teaching career, Fred knew she would find herself wanting something to keep her busy, so he suggested she offer-up her knowledge to a local winery. Carolyn started volunteering at McCrea Cellars in Rainier, WA, shortly after. Here, Carolyn learned the ins and outs of winemaking, shadowing winemaker Doug McCrea. Assuming she could occasionally volunteer a few hours to keep busy, Carolyn anticipated that her time with McCrea Cellars would not exceed six months. However, six months soon turned into one year, and one year turned into two. Carolyn had no idea that the time she spent at McCrea Cellars would inspire a career switch and the start of her own business, but it did.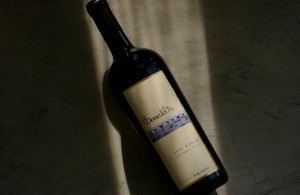 After her time at McCrea, Carolyn headed back to Europe and shadowed a few more wineries around Tuscany, Italy, before opening her own winery at the couple's property in Tenino in 1997. Donedei (meaning "Gift from God") celebrated its first crush the following year and introduced their first commercial release, a Merlot, in 1999, followed by their Cabernet Sauvignon in 2000. Since their debut, Donedei Wines has not added additional varietals to its repertoire, instead focusing on producing only quality, handcrafted Merlots and Cabernet Sauvignons made in the traditional Bordeaux style.
Carolyn starts their wines by first sourcing the best grapes in the region. Most of Donedei's grapes come from Ciel Du Cheval, a vineyard located at one of the state's most renowned viticultural areas, Red Mountain. Once the grapes arrive at Donedei, they are then hand sorted and hand picked. The grapes are then ready to be turned into wine and are gently crushed to create the Merlots and Cabernet Sauvignons Donedei is celebrated for.
"I love the creativity of it," explains Carolyn. "It's a challenge everyday. It makes you think. It makes you become a chemist. It makes you become a chef, and it makes it fun to come into work everyday."
Carolyn clearly loves her job – and people love her wine. So much in fact that Carolyn is often asked if she plans to grow her business. To answer that question, Carolyn says she's not interested in increasing production or growing to become bigger. "It's about doing it right," she says. "Doing it where I can be absolutely proud of every glass poured. We're committed to that philosophy."
Thirsty yet? Donedei's wines can be found throughout the region at Thurston County-area stores like the Wine Loft, Ralph's and Bayview Thriftway and Haggen, to name a few. You can drink a glass at several Olympia restaurants like Gardner's, Waterstreet Café and Bar, Dockside Bistro and many more.
Donedei opens its doors to the public two days per year.  During the month of December, Donedei will be celebrating its Holiday Open House on Saturday, Dec. 6 and Sunday, Dec. 14, from 11:00 a.m. – 4:00 p.m. During both days, Fred will be manning the barbecue building, dishing-up locally sourced sausages and other meats to pair alongside Donedei's delightful wines. The event (and food) is free to the public and serves as a great opportunity for the community to stock up on wine for the holidays, as well as for Carolyn to say "thank you" to all of those who have supported her throughout the years.
To learn more about Donedei Wines, visit their website, follow them on Facebook, or try the wine firsthand on December 6 or December 14 at the winery, located at 12035 Gibbons Lane, Tenino.