By Cara Bertozzi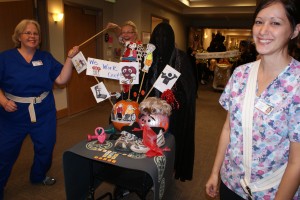 Panorama is a unique non-profit residential community situated on a 140-acre campus in Lacey, Washington. It offers a suite of solutions for retirees ranging from independent houses and apartments to assisted living options and a Convalescent and Rehabilitation Center (C&R).
When you enter the high-ceiling, sunny foyer at the C&R, it is immediately obvious that this is not your typical nursing home. The hallways and sitting areas are spaciously appointed, the space looks, smells, and feels inviting and homey, and there appears to be a lot of socializing taking place both among the residents and with the staff.
When I meet with administrator Sharon Rinehart, she explains that the C&R was designed around a hospitality concept rather than a clinical one. Most of the 155 beds are occupied by permanent residents.  The goal is to foster an engaging, warm community atmosphere. Sharon's aunt recently passed away but called Panorama home for 26 years.  This is a good indicator that the staff truly believes in the work they are doing to provide their residents with top-notch care if they count their own family members among their clients.
Sharon can often be found walking the halls with Coconut, a Miniature Goldendoodle therapy dog, who is much beloved by the C&R residents. They watched her grow from the time she was a 9-week-old puppy.  Accompanied by Sharon, Coconut spends 40 hours a week bringing joy and companionship wherever she trots.
The C&R at Panorama offers two levels of care. Skilled nursing patients may require 24-hour skilled care or post-acute care, including occupational therapy, physical therapy, or speech therapy. The goal for these patients is to eventually be discharged. Long-term care patients in the C&R are considered permanent residents of the facility. They require assistance with three or more activities of daily living, such as walking, bathing, dressing, eating, or taking medications.
This quarter, the C&R is celebrating their perfect 20-star rating, one of only four such scores awarded to the 222 eligible facilities in Washington. Of note, the other three facilities that received a top score are much smaller, which makes it even more remarkable that the C&R can deliver exemplary service on a large scale.
If you're like me, you may be wondering what this designation represents and why it is so difficult to earn all 20 stars?
Selecting a skilled nursing facility can be a daunting task. A patient may require short-term sub-acute care following a surgery, accident or medical incident, which may be unexpected, or long-term end-of-life care, which is commonly accompanied by a host of emotions. Oftentimes, family members who live remotely may wish to be involved in the decision, and all stakeholders crave data and guidelines to help them prioritize the specific needs and wishes of the patient. Patients and family members alike want to identify a pleasant living environment with a level of care they can count on.
In response to this need, the Centers for Medicare and Medicaid Services (CMS) created a US-wide objective rating system that is used to evaluate nursing homes on a five star scale, similar to a hotel, across four categories.
The CMS understands that educated consumers make better choices in pursuit of high-quality care.  It's also a tool to reinforce and sustain the best healthcare businesses. The quality indicator system serves as an easy way to survey and evaluate nursing homes online. Potential customers can search the available options by zip code, city, or state.
The rating system includes four metrics that are each rated on a five star scale. They include overall quality, health inspection, quality measures, and staffing. The health inspection includes a survey of the residents which provides a regular outlet for them to voice their perspectives and to be heard, a survey of the clinical medical records, and observations of staff providing care. Staffing ratios also include the percentage of registered nurses that work in a facility, as well as the ratio of LPNs and certified nursing assistants.
Sharon attributes much of the success of C&R 5 star (20 star) rating to the skilled, dedicated and compassionate staff. Maintaining a positive work culture among the employees is so essential that they would rather work short, if necessary, than hire someone who is not the right fit for the job. The nurses, social workers, and activity personnel comprise a dynamic team, focused on the same mission of excellence.
One of the major benefits of living at the C&R is the connection to the larger Panorama community. Amazingly, there are 100 Panorama residents who volunteer at the C&R. They work as greeters, lead groups and classes, read to residents, stroll around the campus on a walk, give art lessons, and offer prayer services.
But they don't stop there. Panorama residents brainstorm about ways to further enrich the lives of C&R residents and organize fundraisers to make those dreams become a reality. Two of the groups specifically supplement the operating budget for activities, activity supplies, entertainment and special purchases, such as blanket warmers.
With fantastic support like that, the team at C&R has created an exceptional nursing home environment where you truly do feel like family.