By Gale Hemmann
McKenna Kennels Pet Resort understands that many people are busy. Many of us juggle work, school and family schedules. Those of us who are pet owners also want our pets to be happy and well cared-for. Fortunately, the great staff at McKenna Kennels Pet Resort in Roy offer several services to keep your pet happy, healthy and occupied this winter.
Located in the tranquil Roy-McKenna area, McKenna Kennels Pet Resort is a pleasant, home-like facility on a spacious property. They offer doggy daycare, pet boarding, and now, expert grooming services. Owner Hilary Gonia is a dedicated pet lover, and she and her staff create a warm atmosphere for both pets and humans. They offer very reasonable prices and a military discount. As you transition into winter and packed schedules, you can let McKenna Kennels Pet Resort take care of your pet.
New Grooming Services
McKenna Kennels is excited to offer a new service, dog grooming. They welcome Patti Davis of Vakre Grooming. Patti brings over 30 years' experience to McKenna Kennels. She offers a full range of services for all dog breeds, whether it's a field cut, a trim or a full show cut. She also has many years' experience breeding and showing dogs. "We're very excited to bring her grooming services here," says Gonia.
Besides Patti's expertise, she also offers a unique service: pick-up and drop-off for pets within a 15 mile area. This option is great for working families, as well as for seniors who are unable to drive. Your pet is picked up, expertly groomed, and returned to you, clean and pampered.
Doggy Daycare: Building Happy, Socialized Dogs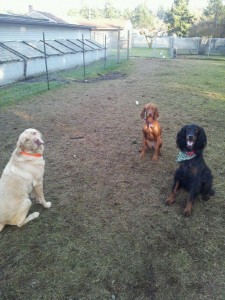 For busy families, doggy daycare can be a very rewarding option for your dog. While you are gone during the day, your dog gets needed stimulation, exercise, and interaction. At McKenna Kennels, their reasonably-priced doggy daycare service is truly first-class. Your dog gets plenty of outdoor play time, in either a social play yard or a roomy individual enclosure, whichever best fits their needs. You can trust that your dog will be secure and happy.
But Gonia points out that the benefits of quality doggy daycare go far beyond giving your pet somewhere safe to be during the day. Doggy daycare is proven to help dogs become better socialized and more confident in situations around other dogs. They learn to play well with other dogs and develop good canine social manners. With the expert staff at McKenna Kennels, you will watch your dog not just be happy on a day-to-day basis, but blossom long-term.
The doggy daycare at McKenna Kennels has many loyal customers. Two enthusiastic enrollees are Scout, a Golden Retriever, and Athena, a Great Dane. The Hall family enrolled their dogs in doggy daycare about a year ago and haven't looked back. Melissa and Brian Hall say their dogs are happy, well-socialized, and come home mellow and relaxed from all the playing and interaction. With younger dogs and bigger breeds especially, doggy daycare is so important, Melissa notes. The Halls appreciate the individual attention their dogs receive and say their dogs look forward to coming each morning (they know it as "play time"). You can read more about the Halls' experience at McKenna Kennels here.
Boarding: Your Pet's Home Away From Home
McKenna Kennels also offers safe, friendly pet boarding. You can bring your dog or cat to McKenna Kennels while you are away and they will be treated like family, with caring staff, comfortable accommodations, and plenty of interaction throughout the day. One thing that makes boarding here unique is that one-on-one exercise time is provided each day at no additional charge, ensuring your dog has a great time. They offer indoor and outdoor heated dog kennels as well as a separate area for cats. (For more information about McKenna Kennels boarding services, visit their website and read this ThurstonTalk article about them here.)
Your Pet's New Second Home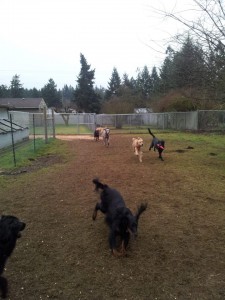 McKenna Kennels Pet Resort is your one-stop destination for your pets' daycare, boarding and grooming needs. Hilary Gonia is the third generation in her family to work with dogs, and she and her staff treat each dog or cat as if it were their own. Visiting the pleasant, welcoming facility, it truly does feel like a "family," both for dogs and people.
For more information about McKenna Kennels Pet Resort, give them a call, visit their website, or "like" them on Facebook. If you are considering doggy daycare or boarding, Gonia also welcomes you to stop by with your pet for a visit. Trust me – both you and your dog will quickly be big fans of McKenna Kennels Pet Resort.
To make a grooming appointment with Vakre Grooming, please call (360) 688-8598 or email vakregrooming@gmail.com.
33418 State Route 507
Roy, WA 98580
360-458-2981