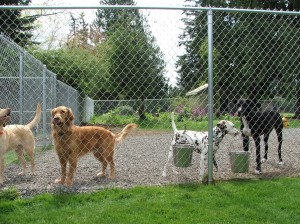 What can you expect to find at McKenna Kennels Pet Resort? In a word, happiness. Dogs and their humans alike love McKenna Kennels. Whether it's boarding or doggy daycare, their positive, family-like atmosphere means that everybody wins: Owners can go on a vacation or to work knowing that their dogs are safe, and dogs have a terrific time. In fact, owner Hilary Gonia says, regular canine customers often pull their humans through the door, excited to come and play.
Located on 32 securely-fenced acres, McKenna Kennels has been family-owned since 1933. I came out to visit and was immediately impressed. Walking into the main office, you are greeted by a calm, inviting environment, as well as the resident office cat and canine. Gonia is the fourth generation in her family to run McKenna Kennels (it was founded by her great-grandfather), and she says the work runs in her blood. As she showed me around, her enthusiasm was clear: warm and upbeat, the dogs respond to her with smiles and wagging tails.
One of the most unique aspects of McKenna Kennels, and what sets it apart, is that outdoor play time is included in the boarding experience at no additional cost. As Gonia brought several dogs out into the large, fenced exercise yard and started a game of fetch, she told me about how they operate. "We consider each dog like a family member, and want them to really enjoy their time here," says Gonia. Instead of your dog sitting in a kennel all day, they will be able to run and play, and socialize with other dogs if they want to (there are also individual outdoor play areas available).
The charming, lush green property offers two boarding options to best suit your dog's needs. Outdoor kennels are for larger and more outgoing dogs. The kennels are spacious and clean, and each has a heated dog bed for your pooch at night. Walking into the outdoor-kennel facility, it's evident that the dogs know and love the staff. Gonia greeted each dog by name, and staff learn each dog's personality and preferences.
For smaller and more sensitive dogs, McKenna Kennels also offers an indoor kennel option. The indoor kennel building is bright and homey, with personal kennels for each pooch. They also feature an open "living room" space, where each dog gets to come out and relax for a couple of hours a day. It even has a comfy couch for dogs to lounge on, so your pup truly can feel like it's a "home away from home.
Gonia and her staff make it their personal mission to see that every single dog is happy during their stay. "We try to treat them as if they were our own," she says. They take pride in a clean facility and the highest safety standards. ("Safety and fun are our two priorities," Gonia notes.)  All pets are required to be current on vaccinations prior to visiting, making sure it is a healthy environment for your animal companion.
McKenna Kennels is ideally situated not just for dogs, but for cats as well. A quiet area near the front office houses the cat kennels, and I was surprised to find the visiting cats (who are notoriously anxious about being away from home) calm and content. It seems the Gonias' relaxing energy even spreads to their feline boarders; cats can enjoy a comfortable, feline-friendly environment where they are well tended to while their owners are away.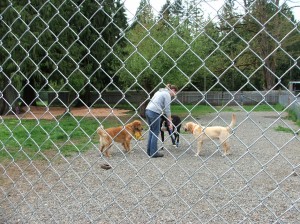 McKenna Kennels feeds your dog or cat their own preferred pet food; this way, Gonia notes, their diet can stay consistent during their stay and make sure to meet their nutritional needs. Owners are also welcome to leave dogs' and cats' favorite treats with the staff.
Even if you're not planning a trip soon, the busy family may want to look into dog daycare at McKenna Kennels. Started about a year ago, it is quickly gaining popularity through positive word-of-mouth. In addition to giving your dog a safe, engaging place to be while you're at work, it also helps dogs learn to socialize and become more adaptable to new situations. Gonia has watched many positive outcomes of the daycare program, and says she can see a dramatic difference in dogs' confidence levels after participating. Animal experts agree that day care for your dog indeed has many great benefits.
McKenna Kennels offers reasonable pricing, as well as senior and military discounts. They also offer additional options such as medication services (check with staff for details), and several social and exercise options (in addition to the daily exercise time already provided). You can choose "social time" (dogs get to be interactive and out for most of the day); "one-on-one" play time with humans in the yard; and "nature walks," which walk more active dogs around the large property, all for very modest additional fees.
They have many loyal customers and earn rave reviews for their budget- and dog-friendly accommodations. In fact, many people bring pets from far away (even from out of state) to board at their facility.
As I watched two of the regular canine visitors, Scout and Athena, run and play, I realized that a visit to McKenna Kennels Pet Resort is truly like "day camp" for dogs – fun and stimulating in a secure setting, giving dogs a great adventure and owners peace of mind.
For more information, visit their website or call them at (360) 458-2981.
You can also "like" the business on Facebook.
All photos by Gale Hemmann.