By Gale Hemmann
I think that McKenna Kennels Pet Resort is a very special place. So do their many loyal human customers. But don't just take our word for it. They say the best testament to a business is customers' "word of mouth," and in this case, that word of mouth comes in the form of wagging tails and ear-to-ear dog smiles on the part of two loyal canine customers, Scout the golden retriever and Athena the Great Dane.
I drove out to McKenna Kennels to meet with owner Hilary Gonia and the Hall family, along with their two charming and energetic dogs. The Halls are loyal customers and enthusiastic proponents of McKenna Kennels' services. And, it's easy to see why: upon entering the green, well-kept property, you are greeted with a neat vintage tractor out front, seasonal flowers in full bloom, and the sense that this is a place that really cares about making a happy space for dogs (as well as a pleasant atmosphere for their human owners). They offer both doggie daycare and boarding for cats and dogs, and put their heart into making both services top-notch.
Inside the front office, I was greeted by Gonia and the Halls: parents Brian and Melissa, and their two sons, Ian and Patrick. Scout and Athena hung out with us, clearly at ease in the environment. (The office cat and dog, Gus, also mingled with us.) The Halls enrolled their dogs in doggie daycare at McKenna Kennels about nine months ago. A busy working family, both Melissa and Brian were commuting to Joint Base Lewis-McChord, at the time. (Brian now works in Seattle.)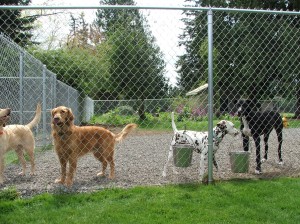 Between busy careers and having two kids in school, they found that it was challenging to drive back and forth during the day to let their two dogs out. They wanted their dogs to have a safe, friendly place to be during the week. Athena was also a Great Dane puppy at the time, and as such a large breed, they realized the importance of socialization and stimulation for her.
Loving dog owners, the Halls were interested in the possibility of dog daycare, but wanted to make sure they found the right place. They researched several venues in the area, and decided to bring the dogs out for a trial visit at McKenna Kennels. For Athena and Scout, it was love at first sight (or, perhaps, first wag): the family and dogs alike loved the clean facilities, dedicated staff, reasonable prices, and most of all, the amount of personalized attention each dog received.
The dogs are enthusiastic about coming to visit each day. Melissa notes that Athena begins perking up and eagerly looking out the window in the car as they approach the McKenna Kennels property. Both dogs are excited to come through the door, and associate the words "play time" with coming here. The Halls have also utilized McKenna Kennels dog boarding services over recent vacations, and were very happy with the experience. As Melissa states, "the dogs know it's a great place."
The owner and staff really get to know each dog's personality at McKenna Kennels. In fact, that's one thing that makes it special. Plenty of daily play time is included in your dog's visit, and dogs have a choice between a community social play yard and individual fenced yards (they also each have a roomy, heated private enclosure for down time and meals). Your dog, if so inclined, will get not just one-on-one time with staff, but will get a chance to meet new dog friends.
Scout and Athena indeed have "best friends" at daycare. Athena, for example, loves to play endless games of fetch with a Dalmatian who is also a regular enrollee. Melissa notes that it is, in many ways, similar to having a child in daycare: the dogs play hard and get plenty of interaction all day, and come home happy, tired, and well-behaved.
As Brian says, McKenna Kennels is "hands-down the best" place around for dogs. The family is very comfortable dropping their dogs off here, knowing that they will be treated with care. He noted that they offer a great value and quality service that stands out above the rest. The Halls recommend the daycare program as a perfect option for working families (including those who work at the military base).
I also asked the youngest son, Ian, what he thought the dogs enjoy most about coming to McKenna Kennels. Without a moment's hesitation, he responded, "playing."
In watching Gonia interact with the family and their dogs, it is clear that her business serves as much more than just a place to take your pet. As Brian noted, "McKenna Kennels staff are like family to us." As we wound up the interview, a round of fond farewells was said as the Halls said goodbye to Hilary and the dogs exchanged one last friendly nuzzle.
The Halls just can't say enough about how great Gonia and her staff are with the dogs. "She has the patience of a saint," says Brian. Brian and Melissa note that Gonia really treats each dog like her own. In fact, she has even shown the Halls cute videos of Athena and Scout playing fetch during the day. Clearly, caring for dogs is more than just a job for Gonia – it's a passion and one to which she is very dedicated.
As word about McKenna Kennels' dog daycare and boarding services spreads, spaces are filling up fast. If you have a vacation coming up, or are just looking for an enriching place for your pet to spend the day while you're at work, I recommend you get in contact with them soon to reserve a spot. As the happy canine ambassadors in this story will tell you, you'll be glad you did.
To learn more about McKenna Kennels Pet Resort, visit their website or "like" them on Facebook.