By Gale Hemmann

Chocolate. See, just mentioning the word gets your attention. This delicacy has a long and revered role in human history, and has often been called (justifiably, in my opinion) "the food of the gods." It's an instant pick-me-up, a private treat on a busy day. But as anyone with dietary restrictions knows, finding chocolate that is delicious and also safe to eat can be a challenge.
Enter locally-made Pure Love Chocolate. This Olympia-based chocolate business lives up to its name. Not only will the true chocolate lover fall in love with these rich, sugar-free bars and truffles, but the products are made with love and thought at every step. Olympia resident Lydia Love founded the business in 2011, after a personal journey to find sugar-free chocolate to fit her dietary needs. Not finding many suitable options, she decided to literally take matters into her own hands. She started making chocolates for herself and friends, and the requests kept coming in. Finally, Pure Love Chocolate was born (it was originally called Chakralates then changed to the easier-to-pronounce Pure Love earlier this year).
Pure Love Chocolate is sugar-free, dairy-free, and gluten-free. The bars and truffles are made only with ethically traded, organic cacao, coconut oil, Stevia, and natural flavoring ingredients. They are safe for anyone with gluten allergies, sugar sensitivity, or diabetes. They are also vegan and soy-free.
And let me tell you, these chocolates are good. I am someone who has to avoid sugar. And I also happen to love the occasional piece of good chocolate just as much as anyone else. I was thrilled to come across Pure Love Chocolate because they offer a natural, satisfying option without the chemicals found in many synthetic sugar-free products. (Stevia is widely regarded to be a safe and natural sugar alternative.) I love to get them for myself as a special treat, and they also make a great item to bring to parties or social gatherings.
The chocolates are hand-poured in small batches by Lydia herself, right here in Olympia. Extensive testing and tinkering goes into creating each custom flavor. The chocolate bars currently include varieties like Sweet Orange, Hazelnut Crunch and Chai Spice. The medallions also come in several flavors, including wild blueberry and bee pollen. And I have a personal fondness for the peanut butter cups – a truly rich, satisfying and not overly-sweet blend of chocolate and organic peanut butter filling.
Made with 88% pure cacao, Pure Love's chocolates are for the serious chocolate lover. The deep, intense chocolate flavors focus on the cacao bean, as good chocolate should. They are delicious on their own and would also pair well with coffee or a glass of red wine.
Pure Love Chocolate also helps reclaim chocolate's place as a food that can be rich and satisfying while still being healthy. The actual cacao in chocolate is good for you in moderation – it is rich in antioxidants and actually has plenty of fiber and nutrients. Pure Love also lives up to the "pure" part of its name – this is chocolate at its essence.
Another reason to support Pure Love Chocolate is that Lydia makes sure her products are organic and ethically-sourced. She gets the cacao through a business in Eugene, Oregon, which she has personally visited and whose ethics she trusts. We also spoke about the social justice aspects of the cane sugar industry, and how opting to make sugar-free chocolates was a socially-responsible effort on her part. Considering every aspect of the social and environmental footprint of her business is at the core of what Lydia does.
The business has grown quickly over the last four years. Customers from all over the country offer rave reviews. When I asked Lydia what was most rewarding her business, she said it was the wonderful emails she receives from people who love her products. In fact, many customers tell her that her chocolate provides the satisfying treat they need to be able to stay on their diets and maintain their health and lifestyle choices. Love shares that supporting customers in "getting off the sugar" by providing a Stevia-based alternative has been very gratifying.
I know Lydia as a friend and as someone who is involved in the local community. She is a joyous, thoughtful person, so it's only fitting that her joy and thoughtfulness should spill over into her chocolate business.
Where to Find Pure Love Chocolate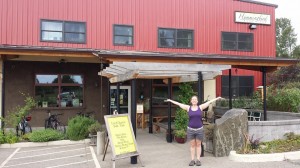 Ready to try some Pure Love Chocolate now? I thought so. Fortunately, you can buy Pure Love Chocolate at several locations around Olympia. Find them at the Olympia Food Coop, Encore Chocolates and Teas, the Helsing Farm Junction CSA, and the Farm Fresh Market.
You can also purchase them through the Pure Love Chocolate Etsy store. With the holidays coming up, they would definitely make a great gift item (not that I'm hinting to any family or friends who may be reading this … really).
Pure Love Chocolate also offers catering services. What could be more elegant than top-quality chocolates at your event, suitable for just about everyone?
So what are Lydia's ultimate goals, beyond chocolate-making success? She's hoping to earn enough revenue from her chocolate business to attend acupuncture school. She is trained in other healing modalities and says it is a long-time dream of hers. In the meantime, she's enjoying creating products for customers that she can stand behind. And she sees offering a healthy chocolate option as part of her life work of promoting health and wellness.
So, if you are serious about your chocolate and want the pure cocoa goodness without all the sugar, give Pure Love Chocolate a try. It will be love at first bite.
To learn more about Pure Love Chocolate, check out their website or "like" them on Facebook.