Submitted by Northwest Christian Private Schools
STEM Highlights at Northwest Christian High School (grades 9-12)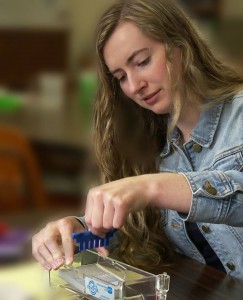 Ninth graders are immersed in applying what they are learning about physics and chemistry to real-world application. They use science knowledge and then think like engineers to solve problems.
A couple weeks ago the 9th grade Physical Science class was learning about density and using the density equation to determine what objects might float or not. Then they applied this to a challenge their teacher Mrs. Whittaker gave them: You have survived a plane crash deep in the Amazon. On your way to getting rescued, you come across a river. With your knowledge of the principles of density, mass and volume, design and build a raft to carry you, your fellow scientists, survival gear and precious specimen you've been gathering. The team whose raft can carry the greatest mass wins the challenge. Working with constraints of limited material, the challenge was on!
More recently, after studying about mixtures, the class had a new design challenge. Given a mixture of objects and a set of construction material, design and build a prototype system to physically separate out 3 of the components of the mixture.
But that's not the only STEM highlights at NCHS:
AP Biology students are learning marketable lab skills. As an introduction to the field of Biotechnology, students loaded dyes for separation by gel electrophoresis. They used the same equipment and practiced the technique widely used in labs today for all types of applications including DNA analysis. Knowing how to perform electrophoresis allows the students to add a skill to their resume that could get them a job in a research or clinical laboratory while still in school. The students will do more electrophoresis and

NCHS Robotics Club

learn additional techniques and more about how Biotechnology is used in industry and research as they go through their school year.
The Robotics Club is building Lego robots and learning how to program them to accomplish a series of predetermined tasks. One task was to move forward until the robot sensed it was over a specific color patch, stop for a second, and then reverse its path for exactly the same distance it had traveled to find the color patch. They are now working to build a robot that will circle to sense the direction of magnetic north and then travel toward north for a predetermined distance.  Next we plan to set up a robot combat course board with black colored edges. The robots will be programmed   to turn away from the edge when it senses the black and continue to try to push its opponent
STEM BizKids will be highlighting their innovative ideas this spring at the 1st Annual Invention Convention at Northwest Christian High School. Student teams will be preparing displays and demonstrations of their inventive ideas – you never know – some of them might just end up making your daily lives a little bit better.
STEM Highlights at Community Christian Academy (K-8)
CCA Sixth grade is currently (September-November) working on a nine week interdisciplinary STEM study of Volcanoes, Earthquake and Natural Disasters.
Mrs. West and Mrs. Carrillo have taken two units of study on volcanoes and Earthquakes and weather from the sixth grade science curriculum and combined them into one study.
Students have been paired in research teams to explore and research the following: The Anatomy of a Volcano, Volcanic Hot Spots around the World, Types of Volcanic Eruptions, Volcanic Landscapes, Oceanic Volcanoes and Geologically Spreading Seas, Tectonic Collisions, Lava and Ash Composition, Thermal Springs and Geysers, and Volcanologists and the technology they use in the field. Research teams are learning how to represent information on these topics through visual information such as charts, graphs, diagrams, and cross section graphics.
The students have been allowed and encourage to bring any of their personal devices such as iPhones, iPads, laptops, tablets to class to use during research labs. Our students are learning visual literacy and its importance in 21st century communications.
To learn more of visit the Northwest Christian Private Schools call 360-493-ABCD or visit their website.