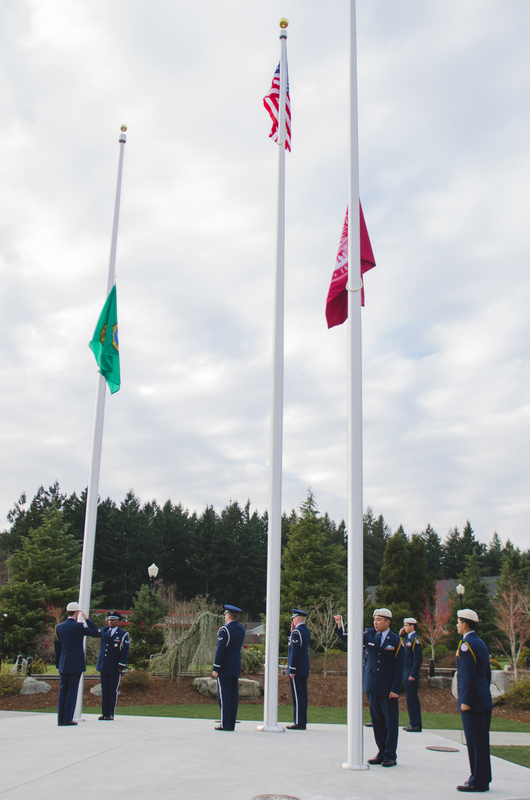 Submitted by Saint Martin's University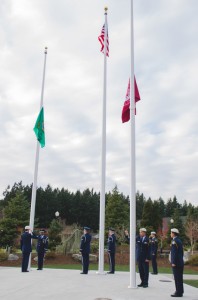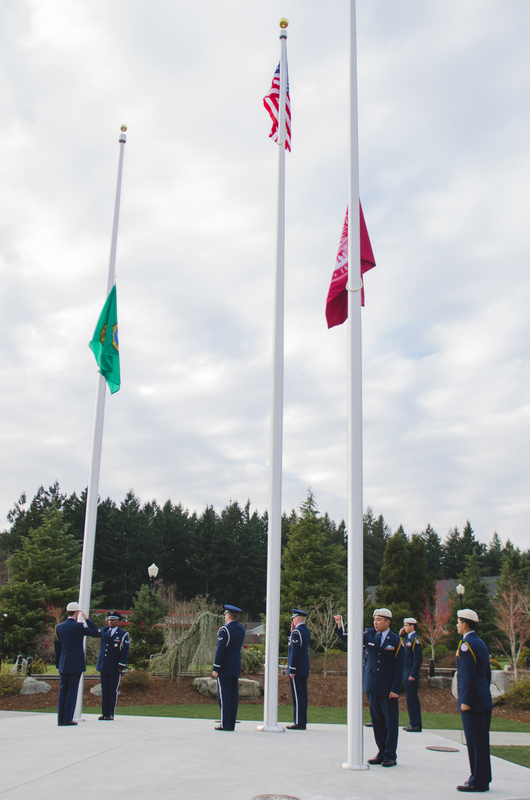 The American Legion Band, the color guard from the Veterans of Foreign Wars Post 318 in Olympia and a commemorative tree-planting ceremony will be among the highlights of the inaugural Veteran's Day Celebration at Saint Martin's University, starting at 11:30 a.m. on November 10.
The University's new Flag Pavilion, located at the base of the Grand Staircase outside Old Main and adjacent to the Jan Halliday Memorial Plaza, is the venue for the celebration, which will be hosted by the Saint Martin's University Veterans Club. The event is free and open to the public.
"The focus of this Veterans Day celebration will be on gratitude — to our service members, our citizens and our nation," says Fiona Ebbertt, a U.S. Army veteran, veterans club president and mathematics major at Saint Martin's.  "We want to say 'thank you' to our veterans and citizens for always having each other's backs."
President Roy F. Heynderickx, Ph.D., will be present to welcome attendees and introduce guest speaker David R. Spangler, Ph.D. Spangler spent 21 of his 23 years at Saint Martin's as president, retiring in 2005. He was called out of retirement in 2008 to serve as interim president until Heynderickx was selected to fill the president's post in September 2009.
During the ceremony, gratitude will also be formally expressed to Board of Trustees member and U.S. Marine Corps veteran Terence Monaghan '62 and his wife, Mary Louise '60, for the roles they played in establishing the Flag Pavilion. The Monaghans were touring the Lacey campus one day when Mrs. Monahan noticed there was no American flag present.
"She remarked that we needed to do something to get a flag on campus. So, I put pencil to pad and designed a flag pavilion," recalls Monaghan, an engineer and retired president of Veco Engineering. With funding provided by the Monaghans, the pavilion was constructed by Saint Martin's personnel under the supervision of Alan Tyler, the University director of facilities.
A formal dedication of the Flag Pavilion was held in February to recognize military veteran and active-duty students, alumni, faculty and staff, and members of the community, for their service to the country.
As part of the upcoming Veterans Day Celebration, an "Honor Tree" will be planted and attendees will be invited to tie yellow ribbons on the branches as a show of gratitude to a military service member, according to Ebbertt.
"The point of the tree is, we want to have a living memory that's symbolic of the sacrifice and efforts of service members everywhere," Ebbertt says.
A luncheon hosted by the Veterans Club in the Worthington Conference Center, located on campus, will follow the ceremony at 12:30 p.m. The luncheon is open to the public.