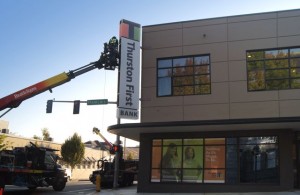 After ten years of operating from a snug spot on the primarily residential locale of Pear Street Northeast, Thurston First Bank is making a statement by moving to Downtown Olympia. While the bank outgrowing its current space necessitated the move, the decision to relocate to the downtown core was deliberate. Jim Haley, President and CEO of Thurston First Bank explains, "As a community bank, we are making the commitment toward the economic revitalization of Downtown Olympia by our major investment in the downtown. We hope that we have provided a stepping stone to more redevelopment and to our community's economic engine."
The bank will soon occupy a portion of the newly renovated building on Franklin Street in the center of Downtown Olympia, now named the Thurston First Bank Building. The building is the former Washington State Department of Personnel office.
Local developer Walker John, through his partnership, Urban Olympia, LLC, had the vision to restore the vacated building originally constructed in 1951. Urban Olympia endeavors to build a portfolio of mixed-use buildings in the core of Downtown Olympia. John recently renovated the Cunningham Building, located on Fourth Avenue and Adams Street, into a mixed-use property. He was also involved in the development of the charming beach town of Seabrook.
The current project, the Thurston First Bank Building, is nearly completed in its conversion into a mixed-used development introducing loft style apartments, a brewpub named Three Magnets Brewing Company by Darby's Cafe owners, Nate and Sara Reilly, and Thurston First Bank.
"This is a particularly attractive combination to have a new brewpub adding fresh life to downtown and residences above with market rate housing," comments Haley. City Hall Manager Steve Hall has commented, "It is just what the doctor ordered for revitalization of the downtown core.'"
"We helped to repurpose an older vacant building into a mixed-used building which saved on resources and materials," shares Sokha Meas Colbo, Executive Assistant to Haley. "The City of Olympia was so supportive of the project that it only hours to approve the permit. All of the participants are local, from developer Walker John to architect Ron Thomas, to contractor Greg Bailey and our interior designer, David Goularte." In addition, Thurston First Bank financed the project.
Haley adds, "Our project is a physical example of what confidence and investments can achieve toward the redevelopment of Downtown Olympia. This project is an example of how the community can invest in commercial real estate downtown with the City of Olympia as a partner in the process."
Thurston First Bank is an independent commercial bank specializing in financial solutions for small to medium sized businesses. The bank also offers personal banking services to their full relationship clients including deposit, lending, card services and a full suite of remote and online banking services. Additionally, Thurston First Bank offers complimentary Mobile Branch service to clients for deposit pickups, bank deliveries and other services.
Visit Thurston First Bank on their Facebook page, website or at the new location on 600 Franklin Street SE, Suite 102 starting November 3rd.
Thurston First Bank
204 Pear Street NE
Olympia, WA 98506
360.528.4111