By Gail Wood

At age 12, Kevin Vasereno first started working as a deck hand on a charter fishing boat in Westport.
Forty-seven years later Vasereno is still living the dream, working a job that most everyone else calls a vacation.
"Where do all the years go," Vasereno questioned. "I'm still loving it."
For 25 years, Vasereno and his wife, Karyl, have owned their own fishing boat, the Gold Rush. It's a white 43-foot boat that's up and running seven days a week during the summer. For 33 years, Vasereno held down two jobs. During the week from September to June, he was "Mr. Vasereno" to his chemistry and physics students – first for 18 years at Tumwater High School and then 13 years at Black Hills High School. During the summer months and on weekends in the spring, he was merely "Kevin" to the fishermen looking for a good "pole bending" time.
Then in the spring of 2012, Mr. Vasereno became Kevin permanently. After 33 years, he retired from teaching and picked up his fishing pole full time.
This is the third fall he hasn't returned to school to teach. While he enjoyed teaching, he doesn't miss it.
"I love it," he said about retirement from teaching. "I don't miss it because I'm keeping so darn busy. It would be a lot harder to give up my fishing business, which I've done for 47 years. Now, that would be hard to quit."
In the summer of 1975, when he was attending college to get his education degree, Vasereno became a captain when he got his Master's License from the United States Coast Guard at the age of 19. He officially became "Skipper."
Kevin has two objectives when he pulls his 43-foot fishing boat out of Westport. His primary goal is to make sure everyone going fishing has fun. The second goal is to catch fish, returning with the best catch possible. Casey Lowe, who has gone out fishing on Vasereno's boat many times over the years, gives his former high school teacher a double thumbs up.
"He's amazing," said Lowe, a Tumwater grad. "You'd think since he's the Skipper, all he's going to do is drive the boat. No way. He's sprinting around helping. If you need a herring on, he'll put it on and get you back in the water."
Lowe, along with his brothers Derrick and Tom and some co-workers at Capital Business Machines, recently went tuna fishing on the Gold Rush. Lowe figured they caught over 80 fish.
"It was crazy," Lowe said. "We had such a great time. Kevin is super friendly."
Fishing is truly a family affair for the Vaserenos. Karyl handles the booking, taking the phone calls from people wanting to schedule a day of fishing. As for his deckhand, he's got his son, Colin, who also has captain's license. Like his dad, Colin began working as a deckhand at age 12.
"He's been my full time deck hand since he was 16," Vasereno said. "He's got a ton of experience. Some day he may want to take the business over. It's hard to tell right now."
Colin, his dad's deck mate for eight years, makes sure everyone's line is baited and in the water.
"He's just like his dad," Lowe said. "He's making sure everyone has a herring on their hook and in the water. When you're on Kevin's boat, you're going to catch some fish. If you're not puking, you're going to catch some fish."
Coming off a good fishing season when the catch count was up, Vasereno has no complaints about his fishing business.
"We were a team this year on the boat," he said. "It worked out really well."
Occasionally, Karyl hangs up the phone in their office and joins her husband and son for a fishing outing on their boat.
"Every so often she comes," Vasereno said.
But there's one other "chore" that limits her to a handful of fishing trips a year.
"She's so busy with our granddaughters and things like that," said Vasereno, who is selling his Tumwater home and moving to Westport. "She got to go tuna fishing once, halibut fishing once and salmon fishing once. She's a very good fisherman."
Vasereno's job as a teacher, with his summers off, was ideal for being a charter boat owner. Working spring break and weekends during the spring, Vasereno was able to get out on the water for fishing a lot.
"We really didn't miss much of the season even when I was teaching school," he said.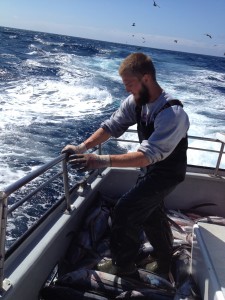 Lowe talked fondly of his days in Mr. Vasereno's electricity class at Tumwater High School. Vasereno had a reputation of being an enforcer, a disciplinarian who made sure all his students were on task, getting their work done.
"In his class, you learned,' Lowe said. "He was one of the best teachers I had."
With owning his own boat for all these years, Vasereno has a lot of repeat customers. But he doesn't really look at them as customers.
"I've got great customers. Guys who been coming out for so long," Vasereno said. "They're more friends than customers. We just have a great time. It's always fun going fishing – great to see the people. Every day is different."
He said owning a charter boat business isn't for everybody. It can become a job, a business that has no weekend getaway. But for Vasereno, it's heaven.
"For me it's just been one of the things I like to do most," he said.
To schedule a trip with Versereno aboard the Gold Rush, click here.