By Kelli Samson
She may have a voice like a whisper, but make no mistake, Fran Potasnik's heart beats loudly.
One can witness it in her quiet dedication as a full-time volunteer for eleven years at the Thurston County Food Bank. One can feel it in the way she spends her weekends making display boards and designing flyers for the Food Bank in her home art studio. And we all can certainly see the kindness of her heart in the spectacular mosaics that surround the entry and exit doors at the Food Bank's downtown Olympia location.
Potasnik enjoyed a thirty-year career as an art teacher in Michigan before relocating to Olympia fifteen years ago. After retirement, she and her husband joined their two children after they settled in the capital city.
After Potasnik's husband passed away, she decided to spend her time helping out at the Food Bank. She began by completing tasks like sorting food, and she slowly found herself at the front desk as the administrative assistant. She's been there ever since.
There used to be alcoves around both the entry and exit doors of the space. They were removed in order to make the building more welcoming, but two plain doors were left exposed. Many days, the line into the Food Bank stretches around the building, and the customers outside were left standing without much to look at.
"That wide space was just kind of staring at me," explains Potasnik. She realized that she could give the customers something beautiful to enjoy while they waited to enter the building. Though she had never constructed a mosaic in her entire career as an artist, she somehow knew that it would be just the right medium for such a project.
Always up for a challenge, Potasnik got to work designing the art and learning as she went. One of her co-workers suggested that one door represent the sun and the other, the moon. Potasnik worked from that idea. She began collecting broken bits of pottery from places like The Painted Plate and the Food Bank itself.
"People brought in so many things for the mosaics that right now I could do a half a dozen more of them," chuckles Potasnik.
Potasnik worked on the mosaics over the summers of 2011 and 2012 during weekends and after hours during the week, securing items that people would bring to her – shells, beads, perhaps the necklace of a loved one.
"I like to work alone," she says, but after a few failed attempts at grouting, she finally hired a professional to do that part of the job.
Not one part of either mosaic has been harmed in any way since she completed the projects a couple of years ago. The community has been very protective and supportive of these gorgeous additions to our landscape that provide a little beauty to some of our community members who need it the most.
The artwork is dedicated to both the people of the Food Bank and to Jessica Moore, a young employee who passed away. "She was a very beautiful young woman," says Potasnik.
Sometimes people come to the Food Bank just to see the mosaics, posing for pictures in front of them.  The children waiting in line like to play "I Spy" among the little broken bits and trinkets in the mosaics.
Potasnik also designed the downspouts that artfully creep down the wall near each door. They provide water for flowers each summer. The pipes are works of art in and of themselves.
The Food Bank will soon be moving the warehouse portion of its operation to a facility on Mottman Road, and Potasnik looks forward to more art installations at the downtown location, whether they are completed by her or not. She has many great ideas.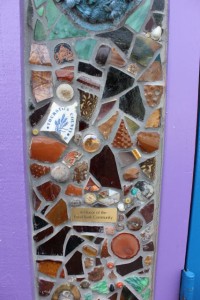 Next time you find yourself downtown, stroll by the Food Bank and take a close look at Potasnik's generous contribution to our community. I'm sure you'll be able to find a little piece of her heart (or at least some heart-shaped item) among the broken pottery.
And please remember that the Food Bank is always happy to take donations of paper or plastic bags and food, perishable or not, during business hours.
Thurston County Food Bank
Open Monday – Friday, 8:30 a.m. – 4:30 p.m.
220 Thurston Ave. NE
Olympia, WA 98501
(360) 352-8597
Find them on Facebook.