By Claire Smith, Capital High School Intern to ThurstonTalk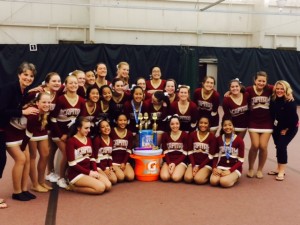 The Capital High School Dance Team is a group of absolutely amazing girls and I'm blessed to be one of them. These ladies are a dedicated group of dancers from Capital High School who practice for hours so they can perform at football and basketball games, pep rallies at the high school, and in competitions with other dance teams across Washington.
The Cougarettes have come a long way – from their 2009 season when they didn't even make districts, to becoming state champions just the following year. After nearly half a decade of diligently working and improving every day, last year they took the world by storm with an amazing pom routine that not only earned them first place in Washington State, but took them all the way to Disney World in Florida to compete at Nationals.  The teams has an amazing legacy – one they hope to carry on by passing their skills to the younger generation.
The Jr. Cougarettes Clinic, held for many years now, first started as a fundraiser for the team. This quickly turned from just another fundraiser, to an opportunity to reach out to the community and share their skills with younger girls with an interest in dance and potentially joining a dance team when they reach high school.  It also presents a great opportunity to spend time with young girls who just love to dance.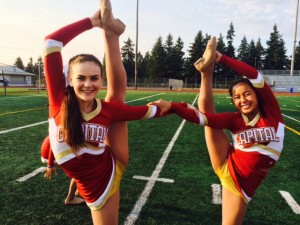 At the clinic, routines are taught in two different groups. Dancers in elementary school learn one routine and middle school dancers learn a more advanced routine.  The Jr. Cougarettes also get to play dancing games with the high school dancers. All participants also learn the rules of and participate in a "Drill Down," a dance version of "Simon Says."
"Watching the clinic kids' faces just light up when they get to perform right next to a Cougarette varsity dancer and realize they are dancing and actually doing a routine with someone they look up to so much – that's what it's all about," says head coach Jan Kiefer, who has coached the Cougarettes for 18 years. She, along with choreographer Jaci Gruhn, have held many dance clinics over the years.
The Jr. Cougarettes aren't the only ones who benefit from the fun-filled day. Teaching the routines helps advance the skills of current Cougarettes. Kristelle Cariaga, a captain and senior Cougarette, says the members learn responsibility from guiding the younger girls. "It teaches the older girls patience and it gives them the opportunity to teach and inspire the young girls," explains Cariaga.
The clinic is on the September 27 from 8:30 a.m. to 1:00 p.m. in the CHS main gym. Registration forms can be found at the Cougarette Facebook page. Walk-ins are welcome. More information about the dance team can be found on their website.
As a culmination of the hard work at the clinic, all dancers will have the opportunity to perform at the Capital Varsity Football game on Friday, October 17. The clinic girls will perform at half-time with the CHS band.
All dancers planning to attend are encouraged to bring a water bottle with your name on it and wear comfortable clothes and shoes for dancing. Snacks and a clinic tee-shirt will be provided for each girl.  I can't wait to see your smiling faces there!