By Tom Rohrer
It's been nearly a decade since the Capital High School Dance Team traveled to take on the nations best.
And thanks to hard work, talent, leadership and strong coaching, the Cougar Dance team will be traveling back to Orlando, FL this February for the Universal Dance Association (UDA) National Championship.
Led by coaches Jan Kiefer and Jaci Grunh, the Cougarette's qualified for nationals after a terrific performance at the UDA regional camp in July.  The team placed first overall in "home routine" and received a Superior Trophy for their overall performance.
Kiefer, who has coached the CHS dance team for over 17 years, knows that her current collection of girls is different than any other before them.
"We've qualified in years past, but this team is just special," said Kiefer, who has taken the CHS Dance/Drill team to nationals twice before.  "Their ability level is phenomenal, and you can't say enough about their work ethic. They're the ones that push it to the next level.  When they determine they want something, they go after it 100 percent."
Qualifying for nationals requires pinpoint execution in a pressure filled environment.  At the July camp, the CHS girls performed in front of a crowd of over 5,000 people, all with a trip to nationals on the line.  Part of Gruhn and Kiefer's job is keeping the girls emotionally capable to perform, a job they say is made easier by the members of the team.
"They're pretty grounded, pretty focused," said Grunh of the Cougarettes's, who also took second place in "pom" and "military" at the WIAA State Dance and Drill Competition last spring. "When they get onto the floor, they're prepared, and they trust each other to perform.  It's crazy to think about the pressure, but they don't get fazed by that."
Along with coaching, and performances at CHS football and basketball games, the Cougarette's spend hours working on their choreographed performances.
Gruhn, who serves as the choreographer on the coaching staff, has already created a layout of the competition pom piece for nationals.  Through the countless hours of practice, the routine will evolve through an experimental process of sorts.
"It takes hundreds of hours when you combine planning, practicing, tweaking bits here and there," said Gruhn.  "When we have all the girls together, things change organically through practice time.  We have a good idea of the technical elements, but you have to be willing, as a choregrapher, to relinquish the control a bit and try something else.  You want to feature the talents of your kids and work with the team's strengths."
Both Kiefer and Gruhn noted that at nationals, the Cougarettes will compete against high school teams that have performed together since elementary school and enroll in specific performing arts schools to continue dance and drill.  What makes the CHS team successful is the coach's ability to work with girls who don't come from a "traditional" dance background.
"We really have a philosophy that you don't have to make the team with a 'full' dance background," said Kiefer. "We believe in kids we can teach and mold. It's their desire and drive that gets them there."
Along with learning the routines from Gruhn and the drill/dance fundamentals from Kiefer, the Cougarettes must also undergo high level physical training throughout the year.  This allows the team to be able to focus only on the routine during competitions and performances and not get slowed down by a lack of conditioning.
"They need to be so focused on the next move and where they're supposed to be that they can't afford to be tired," said Gruhn.  "We're running, stretching, doing planks, doing lunges, just really pushing the limits every day.  That's a requirement to be successful at any level of this sport, especially when you're competing at the state and national levels."
Thanks to a special group of nine seniors, who comprise one-third of the 27 girl team, the two coaches have to worry little about the team slacking.
"We only lost three girls from last year to graduation, so the (nine) seniors, they really talk about it being now or never, that this is their nationals year," said Kiefer.  "We don't need to motivate the girls too much because they know what's at stake."
With the influx of younger girls to the team, Kiefer will be going back to basics the first few weeks of practice.  This also helps refresh the more experienced girls, to avoid becoming complacent.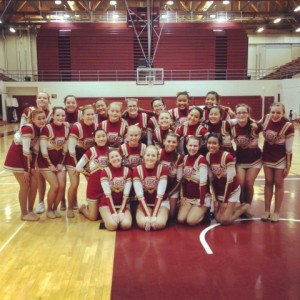 "There's a lot of when and where to hold your pom, where your wrist is," said Kiefer. "That's there for the new kids, and that's really our bread and butter.  We need to be excellent in those technical areas to be successful."
Throughout the football season, the team will perfect a new routine, for every home game.  The team performs during half-time, considering these performances as the perfect tune-up for an event like nationals.
"With the big lights, the packed stadium, that's the first taste of performing as a team for some of these girls," said Gruhn.  "We need that.  I think also that we go through so many routines, it keeps girls fresh, keeps their minds sharp.  Also, it can get boring practicing the same routine over and over again for something like nationals, so they look forward to this time of the year."
Together, Gruhn and Kiefer have influenced the girls on matters away from the stage, as well.  This past year, the Cougarettes were the Academic State Champions.  The team achieved the highest GPA among all other 2A schools.
The two coaches describe themselves as a ying and a yang, with their differing personalities and style of coaching creating a perfect balance.
"I'm very 'yeah it will be fine', and that's not Jan's style," said Gruhn.  "But we need that to have the right balance, to get through to the girls.  (Kiefer) is just such a great leader and has that presence."
"If you look at our purses, mine is organized, everything has a place.  That's not the case for Jaci, and that's where her creative genius comes from," said Kiefer.
Qualifying for nationals is hard enough, but organizing a cross country trip for 27 girls takes things to a whole new level.
The Cougarette's have hit the fundraising path hard.  The team will also host a Junior Cougarettes Dance Clinic on Saturday, Sept. 21.
Despite the challenges ahead, the coaches are thankful for the support they've already received from the school and the community.
"For something like this, it takes your entire community to get behind you, and that's exactly what this community has done," said Gruhn.  "The school, principal, all the administration, they've been extremely helpful and amazing as well."
Equally as important is the support received from the families of team members.
"Thankfully, we have loving and supportive husbands and parents," said Kiefer.  "I tell them at tryouts that when they make the team, you make the team as well.  It shows when we go to state.  The parents are so invested and they know the routines just like us."
With all the perofrmances, fundraising and travel planning, the coaches must keep the girls focused on the present.
"It's a big thing hanging over everyone," Gruhn said of nationals.  "We want the girls to be excited, but we want them to understand it's a process and they need to take it one step at a time."
For more information on the CHS Cougarettes Dance Team, visit their website here.  Follow the CHS Dance team on Facebook or Instagram.