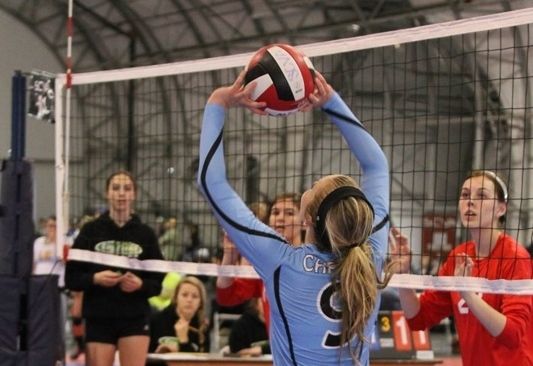 By Tom Rohrer

Before our interview concluded, Mackenzie Bowen had one final request.
Bowen, soon to be a senior at Tumwater High School, wanted to make sure her volleyball accomplishments spoke for themselves.
"I don't want it to seem like I think I'm really good," said Bowen, who has been a varsity player at Tumwater since her sophomore season. "I don't want that at all."
While her teammates, coaches, friends and family members have been aware of Bowen's modesty, the Thurston County athletic community can now be put on notice.
"I think I've always not thought of volleyball or team sports as an individual opportunity," said Bowen. "Not what can I win by doing this but what can we do to get better.  I don't think about myself first, I think about my teammates."
Along with her team-first attitude, Bowen's biggest asset on the court is her versatility and the ability to play multiple positions within a team's formation.
That versatility was put on full display this summer during the club season.  A member of Capital Volleyball Club since the seventh grade, Bowen needed to fill in for an injured teammate early on in the summer.
"She is a setter and a hitter and we traditionally ran a 6-2 (meaning) that she would set when she was in the back row and hit when she was in the front row," said Capital Volleyball Club 17s coach Mike Henry.  "The other setter broke her leg in our first tournament which forced Mackenzie to be a full time setter and not able to hit."
"At 17's, you try to get seen by a lot of college coaches and this year she had to play in a position that did not benefit her as much but helped our team tremendously," Henry continued. "She did not complain once about it and actually when I tried to change things to help her, she was the one that asked to go back to where we were the strongest because she knew the team would be better."
Such a selfless decision came naturally for Bowen.
"Again, it's about helping the team first," said Bowen.  "I felt like I was the best replacement at that position."
In the club's final tournament of the summer, the Emerald City Classic at the University of Washington, Bowen moved back to her 6-2 roll and promptly made the most of the opportunity.  She was named to the tournament's six player "All Tournament Team," a testament to Bowen's ability to quickly adjust back to her normal position.
"(Making the all-tournament team) felt so great," Bowen said. "I was so hungry to hit and get back to my original position. I was so shocked and surprised by the recognition but it felt great."
Armed with momentum from her performance at the Emerald City Classic, Bowen will attend a variety of summer camps before the start of the high school season in August.  It has long been a dream of Bowen's to play at the collegiate level, and recruiters from school's such as Western Washington University and Linfield University have taken noticed.  Realizing that she is on the brink of her dreams is an exciting prospect for Bowen.
"It's so crazy, surreal. When I was younger, seeing older girls in high school, I would be so in awe," she said. "They seemed so old, so good. Now that's me and it doesn't seem real."
College scouts and coaches are present throughout CVC's summer season, an intimidating experience that has made Bowen better as a player.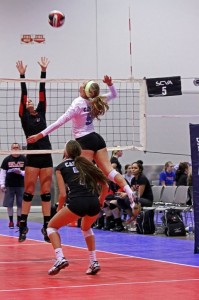 "There's a lot of pressure in club play.  You're always playing in front of big scouts at big tourneys," she said.  "I just try to think about the team and how we're playing.  But if I make a nice play, I'm hoping they saw it."
Bowen shared these pressure filled summers with close friends Marissa Ottesen (libero) and Rachel Erickson (outside hitter), two key components of Capital High School's second place finish at the 2014 2A state tournament.  Teammates one season and opponents the very next, Bowen enjoys the bittersweet experience of taking on her friends.
"We love each other, but hate each other at the same time.  If they make a good play, I'm so mad, but so happy," Bowen commented in relation to playing during high school season. "If I hit it and (Ottesen) digs it, I get so mad but relieved she didn't shank it."
During her two years on Tumwater's varsity team, Bowen has been able to play with her older sister Courtney (2013) to earn a 2nd place 2A finish (2013) and a sixth place finish last year.  Playing for a prestigious program like the one overseen by head coach Tana Otton is a driving in Bowen's improvement as a player.
"We all want to live up to that legacy.  It's something we've grown up with and there are high expectations.  I like it that way," Bowen said.  "I want to do my part to help the team.  Everyone has that feeling of not wanting to let the others down."
The team-first mindset Bowen revolves around is a byproduct of the coaching she's received from Henry and Otton.
"I wouldn't want to play for any other coach," Bowen said.  "I admire their passion for the game.  It has really rubbed off on me."
It appears Bowen has made an impression on her coaches as well.
"You couldn't find a kinder, more humble, unselfish player than Mackenzie Bowen," said Henry.
Sorry to embarrass you, Mackenzie.