There is carpet cleaning and then there is carpet restoration. Dan Baxter, owner of DKB Restoration explains, "We are not a typical carpet cleaning company.  We are experts in carpet restoration. Our specialty is when the carpet is really bad."
Carpet restoration is needed when there has been damage to the carpet, foot traffic has completely worn it down, there are extreme odors or the soiling is severe. For example, pet stains and odors are a common need for restoration. Restoration of the carpet is an alternative to replacing the entire carpet.
Baxter admits, "We have saved homeowners from having to replace their carpets." Deep cleaning, and odor elimination are specialized skills that are not typically offered by ordinary carpet cleaning companies.
DKB Restoration uses the most advanced technology in carpet cleaning, the Rotovac, for its routine carpet cleaning as well as restoration.
"There is no comparison between the cleanliness I can achieve using the Rotovac and the results of using the old fashioned steam cleaning wand," states Baxter.  The Rotovac cleans from all directions and is motorized while the steam wand only cleans in two directions and relies upon the strength and the stamina of the operator.
"There is not a better technology available to get carpets cleaner," Baxter explains.  "If there was, I would be using that. It is my goal to raise the level of standards and expectations locally for carpet cleaning. I achieve good results. I want my customers to be repeat customers and provide referrals because we clean the best they have ever experienced."
Baxter advises that frequent vacuuming is a great way to get rid of surface dirt but sometimes carpets need a thorough deep cleaning. Carpet manufacturers recommend professional cleaning every six to twelve months depending upon lifestyle and how heavy the use is on the carpet. Additionally, carpets should be cleaned on a regular basis in order to ensure a healthy home environment and indoor air quality.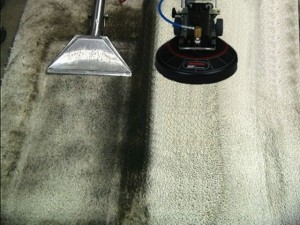 Carpeting absorbs tracked in soil like dirt, asphalt, pollens, and insecticides. The carpet then acts as a filter to keep these soils from becoming airborne. They are temporarily removed from vacuuming and effectively removed with professional cleaning. Clean carpets act as a filter to help clean the air in the home. Not maintaining your carpet can lead to staining and permanent traffic area damage as well as contribute to poor indoor air quality.
DKB Restoration's carpet cleaning process is straightforward. They will conduct a pre-inspection to evaluate your carpet's needs in order to determine the best method for your particular carpet.  Next they pre-treat areas of spots and stains then they use the Rotovac for a fast and thorough deep cleaning. After the post-inspection, fans may be used to expedite the drying process, for an additional fee. And as a benefit of being a DKB Restoration customer, Baxter provides a bottle of professional strength spot remover.  In addition, he is available after cleaning for any questions and most importantly guarantees his work.
Click here to learn more about carpet restoration and other services provided by DKB Restoration or call Dan Baxter at 360-688-4392.