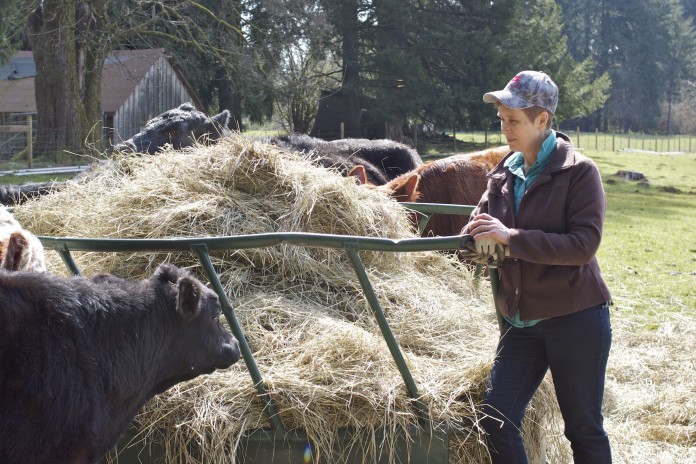 By Jennifer Crain

The ATV is low on fuel so Zita leads me back to her garage so we can take the RAV4 instead. She pulls onto the street and back along a driveway at the edge of the 15-acre lot in Tumwater where she's lived with her partner for 20 years.
Beyond the first fence a grove of young Douglas firs, cedars, and hemlocks stands between the vehicle and a pasture at the back of the property. Zita forges through narrow openings in the trees, driving over the stumps ("We had the trees thinned just before that big ice storm," she explains), then guns it to push through some deep muddy ruts.
We stop and get out. Beyond the second gate are the cows, lazing in the sun near a Transparent apple tree. It was their only fruit tree to survive the 2012 storm.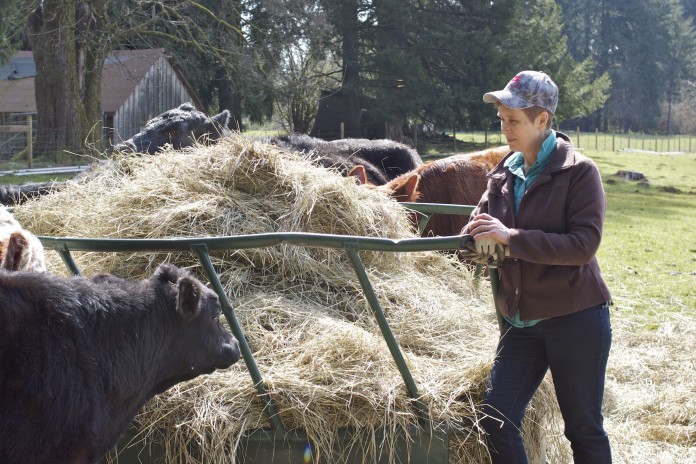 "They use that tree as a scratching post." Zita shakes her head and laughs, two hands resting lightly on the red rolling walker she uses to get around.
When the cows see her, they start to walk toward us. She coos and sings, putting a hand out as they approach. "Pretty little Lindy. How's my beautiful girl?"
Zita (she goes by her last name) has kept beef cattle ever since a health crisis landed her in the hospital in the late '90s. Her doctors recommended a two-pronged recovery strategy: fewer marathon workdays in front of the computer and more meat.
For a research physicist and a vegetarian, this was a sea change. She decided she'd navigate it by becoming a farmer.
"I had always felt that I couldn't eat what I couldn't kill…so I got roosters," she laughs.
She soon upgraded to a flock of hens. The next year, 1999, she acquired a few steers. Not long after, she bought a few calves from a dairy farm and started her own herd.
I met Zita at the Women in Agriculture Conference in early March, a gathering of more than 500 women at 27 geographic locations across three states. Farmers from Tumwater, Tenino, Lacey, and Grays Harbor gathered at a local campus to discuss farm management, acquire business tools, and learn from a panel of successful local food producers. The event was co-sponsored by the USDA's National Agricultural Statistic Service (NASS) and Washington State University Extension.
According to the Census of Agriculture, Armstrong-Zita Ranch is one of more than 7,500 Washington farms with a woman at the helm.
"Conferences like this have supported women operators in the state of Washington for several years now," says Chris Mertz, Regional Director of Washington's NASS office. "(There were) women with very different backgrounds, very different stories. But there was no mistaking the passion they were showing for their craft."
The popularity of Zita's product testifies to her passion for farming and devotion to the animals on her land. Each year she sells out of her organic beef in the spring, even though the slaughter doesn't take place until early summer.
After a farm accident last year, she discovered that the loyalty of her customers and other supporters goes beyond a yearly shipment of steaks. People surrounded her for months, helping out while she began a long road to recovery.
Zita had been on haystacks hundreds of times. But last spring, as she was strapping down a double stack of 700-pound bales, she lost her footing and fell 14 feet to the ground. The impact shattered the top of her tibia.
Landing on her feet saved her life. "But I'm not a cat," she quips. The accident left her bedridden for three months. Her daily tasks shifted from mending fences and slaughtering chickens to intensive physical therapy work. She still can't check on her cows regularly. And even though they hired a farmhand to keep up with the chores, a lot of work goes undone.
"Farming is a really dangerous job," she says. "Haystack falls are a common cause of farm injuries and farm deaths."
The fact is a sobering one, but it highlights Zita's luck and fortitude. Her doctors didn't think she would be walking yet but she's way ahead of her recovery schedule, navigating over rocks, ruts, and straw strewn pasture using only her walker.
She's back to her day job, too. Zita still works as a physicist, teaching classes at The Evergreen State College.
Hearing her talk about her work with fusion energy is a little like watching her interact with a cow: she's captivated by a beast that is complicated, demanding, and powerful. In both cases, the relationship even seems reciprocal.
"It's very dynamic," she says of magnetic confinement fusion, a concept she explains to me over a cup of chai. "It's like a wild creature."
Like the other women farmers I met at the conference, Zita's sentiments are with the land and with the well being of her animals. She describes the bull she kept for four years as "a pussycat. I could lead him around with a rope and a bucket." But farming also demands pragmatism. The bull, she says a moment later, is in the freezer. The filet mignon from him was tender and delicious, a fact that astonished her, given he lived to be four years old.
"He just had an easy life." Zita smiles. This is what she believes makes for good meat.
For information on purchasing beef from Armstrong-Zita Ranch, click here.
For information on the Women in Agriculture Conference, visit the WSU Extension website or click here.
All photos by Jennifer Crain.