By Kathryn Millhorn
The arrival of spring is heralded by cherry blossoms, balmy breezes, and the annual Saint Martin's University Dragon Boat Festival.  This is the ninth year of the Festival scheduled for Saturday, April 26 at the Port Plaza.
Beginning with a morning welcome and 'Dotting of the Eye' ceremony, this year's event promises a record number of teams, boats, and paddlers arriving from Seattle to Portland and everywhere in between.  Over 1000 paddlers will make up 42 teams, with eight boats on the water at all times.  While these groups race continuously throughout the day, performers and vendors will fill the plaza for the expected crowds of 5,000 people.
Brenda Burns, the Study Abroad and Activities Coordinator for Saint Martin's Office of International Programs and Development, explains: "We believe that this annual event supports the University's mission and reflects the University's Benedictine values of community, hospitality, and stewardship.  The primary purpose of the Dragon Boat Festival is to raise awareness about Saint Martin's University and to build, reach out to, and give back to the South Puget Sound community.  Basically, we like to give something back to a community that gives so much to us.  The enjoyment of having a spring multicultural event and promoting the many cultures that make up the South Sound is a beautiful way for us to engage with the community and start spring!"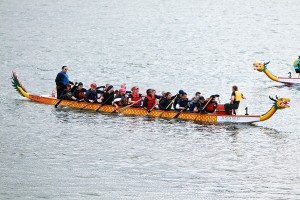 Grown from 32 teams and 770 paddlers last year, this year's Festival is just one step on the grander ladder, promises Burns.  Next year's tenth anniversary goal is to have participating paddlers from Asia and other countries.
Saint Martin's facilitates many aspects of the Festival, organizing such details as water practice time for teams, marketing, registration, volunteer recruitment, performance booking, and partnering with the Port of Olympia to create an amazing day for all involved.  Monks from the Abbey participate on race teams, and Burns even told of attendees who met at the event and later married!
Future race participants can try the sport at Swantown Marina, courtesy of the Washington Dragon Boat Association.  No experience is required and the first three practice sessions are offered for free.  From March through October groups meet Wednesdays at 5:45 p.m. or Sundays at 1:00 p.m. and everyone is welcome.  While this year's Festival is full, prospective racers can email DragonBoat@stmartin.edu for details on upcoming years.