By Kathryn Millhorn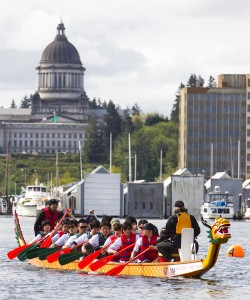 Not many sports require dotting I's before you can begin.  Or 'eyes', in the case of Dragon Boat races.  Legend has it that a dragon was carved in ancient China which was so realistic the artist refused to dot its eyes, for fear it would fly away.  When he did, at the urging of the people, away it soared, as do the magically carved and painted boats in each race hosted at the annual Saint Martin's University's Dragon Boat Festival.
This year's festival, to be held at Port Plaza on Budd Inlet Saturday, April 27, will be no different.  32 teams will compete:  12 competitive, 8 intermediate, and 12 community teams (with little or no experience).  Each team contains up to 20 rowers, with a drummer and steerperson, using boats provided by the Washington Dragon Boat Association.  Teams come from Seattle and Portland, as well as around Puget Sound and Olympia, and are comprised of high school teams, cancer survivors, retirees, businesses, a school district, and Tumwater city employees.  No formal training is required but community teams are required to attend 1-2 practices sessions (1 ½ hour each) while intermediate and competitive teams practice independently.  Participants in this free festival receive t-shirts and medals as well as a day filled with spectators, booths, and community.
Josephine Yung, Saint Martin's Vice President of the Office of International Programs and Development, facilitated the first such festival in 2005.  She has become a fan of the sport, acknowledging that "The more I learned about dragon boat racing, the more fascinated I was of the sport that traces back to two thousand years ago in China.  The event promotes cultural diversity, team-spirit and community togetherness.  I felt offering a fun, free, family-oriented cultural festival was a good way for Saint Martin's University to give back to the community – a community that we have been a part of since 1895."
Anyone interested in dragon boating can try out practices for free courtesy of the Washington Dragon Boat Association.  In Olympia, volunteers meet at the Swantown Marina (1102 Marine Drive NE, Dock A) on Wednesday evenings or Sunday afternoons.  Questions can be directed to Shiela Marsh at 253-302-0316.  Life jackets and paddles are provided, dress to get splashed and bring a love of the water!
But beware, paddling in the great Northwest has its crazy moments.  According to one practice log for the Sea Otters Dragon Boat Team:  "great practice today…. sun, when we left the dock, wind when we were out in the open, drenching rain as we were coasting into the dock and piercing hail as we were tying up… all on a Sunday afternoon!!…but it feels so good to be on the water!"
Photos courtesy of Steven Herppich Photography