By Stacy Fisher
There are many reasons to love our area, but proximity to wonderful shellfish is a highlight for many local food lovers.  You can head to a local gravelly beach and pick your own oysters and dig for clams, or visit your local fishmonger.  I sat down with Lisa, Bayview Thriftway's Seafood Manager, to talk about spotting fresh shellfish and how to properly handle the product.
Making sure you are getting your seafood from a reputable source is probably the most important indicator of freshness and quality.  Getting to know your local fishmonger and asking questions is a great way to learn more about your local shellfish market.  Bayview Thriftway, receives the majority of their seafood from Washington farms and a few Oregonian sources.  "We offer shellfish from Hood Canal to Willapa Bay and a couple other farms on the west coast…and it's available year round."  Most seafood is stocked the day after it is pulled out of the water.  All shellfish must be labeled with a harvest date, so be sure to ask your store when the shellfish was harvested.
Fresh Test
Besides doing the "smell test", fresh seafood should not smell fishy but have a mild ocean smell, Lisa from Bayview offers the following other indicators of freshness:
Fresh shellfish should be purchased alive.  Select shellfish with shells tightly closed.  If there is a slight opening, give it a tap.  If the shell closes, it is still alive.
Select shellfish with shells without any cracks.
As with most seafood, she generally recommends eating them between 3 to 5 days for mussels and clams and 5 to 7 days for oysters.
Store your live shellfish in the refrigerator, covered with a wet towel to keep them moist. Allowing them to breathe will assure they stay alive and fresh until cooking time.
Sustainable & Local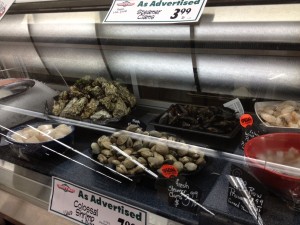 In an environment when eating local and sustainable seafood is paramount to consumers, you can rest assured that our local shellfish has been rated high.  Based on the Monterey Bay Aquarium Seafood Watch, our local shellfish including oysters, mussels, and our native clams are listed on the "Best Choices (green)" list.  This category is given to seafood classified as abundant, well-managed and caught or farmed in environmentally friendly ways.  These "super green" foods are low in environmental contaminants and are good sources of long-chain omega-3 fatty acids.
There are so many shellfish recipe ideas available in local cookbooks and online.  If you are wondering how to cook seafood or want to watch a demonstration, be sure to check out the line-up at Bayview's School of Cooking.
Bayview Thriftway
516 West 4th
Olympia, WA 98502
Phone: (360) 352-4897
Store Hours:  6am to midnight