By Libby Kamrowski
Sparkles. Beads. Satin. Velvet. Glitz glamour, gowns. You'll find it all at Cinderella's Closet, a local non-profit dress rental shop located in the South Sound Lacey mall. Suitable for any semiformal to full-on fancy event, girls and women of Thurston County have their interests covered by fairy godmother Mary Ann Detzler.
"We're here to be sure that each woman or teenager will be outfitted beautifully for their special evening. It's why we chose the Cinderella theme." Detzler, both the founder and treasurer, opened the doors of Cinderella's Closet four years ago, originally in Tumwater, but has since been in Lacey three years. Detzler, a former teacher in the Olympia area, got the idea for the nonprofit from a group in Seattle that offered scholarships for students to attend college.
But she can only run so much under her own capacity. "We're able to survive by community support," Detzler said. "We couldn't exist without the help of our teenage and adult volunteers." As the prom season is already underway, volunteers are in short supply but great need.
Juniors in high school are now allowed to embark on service opportunities that can count towards the mandatory Culminating Project. The Washington State requirement is 20 hours of service, of which 10 hours must be non-school related, but all can be incurred from community service if the student so chooses. Detzler has expressed her interest toward this age demographic, and she understands that volunteering through Cinderella's Closet does not need to be extended service. Simply helping Cinderella Closet's and godmothers through the prom rush would be much appreciated.
Detzler outlined the duties of a volunteer for Cinderella's Closet. Strenuous activity is not involved: simply helping customers, re-racking merchandise, and keeping the shop reasonably organized is the goals. Seamstresses and those with sewing experience would also be appreciated, but such experience is not required.  The applications are simple and can be accessed by stopping by the shop, and volunteers are accepted year-round. Beyond service hour requirements, Detzler can write recommendations for scholarships or other post-high school education opportunities, and the volunteering can qualify as retail experience.
Cinderella's Closet is a facet of community that both benefits its members and is reliant on its members. As it provides unique services through low-cost rentals, it's essential that Thurston County recognizes the need to give back not only through providing volunteers, but also cash and clothing donations.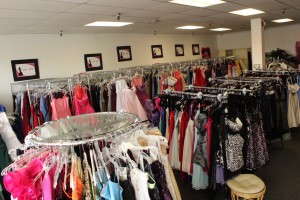 As a patron of Cinderella's Closet, senior Hannah Parvi visited in February to get equipped for a wedding. "They have great customer service as well as beautiful gowns. However, they have somewhat limited inventory that is solely reliant on donations from the community." Not just individuals donate their gently-used dresses, but the Closet has also been sponsored by notable beneficiaries, such as Macy's and JC Rose in Yelm.
The selection of ball gowns is quite impressive. In 2010, they loaned 149 gowns. The supply has grown to an impressive 1700 dresses in 2014. Dress rentals come on the lovably low price scale of $25 to $65. This fee helps pay for the bills to keep the shop open, including utilities, dry cleaning, and insurance. One accessory, such as earrings, a necklace, or a bracelet, comes with each gown rental, and it's only an additional five dollars if more accessories are desired. Patrons can also pick out a pair of shoes to be loaned from the dazzling stock of 300 (which are sanitized after each use). The godmothers thought of everything, and purses as well as petticoats are available as well.
Local sophomore Kayleigh Hensch recommends the shop. "They were very welcoming. They don't make you feel awkward for needing to rent a dress and shoes." Hensch used her rentals to attend the homecoming dance her freshman year.
Dresses rented from Cinderella's Closet are applied to other events as well. Senior Coraliz Diaz rented so that she could attend a church event in style. "It was a semi-formal [event], but most of the girls liked to go all-out. It was just like any other store where you comb through the racks looking for your options that you plan trying on." Diaz had fun searching for her dress hunting down "the one." Other typical events that women and teens seek the service of Cinderella's Closet include military balls, cruises, and weddings.
If extra funds are generated, Detzler distributes them in the most beneficial way that she can manage. "Whenever we get extra money, we look to provide more free sponsorship," she said. This includes the Sponsor a Girl charitable service program, when community members, teachers, or foster care refers girls to the shop for rentals, in exchange for service to cover the fees. The Closet makes sure that no one is left out.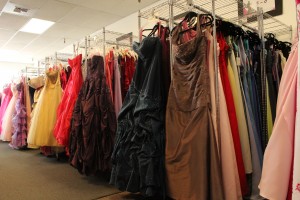 This supports the stated vision "To serve, mentor and inspire all South Sound girls and women by helping each other look and feel beautiful while becoming more self-assured."
Cinderella's Closet
719 Sleater Kinney Road SE
Lacey, Washington 98503
Follow the non-profit organization on Facebook.