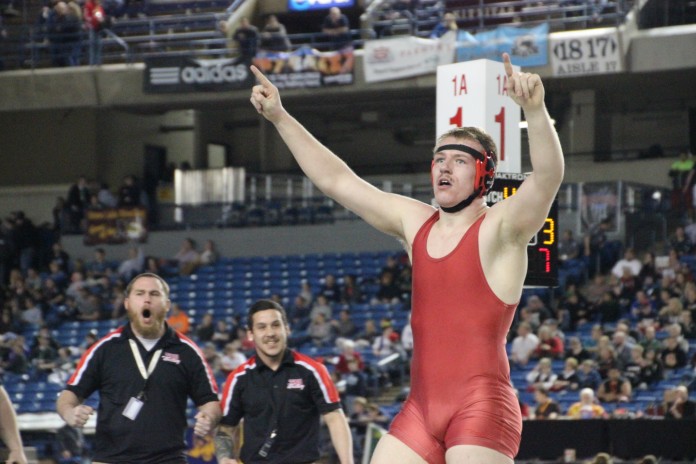 By Tom Rohrer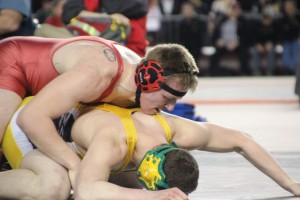 In 2013, Tenino's Dom Nakano saw his season come to an end in the regional tournament.
Fast forward to Saturday night in the Tacoma Dome and Nakano walked off the last mat of his high school career a 1A state champion in the 195 lbs. division.
Nakano defeated Vashon Island senior Preston Morris 7-2 in the final match and celebrated the affair with a series of spirited yells and a sprint into the crowd to hug friends and family.
The Beavers coaching staff joined in on the fun as well, yelping and jumping as if they had won the match themselves.
"This is so much better than actually wrestling," said Justin Hernandez, a second year member of the Tenino coaching staff.  "It's seriously the best feeling ever."
If the coaches generated such a reaction, what euphoria could be running through Nakano's head in the championship moment.
"I feel like I'm dreaming," he said. "It doesn't feel real. It's hard to explain because I've wanted this ever since I can remember."
Down 2-0 to Morris, Nakano would rattle off seven consecutive points in a convincing and eye opening victory.
"I've gone through a lot of comebacks before," he said. "I just kept my head on straight and focused on winning the match.  I just kept thinking, 'keep grinding and keep winning' and it all worked out."