Submitted by Olympia Unitarian Universalist Congregation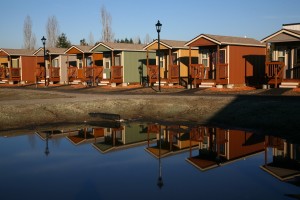 A recent New York Times article featured Olympia's Quixote Village as a template for homeless housing projects across the country. The article cited the 2.1-acre, $3.05 million real estate development as a model of collaboration between previously homeless adults, local government and seven local church communities. Quixote Village is supported by Panza, a 501(c)3 non-profit organization.
The Times article highlights the work of Olympia Unitarian Universalist Congregation member, Jill Severn. The former board chairwoman of Panza, Ms. Severn spearheaded the drive to establish a permanent residence for the homeless. She is quoted in the Times article as saying, "When you pack a City Council meeting with 30 homeless people and 120 nice church people," she said, "they can't say no."
Current Panza chair Tim Ransom, also of the Olympia Unitarian Universalist Congregation, was also a key collaborator in the efforts to create Quixote Village. "The extra attention from the New York Times confirms what we already knew," said Ransom, "Quixote Village is an extraordinary project worth duplicating elsewhere."
Quixote Village opened on Dec. 24, 2013. Prior to that, the residents had all been members of a homeless community called Camp Quixote, which was established in 2007 in a downtown Olympia parking lot to protest a city ordinance that forbade sitting or lying on a sidewalk.  When police threatened to break up the camp, the Olympia Unitarian Universalist Congregation offered campers sanctuary on their grounds. For the next six plus years, several local churches took turns hosting the camp as it moved over 20 times, from one church parking lot to another, under the terms of local ordinances that regulated it.