By Tom Rohrer

Arriving at an unfamiliar destination can be a challenging experience.
In these situations, the journey is made easier with a friend by your side.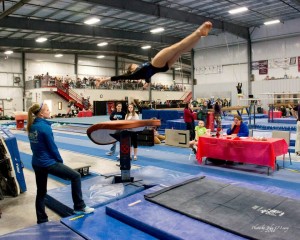 This weekend, Olympia High School sophomores Mady Becker and Laura Coor will travel to Tacoma to compete the WIAA State Gymnastics Meet inside the Tacoma Dome Convention Center.
It is the first state appearance at the high school level for the two longtime friends and former club teammates.
Both qualified to compete in the 4A Vault competition, with Becker also earning a spot in the floor routine competition.  Other factors were certainly at play, but the relationship between Becker and Coor, both as friends and teammates, propelled each to the state's biggest stage.
"We pump each other up a lot, and it's always one of us trying to help the other," Coor said. "In every sport, teammates are huge towards your performance. I think that's been a major key for me."
"If we're at practice and it's been a rough day, we encourage each other to keep going, to keep pushing through everything," Becker noted. "It's paid off."
Under the direction of head coach Brandi Embrey, an Olympia native who competed at the University of Bridgeport, the two will be the lone OHS representatives in Tacoma.
Not lost on Coor in the excitement of qualifying for state is the fact that she and Becker's gymnastic careers nearly didn't materialize.
"One day I asked my mom to be a gymnast, I think I was in the first grade.  She took me to three different gyms and I would just start bawling as soon as I got inside," said Coor.  "We just kept leaving."
"I just want to add here that Mady was initially not going to do high school gymnastics," Coor stated later in the interview. "My teammates and I, we finally convinced her to.  That's something I'm thankful for because she is such a great teammate."
Becker and Coor originally became teammates through Black Hills Gymnastics, the same club where Embrey got her start in the sport.
Coor left the club program in middle school while Becker continued to compete for BHG until last year.
During their time at BHG, the two qualified for the state club competition several times.
While the experience from these appearances certainly won't hurt their performances Friday and Saturday, neither expect it to help either.
"I know in high school it's a lot harder, way harder to qualify for state," said Becker.  "And then it's even tougher to place when you get there.  So we're very proud to be in this position."
There is the possibility that Becker and Coor could compete in two more state meets before their high school graduation.
Sure, the two are highly competitive and want to perform their best this weekend.  However, both are blessed with perspective as well and will look to carry the momentum from the state appearance into next season and beyond.
"I'm looking forward to training even harder and eventually qualifying for the all-around [competition] at state," said Coor. "I want to have a good vault and stick it.  I'm not expecting to move on to the state finals, but I will be upset if I don't complete the best vault I can."
"This has been a sweet first year for high school competition," said Becker. "As this is my first experience at state, I'm not sure what to expect. I know if I try my best and give it all I have, I'll be happy with the results."
The competitive looseness that Becker and Coor carry themselves with is a direct result of the instruction they receive from Embrey.
"She's really understanding since she's been in the sport before and knows how to get around any obstacle," said Coor.  "She's still young too, so she's relatable and fun to be around.  She pushes us but it's not stressful, it's fun."
"I love that when she was our age, she went to the same club.  She knows what works and what it takes to perform your best," said Becker.  "We really trust her."
Their strong work ethic combined with flattering comments about their instructors make Becker and Coor each a coach's dream.  The two certainly rely on their teammates, coaches and friendship but also understand a strong performance comes from within.
"Ultimately, it's on you to work every day in practice to prepare," said Becker. "We've felt confident and ready for meets all season, and that's how we feel now."
"You practice how you compete and it helps me to visualize my routine," said Coor. "Just sit there, get into a zone, and see yourself doing great."
Luckily for Becker and Coor, they get to share that same vision together.