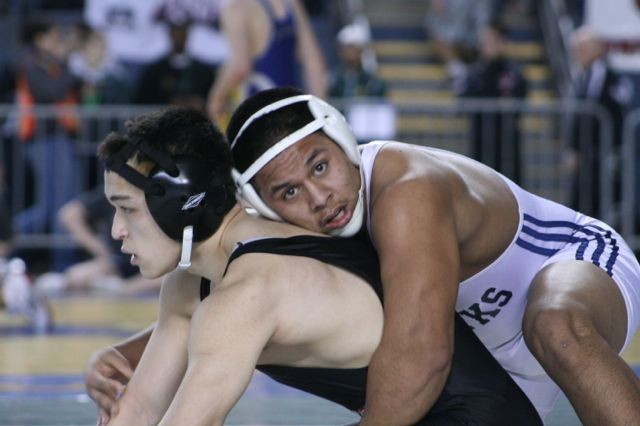 By Tom Rohrer

Of all the exciting and competitive athletic competitions in the state, there may not be a more unique setting than the Tacoma Dome during the two days of the annual Mat Classic.
Hundreds of wrestlers from small towns, large cities, prep-academies and rural public high schools fill the numerous mats on the arena's floor while thousands of parents, students and fans of the sport crush into the stands.
For some competitors, Mat Classic XXVI will be their first time competing under the Dome's bright lights.  Others are seasoned veterans, so to speak, able to rely on their experience competing in the intense atmosphere.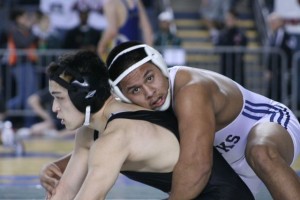 Twelve Thurston County high schools will be sending at least one wrestler to compete in Friday and Saturday's state meet.  Powerhouses such as Yelm, Timberline and Tumwater, who each had an individual state champion a year ago, will be sending a large contingency of athletes.
Under first year head coach Jim Belleville, River Ridge is sending three to the Mat Classic, a group that includes district and regional champion Elijah Camacho.
On the southern end of the county, Tenino High School's Dom Nakano, also a regional and district champion, will be the Beavers lone representative.
Last March, Camacho advanced to the 2A state semi-finals in the 160 lb. bracket, where he was defeated by eventual state champion Bobby Reece of Kingston.  The defeat to Reece was a motivating factor for the two time state participant during grueling practices and offseason workouts.
"It's something that I always thought about," said Camacho.  "To get that close and lose, it certainly pushes you."
Nakano, a senior, does not have the luxury of Mat Classic experience.  He will make his state tournament debut on Friday in the 1A 195 lb. bracket.  Though he doesn't have a semi-final loss to draw inspiration from, Nakano is fueled by lost opportunities in past district and regional tournaments.
"To get to the Dome my senior year having never made it, it's a great feeling," said Nakano, who is 26-6 on the season.  "I was cut short last year and it was a 'should've, could've, would've situation.'  I really focused this year and put my head on straight.  I limited distractions and focused on being the best and working for it."
Handling the emotions associated with the Mat Classic may be more difficult than the physical task at hand.  As a sophomore competing at state for the first time, Camacho remembers the nerves running through his head.  Last February, he used his experience to overcome the pressure.
"It's an awesome atmosphere and it's great being there wrestling," said Camacho, who began wrestling in Colorado before moving to Lacey in 2006.  "There are so many people and you feed off that energy.  I love it."
Despite his lack of experience at the Mat Classic, Nakano is confident he can perform at the same level he has all season.
"I know it will be intense atmosphere, but it's just a mat to me," he said. "I have four tough matches to grind through.  I'm taking it one step at a time and that will help me stay focused.  It shouldn't be a problem."
River Ridge began practicing in a new training room this season, giving Camacho and his teammates the opportunity to train like never before.  Coupled with the beneficial practice and training is the instruction Camacho receives from Belleville, a four time state champion at Black Hills High School who went on to compete for the University of Wyoming.
"The (coaching staff), they're preparing us way better," said Camacho.  "Getting to practice with a four time state champ, that's like getting to wrestle in a state title match every day."
After a coaching change following both his freshmen and sophomore year, Nakano credits his improvement to the structure provided by second year head coach Gene Bond.
"We worked a lot in the summer and that carried over to pre-season and then the regular season," said Nakano, who competes for Prairie Rugby in Yelm.  "(The coaching) is completely different now."
Despite their differences, the two senior wrestlers are connected by the same championship expectation.
"I've beat a bunch of other guys in the bracket and I'm feeling confident," said Nakano. "I feel like I have nothing to lose and can go in with all I got.  I don't know what will happen, but it should be a good run."
"My goal is to become state champion," said Camacho confidently. "Might as well go out with a bang."