By Natasha Ashenhurst

I had no idea what I was getting myself into — rehearsals every week for two months, then every day the week leading up to opening night, costume fittings, strict makeup guidelines, special black slippers, white tights, plus my required three volunteer duties.
No, I am not a dancer. I am a brand new Ballet Northwest Nutcracker Parent, proudly supporting my eight-year-old daughter's dream of dancing in an Olympia tradition, Ballet Northwest's Nutcracker.
What has surprised me most about my experience as a Nutcracker Parent, are, well, the other parents. Many of these dedicated men and women keep coming back year after year to volunteer their time sewing costumes, painting sets and applying makeup to sugar plum fairies, giggling toys, and nervous soldiers. In fact, some return long past the point where their own children are dancing in the Nutcracker. I wondered, "What is it about the Nutcracker that gets volunteers so motivated that they are willing to come back each year, devoting their time and talent?
Joining a community tradition with a rich heritage.
I decided to ask a few of these veteran volunteers what inspires them, but first, I talked to Ken Johnson, co-artistic director of Ballet Northwest. He said, "We have over 200 cast members in the Nutcracker, so it really is a community effort to get all of the pieces together by opening night. Putting on the Nutcracker is a community tradition that has gone on for years. Our veteran volunteers pass on their wide-range of knowledge to brand new volunteers so they are able to become part of a rich heritage. Then, they enjoy the process so much, they keep coming back."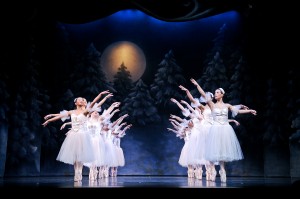 Connie Campbell, the first parent I spoke with, agreed. Campbell is the volunteer coordinator for Ballet Northwest. She started volunteering nine years ago when her daughter was cast as a mouse. This year her daughter will dance as a Snow Queen and as the Spanish Lead. In the early years, Connie fulfilled her volunteer requirements by helping in the Black Box (back stage dressing room for the young dancers) as well as ushering. Her involvement has since increased dramatically. She spends hours each week communicating with volunteers.
She said, "I enjoy helping to recruit and train volunteers for all the jobs that it takes put on a quality ballet production.  I love being able to work behind the scenes to enable all the different parts to work together — helping dancers prepare to go on stage and also help the audience to enjoy the show.  It's very fulfilling."
Her experience with Ballet Northwest has also changed how she views Olympia. She said, "I have been in contact with businesses who donate to our raffles and auctions. I've attended more of the other performing arts in Olympia as my appreciation for ballet, drama and other musical events has grown.  Also, I have learned a tremendous amount about ballet, putting on productions—what it really takes.  It has been a total pleasure to work with such talented and competent artistic directors and all the volunteers who enthusiastically volunteer and fill the needs required to put on such high quality ballet performances."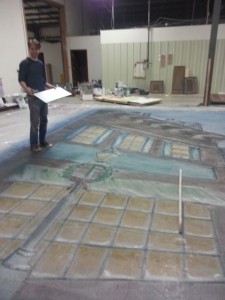 "Ballet Northwest has provided my daughter with opportunities to learn, not just ballet, but to develop character qualities of perseverance, commitment, and responsibility. It has been a wonderful experience," she added.
Jon Peterson's daughter started taking ballet lessons six years ago, and her first Nutcracker role was as a mouse. She has continued to dance in the Nutcracker ever since. The first year his daughter danced in the Nutcracker, Jon signed up to help load and unload the Nutcracker set. Over the course of the first year, and in years since, he has become friends with other Ballet Northwest parents, Ken and Josie, and a host of other volunteers, through that process of loading in and loading out.
"I have done it every year now for the past six years for the Nutcracker as well as the spring show.  I branched out last year and became an usher because my daughter was one of the Claras and I wanted to see the show as many times as I could. I plan on ushering again this year for the Nutcracker and Swan Lake," he said.
I asked him what he enjoyed most about the volunteer experience. He said, "I enjoy volunteering in the community and getting involved in the arts.  I think the African proverb 'it takes a village to raise a child' pretty much sums up why I volunteer."
Finally, I tracked down Stacia Hollar, President of the Ballet Northwest Board of Trustees. She started her daughters in ballet lessons when they were young, and when they were old enough to participate in the Nutcracker, Hollar began by helping back stage. "Frankly, I was terrified to leave my child by herself, so I was there helping at most shows. I loved the excitement of getting the kids ready and being part of a team. Soon, I was staying, not because Emma needed me, but because it was fun," reported Hollar.
Hollar has continued helping backstage in the Black Box every year since 2004. Two years ago, Hollar and Kellie Braseth took charge of the Black Box. "Both Kellie and I are involved year round as we both serve on the Board of Directors for Ballet Northwest.  We love watching the kids grow in confidence and poise.  We have a group of about 10 seniors this year and we've known many of them from their first Nutcracker 10 years ago when they were mice, soldiers or toys.  Now they are the Sugar Plums Fairies, Russian and Spanish leads, but mostly they are wonderfully competent young women.  I give huge credit to Bud and Mary Johansen, Ken and Josie Johnson and the whole Ballet Northwest family," she said.
I asked her if her experience has changed her view of the arts in Olympia. She said, "Ballet Northwest offers the Olympia community a high quality dance experience.  The opportunity to dance in a real theater, wear gorgeous costumes and be surrounded by artistic sets is truly something out of a dream.  And it is all possible due to the great support we get from the Olympia community.  The businesses who sponsor us, the ticket buyers who give us a reason to dance and the financial resources to make it possible, the community organizations that provide us with grant funds and most of all, the parents and other family members who volunteer countless hours so a young mouse or soldier can dream of becoming the Sugar Plum fairy or a prince."
So, this year you'll find me in the Black Box, helping keep hordes of soldiers and mice calm before their stage debut. Next year, I'll be back, and possibly for years to come. I've come to realize that not only am I meeting my volunteer requirements as my daughter dances her way up the Nutcracker ranks, I joining an Olympia tradition, making friends, and am having a blast.
Ballet Northwest's production of the Nutcracker will be held December 13, 14, 20 and 21 at 7:30 pm as well as December 14, 15, 21 and 22 at 2:00 pm.  Tickets for the performance at the Washington Center can be purchased here.