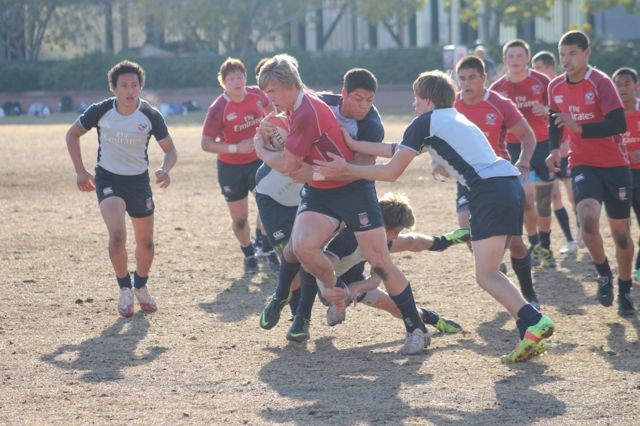 By Tom Rohrer

Three years ago, becoming an All-American did not hold a place in Brian Nault's mind.
As a 14-year-old, Nault, thanks to encourgagrment from his older sister Diandra, played rugby for the first time.
"I went to one of (Diandra's) practices thinking it was nothing special, but I came away hooked," said Nault, who plays for the Shelton Rugby Club.  "My first year playing, I didn't really know anything about the game.  I was sort of clueless."
Now a junior at Shelton High School, Nault was named to the USA Rugby High School All American team last spring.  Earning a spot on the squad gave Nault the opportunity to travel overseas to take on some of the best competition in the world.  The team traveled across England in late March and early April, taking on national teams from Wales, Belgium and England along with local schools and academies.
"When we went to Wales, it was a shock.  They ran us over right out of the gun," Nault says of the BHSSA 46-15 loss to Wales. "Next week, we went up against England and I can just remember how emotional it was.  We lost 35-32 but it came right down to the end.  We came out a better team."
Nault noticed the increased spotlight rugby gets overseas and also took the opportunity abroad to make some new friends.
"Everywhere you go, people were talking about rugby – it's like the NFL is here," says Nault.  "We got to stay with players from other countries which was cool.  It was awesome just to see the new cultures and meet new friends."
In late December, Nault will make his way to Arizona to try out for the BHSSA team, where he will compete with and against the best young players in the country.  The competition, instruction and relationships Nault has made through USA Rugby and the All-American tryouts in particular has taken his performance to a new level.
"I was in awe when I first showed up just because there was so much talent there and so many different game styles," says Nault, who enjoys history among his classes at Shelton High School. "I would see some kids use a certain technique or a certain move and I picked up on that.  We build off each other, help each other.  It's just been an awesome experience meeting new people from all over."
Along with the tactics he learned from other players, Nault credits the coach's instruction for his improved skills.
"Shelton coach, Chris Nesmeth, introduced me to rugby and helped me learn the grind of the sport. Also, my All-State coach Pete Sullivan helped me get exposure," said Nault. "They took me from not knowing anything to where I'm at now."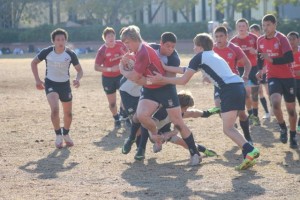 Nault also mentioned legendary coach Salty Thompson, who is the head-man for the BHSSA, as a major influence.
"He's a great guy, and he's kept in touch with me since last summer," Nault says. "You learn a lot just from being around those kinds of guys."
As a three time All-Narrows league performer for the Shelton High Climber football team at both offensive lineman and linebacker, Nault notices how participation in both sports benefits his performance on the gridiron and on the pitch.
"The skills from rugby transfer onto football field. In rugby, the action never stops so my awareness carries over to football," said Nault. "In football, I'm always focused and just moving with a purpose, so I feel more prepared for that aspect."
Throughout his time with the Shelton Rugby Club, which competes against teams across the state and region throughout the year, Nault has noticed strong play at the local level .  Considering Nault's global and national experience, his high praise for the local talent shouldn't be taken for granted.
"I've seen (rugby) grow a lot over the years, specifically in our area," said Nault, who plays the 8-man position. "It's really getting big in Washington, and that helped me a lot when I went to the national team tryouts.  I was very prepared."
Long known as a prestigious title for college athletics, All-Americans are now found at the high school level across a wide variety of sports.  Earning that title has given Nault a sense of pride, but has not changed his humble and hard-working nature.
"Sometimes it's like, 'wow having that title is pretty big' but I still think I'm a normal teenager," said the son of Dwayne and Robin Nault.  "I'm just thankful for everyone who has helpful throughout the journey.  I wouldn't be anywhere without them."