Submitted by The YWCA of Olympia
Annual Event Will Offer Hands-On Workshops for Middle School Girls Led By Female Mentors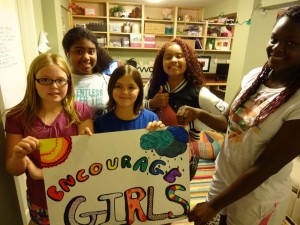 The YWCA of Olympia is holding their first annual Girls Winter Summit January 3, 2014 at South Puget Sound Community College from 9:00am-5:30pm. The event will engage middle school aged girls in hands-on workshops with subjects ranging from science, technology, engineering, and math (S.T.E.M.), to DIY bike mechanics and creative writing. Each workshop will pair a group of 10-15 girls with a female mentor from the community who will encourage participants to explore their interests and consider diverse career paths. Pre-registration is required to attend the Summit. Visit  the YWCA website and look under "News" to register or  call the YWCA at (360) 352-0593.
The YWCA of Olympia is committed to empowering girls and women through education, advocacy, and leadership opportunities. Through after-school programs like Girls Circle and Girls For A Change, the YWCA facilitates peer discussion groups for middle school girls focused on healthy relationships, community engagement, and developing positive self-esteem. The YWCA's Girls Without Limits! Program offers middle school aged girls a chance to enhance their interest in S.T.E.M. through hands-on activities. By working closely with professional women in S.T.E.M. fields, girls develop valuable skills and gain career awareness in a fun learning environment. Girls Without Limits! is supported by Intel, Comcast in Washington State, the Lucky Seven Foundation, and the Mary P. Dolciani Halloran Foundation.
"Events like the YWCA Girls Winter Summit are important in our community. This is a day where girls spend time together in a fun and encouraging environment that's just for them. I grew up in Thurston County, so it feels great to get to set a positive example for girls in the community I love – it's fun for me too!" said Elisa Kaufmann, a Thurston County Environmental Health Educator who is participating in the Summit.
According to Debe Edden, Artistic & Managing Director of Heartsparkle Players, "I am honored to volunteer because I believe in mentoring and supporting girls to grow up to be skilled, confident, compassionate women. Women who believe in themselves as much as they believe in others. Women who can use their minds to create, problem solve and tend to the world. It is a joy to watch girls mature into their own unique selves. I applaud the YWCA for their programs that nurture and give such opportunities to girls in our community."
For more information about the Girls Winter Summit or to register, contact Makenzie DeVries at (360) 352-0593 or mdevries@ywcaofolympia.org. Information and registration is also available on the agency website under News.