By Eric Wilson-Edge

To a certain extent being an adult means practicing restraint. That's one of the great things about Christmas. We can cut loose without reproach or scorn from our fellow big people. Coating the house with lights is perfectly normal. So too is the herd of fake reindeer in the front yard. Some of us take this enthusiasm to a different level. The effort some people put forth is proof that gifts don't have to be wrapped. These creations are presents for everyone to enjoy.  Here then is a list of some amazing holiday displays in our area.
This home, at the intersection of Central and Tenth, has become a staple of high quality holiday viewing.  The website touts 30,000 lights on over 300 strings. What could be better? How about homemade cookies and warm drinks on Wednesdays, Fridays and Sundays. The light show runs every night until January 4 from 4:30pm to 10:30pm. Make sure to bring a donation for the Thurston County Food Bank or the Olympia School District.  Read more about the favorite light display here.
Christmas lights? Check. Music? Check. Santa? Check. The Ken Lake experience is multidimensional. The lights are set to music which can be played on your car radio. Santa Claus will be coming to town on December 13 and 20 from 6:30 p.m. to 8:30 pm. Bring your own camera and a can of food for the food bank.  Before you go make sure to check out this video of a wedding proposal that took place in 2011.
Borst Park
While it's a bit of drive to get out to this decoration-filled neighborhood, the good news is that you never have to get out of the car. Borst Park is located in Centralia. As you may have guessed it's a drive-through light show. There are 12 new displays this year and a half mile of new lights. The display is open December 13-15 and December 20-24 from 6:00 p.m. to 9:00 p.m. Admission is $3 per car or $2 with a canned food donation.
Fantasy Lights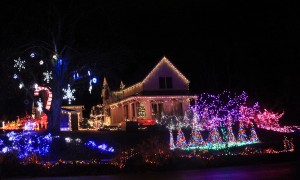 I promise, the half hour trip to Spanaway is worth the drive. Fantasy Lights is billed as the "largest holiday drive-through display in the Northwest." This is the place for those who like animatronics.  Just about everything moves – except for the cars. Expect long waits. Bring some snacks or games for the kids. Fantasy lights is open nightly from 5:30 p.m. to 9:00 p.m. until New Year's Day. Admission is $13 per vehicle.
Olympia Parade of Lighted Ships
The Olympia waterfront is a beautiful place. Sure, it might be a little chilly and sometimes stinky but it's hard to beat the view. Throw in a bunch of boats decked (no pun intended) out in holiday cheer and you have a couple hours of fun. This year's parade is on December 7 from 6:00 p.m. to 8:00 p.m.  The ships will travel from Olympia Yacht Club's perch at Percival Landing to Boston Harbor and back.
Shelton Yacht Club Christmas Parade
More boats! This time they're a little further north and west. The Shelton Yacht Club will raise anchor at 7:00 p.m. on December 20 and 21. The ships will journey from Oakland Bay to Libby Point and back. For a good view of the action head to Walker Park or Jacoby's Shorecrest Park.
Well. That's it, a totally incomplete list of great displays. If we've left out your favorite location please let us know.