By Tom Rohrer

Elaborate and festive light displays are common around the Thurston County area during the holiday season and many homes obtain that spirit once December rolls around.
It would be unfair to call the Whitney and Luke Bowerman's set-up a "display", as the couple has yet again put together their annual Lightstravaganza, located at 1515 10th Ave. SE in Olympia.
Featuring 30,000 lights on over 300 strings, Oly Lightstravaganza captures the essence of the Christmas season, and will inspire and bring together all visitors who make their way to the Bowerman's property.
The lights will be on display every night till Thursday, Jan. 3, and on Wednesdays, Saturdays, and Sundays, the Bowerman's will provide free cookies from their cookie shack from 6-8 p.m.
Along with the light display, the Bowerman's will also be accepting donations for the Thurston County Food Bank and the Olympia School District Welcome Room, which calls for everyday items for local families in need.
The Bowerman's love for Christmas lights and the holiday spirit stems from Luke's childhood in Olympia, where his family would compete with neighbors for the most impressive light display on Calais Lane.  Luke's passion has been passed on to Whitney since they met in 2004, and together, using a go big or go home mentality, the couple has been able to consistently put together one of the best displays in the area.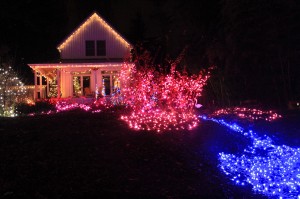 "We always put forth a huge effort on projects and this is no different," said Whitney Bowerman in an interview with ThurstonTalk.com.  "We're project people and have earned a reputation in our families, and this is something that really means a lot to us.  That's how we do things."
"It became this on-going joke between me and an adult neighbor," said Luke Bowerman. "And I fell out of it until I bought a house and we met.  We started it back up slowly and then just kept going.  I think this is the perfect area for Christmas lights."
This is the first year the lights will be up at the Bowerman's current home (which Luke built), as they moved from nearby 9th avenue in 2009.  Following the birth of their now two-and-a-half old child, the couple took a few years off from the time-consuming set-up.  Now, the Bowerman's, who both attended The Evergreen State College are back in full force, spreading needed cheer to the area.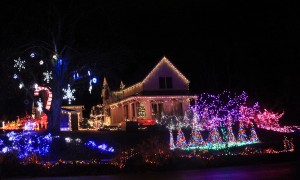 "One of the best things is just meeting new people and neighbors," said Luke Bowerman.  "It's fun to see them enjoy (the lights). We've always been involved in the Eastside Neighborhood Association and it's a great way for people to get out and promote the area.  The adults and kids who come by are equally amused and it's fun to see that."
"At our previous home, people started to also put up lights and decorations," Whitney Bowerman said. "It's cool to see it spread around from house to house."
As if putting up the lights wasn't enough of a time consuming activity, the Bowerman's construct the physical decorations, such as the cookie shack and candy canes featured on the property.
"We don't like the plastic stuff, we like the stuff that you can make," Whitney Bowerman said. "It's cool to go through that creative process.  It's a lot of work to put up, but it's great to see the people enjoy it.  We've had it up for only a week and we have a lot more traffic this week."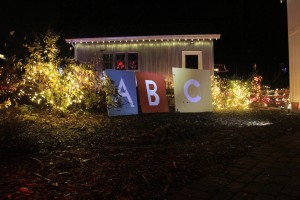 "It took three weeks of evenings and weekends, my best guess is between sixty and seventy hours total," said Luke Bowerman. "It's a new property for us so we had to figure out where to get power.  We had to set up two ladders on top of each other to reach the high areas of the home which it was a challenge."
Whitney Bowerman, whose master's degree from TESC is in Environmental Science, says they've worked on reducing the energy footprint of the decorations.   Eighty-five-percent of the lights are LED Bulbs, which uses significantly less energy than traditional lighting, and the Bowerman's estimate that in the next few years, 100-percent of the lights will be LED.  Whitney has also been in contact with the city on creating a Christmas light recycling program that would allow for more re-use in the area while eliminating unwanted waste.
"We've been really conscientious of our footprint," said Whitney Bowerman.  "We buy lights in bulk to reduce transportation and buy higher quality lights from commercial distributors so they last longer and a lot less waste is involved.  The stuff we build we try to use from older products and not by new construction supplies every time.  By purchasing higher quality equipment that means we can use it longer and not throw it away."
Having a display that is efficient, environmentally friendly and raises donations for local charities strays from the norm of traditional Christmas decorations.  However, the traditional spirit of the season is present at the Bowerman's home.
"We enjoy the spirit, the presence of family and just the simple joy lights can bring to people," said Luke Bowerman.  "When you can combine those things, it makes this time of year special."
For more information on the Oly Lightstravaganza, including details about the deocartions, local charities and holiday light efficiency, visit http://www.facebook.com/OlyLightstravaganza.