By Daniel Landin
Wednesday, November 20
What:  The Blackberry Bushes are a Northwest Alt-folk String Band that spent many years touring out of Olympia and are now based in Seattle. Jes Raymond's  sweet-as-honey vocals and Jakob Breitbach's daredevil violin playing will make this performance memorable.
Where: Urban Onion Lounge, 116 Legion Way SE, Olympia, WA, 98506
Time: 8-11pm
Tickets: $5 at the Door
More info: Restaurant open till 9, Bar open till close. All ages until 9:30 pm
Thursday, November 14
What: Jazz Jam with Tarik Bentlemsani: Tarik's skill and creativity on the guitar is something that leaves people in awe time and again. His wizardry is in full effect as lead guitarist of local funk band The Brown Edition, and when he is tucked away in the corner of a café with a 6-string acoustic.  Every Thursday he hosts a great evening of jazz at The Pig Bar.
Where: The Pig Bar, 619 Legion Way NE, Olympia
Time: 8:30pm
Tickets: FREE, 21+
Friday, November 22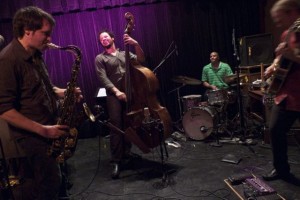 What: Skerik's Bandalabra featuring Carly Meyers. Skerik has become ubiquitous on the funk/world groove music scene nationally and in Europe and yet remains a best-kept secret just south of his native Seattle. This band is a high-octane rhythm machine, its players masters of group improvisation. Featuring frequent co-conspirators D'Vonne Lewis on drums and Evan-Flory Barnes on string bass, the transcendent Andy Coe on electric guitar and the exciting Carly Meyers on trombone. The Steve Bentley Ensemble, just off a sold out Washington Center Black Box show, will warm up the evening.
Where: Olympia Ballroom, 116 Legion Way SE, Olympia, WA, 98506
Time: 8:30 Doors; 9:00 SHOWTIME
Tickets: $10 general/$8 with student ID. Advance or at the Door:
http://www.brownpapertickets.com/event/516035
What: Science! are an acoustic duo comprised of guitarist and vocalist Justin Stang and multi-instrumentalist Jim Elenteny. Mellow at times and impassioned wailing at others, Science!  toured all corners of the US during the summer of 2013 and always puts on a great show.
Where: The Pig Bar, 619 Legion Way NE, Olympia
Time: 8-?
Tickets: FREE, 21+
More info: there is free live music every Friday and Saturday night at The Pig Bar
Saturday, November 23
What: Gladkill and G Jones. Presented by Mas Sol and Boozie Collins, this is a night of electronica that is more than just a Saturday night at the club. Both of these producers are touring from Oakland, CA, and are notable talents creating Bass Music. Driving rhythms, melodies from the clouds, and indeed, plenty of rich bass. Local support by Pressha, Profresher, and Thalo.
Where: The Royal Lounge, 311 N Capitol Way, Olympia, WA 98501
Time: 9pm – 2am
Tickets can be purchased here.
What: Douce Ambiance.  Seattle based string trio plays swing, jazz, tango, classical, and more. Featuring Michael Gray on violin from Pearl Django along with Gwen Franz on viola and James Hinkley on cello.
Where: Traditions Café, 300 5th Ave SW, Olympia
Time: 8pm
Tickets: $15 general, $10 students/low income
Link: www.traditionsfairtrade.com
What: DBST is an Olympia band on the rise, playing funk, R&B and rock and roll, with a good dose of improvisation.  These guys are all great players and their growing fanbase is hearing the fruits of their busy schedule. Featuring the soulful vocals and lead guitar of Sam Pohl, this band packs a punch and will make you smile!
Where: The Pig Bar, 619 Legion Way NE, Olympia
Time: 8-?
Tickets: FREE, 21+
More info: there is free live music every Friday and Saturday night at The Pig Bar
Monday, November 18
What: Dan Blunck Ensemble. The return of this exciting woodwind player and composer has the local jazz scene buzzing.  I like his own words best: "46 years in this body, 33 with a saxophone, life in flux, music in my head, long tone meditation, more to come, peace…" – Dan Blunck
Where: The Royal Lounge, 311 Capitol Way, Olympia
Time: 8pm
Tickets: $5 suggested donation at the door
More info: There is live jazz every Monday night at the Royal Lounge
Link: www.olympiajazzcentral.com