By Tom Rohrer
A common goal of all high school athletes is to win a state championship.
Winning the championship is a great achievement no matter the situation, but victory certainly tastes sweeter when it was earned through defeat and hard-work.
In 2012, the Capital High School girls 200-yard freestyle relay team of Jessica Eidenmuller, Janessa Schulte, Jada Pearson and Hansi Willoughby finished third at the 2A State Championships in the event.  The defeat, which came a week after the foursome had won the District IV 2A Championship in the event, was made even tougher due to the fact that the CHS swimmers had to watch as a group of seniors from Tumwater High School (Anneke Stoker, Alex Cummings, Lorraine Hack, and Abby Sullivan) were presented with the first place trophy.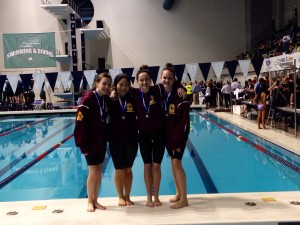 Exactly 357 days later, Pearson, Schulte and Eidenmuller were joined by new partner Madeline Hoffman at the 2A state meet at the King County Aquatic Center in Federal Way.
This time around, the Capital swimmers, who repeated as district champions, were able to push themselves to new heights and won the state championship with a time of 1:43:35, exactly three seconds in front of the second place team from Sehome High School.
Three days after their triumph, the four CHS swimmers sat down for an interview with ThurstonTalk.com, and were still finding it hard to believe they had brought home the first place medal.
"The medal is hanging on the wall in my room, and I'm still trying to believe it's mine," said Schulte, a junior. "It really hasn't hit me yet."
"It was so exciting, and it really hasn't set in that we're state champions," said sophomore Pearson. "We knew we had swam a good race, but you don't realize that you had just won when the race ends.  Even on the podium, I was still in shock kind of.  It was very surreal."
Hoffman qualified for the state meet in 2012 on the CHS 200 yard medley relay, 100 yard fly, and 500 yard freestyle, giving the three other returning members of the freestyle relay team a suitable replacement for Willoughby, who graduated last June.  The four teammates also swim for the Evergreen Swim Club, and were able to come together as a group very easily.
"It was an easy transition because we're so familiar with one another," said Eidenmuller, a junior.  "She's a great swimmer, and I think it motivated us a little more knowing it was her last year on the high school team."
"Figuring out the chemistry and the new positions [on the relay team] was easy for us," said Pearson.  "There is a comfort level between all of us."
The fact that all four swimmers have competed in the state meet at the same venue the previous year also helped in the preparation for a title run.
"Just being in that environment before helped a ton," noted Eidenmuller.  "You feel comfortable at the meet and know what to expect in terms of the level of competition.  Nothing really surprises you."
Competing in such a venue as the King County Aquatic Center, which hosted the U.S. Olympic Diving trials in 2012, added to the experience.
"Even though I've been there so many times, every-time I walk, I think how huge it is to compete there," said Hoffman of the King County Aquatic Center.  "You can feel the history just walking in."
Instead of trying to calm down prior to the start of a race in the prestigious venue, the CHS swimmers use the intense atmosphere of the meet to their advantage.
"I think for all of us, the pressure and intensity is a positive thing," said Eidenmuller. "We want to harness those things and use it as fuel."
"It's key to trust yourself and use your training to guide you through that atmosphere," added Pearson, who also plays on the CHS basketball and tennis teams.  "We each know what we had to do to get the job done, and that focus is something that pushed us to the top."
A motivating force for all Capital swimmers is head coach Burke Anderson, whose workouts for each individual and relay team allows for the swimmers to reach their potential when it counts.
"Coach Anderson can give us workouts that will push our limits all season long," said Hoffman. "It's tough for sure, but it works."
"When we were on the podium, I glanced at Coach Anderson and he had so much pride in his look," said Schulte. "His look said 'You did it, this was the best you could do.'  It meant a lot to him and you could tell."
Getting to the top and earning a state championship has garnered the relay team increased attention from their classmates and faculty at CHS.  The four swimmers will be honored at an upcoming assembly for their achievement and said that they have received congratulations from fellow students the last two days. This level of recognition has not always been around for CHS swimmers.
"Someone said to me 'whoa we actually have a swim team?' It's nice to say yes we have a team and that our relay team won state," said Schulte. "Also, it was nice to see CHS principal Chris Woods and athletic director Steve Bellande come support us.  That meant a lot."
Despite the graduation of Hoffman, all members of the relay team believe they can find a suitable replacement and make a run at repeating next year.
"It was a great way to end senior year for me and I know they can go out and get it again," added Hoffman. "I will be keeping track of them."
"It's a huge accomplishment and we know now that we have 8 months to keep progressing forward," said Eidenmuller.
"Obviously we are sad to see Madeline go, but it will be exciting to see who comes up from club to step up," Schulte says.
Whoever has the opportunity to step into the relay position, will have the opportunity to learn from the best in the state.