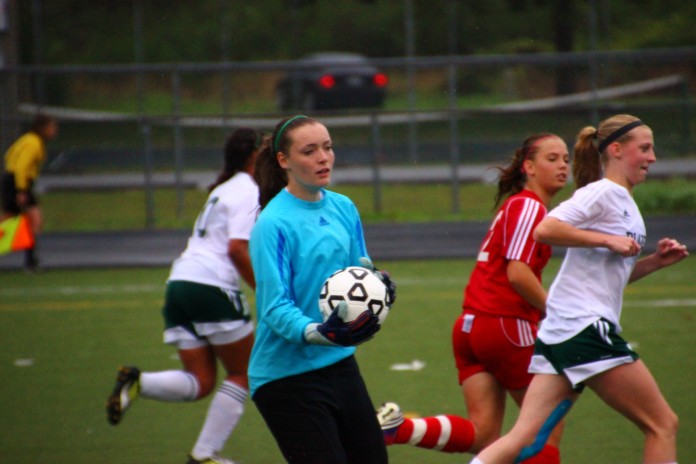 Excellence in athletics stems from learning from past mistakes and making the effort to correct or prevent them from taking place again.
One year ago, the Timberline High School soccer team put together yet another winning season, and parlayed their second place finish in the 3A Narrows League into an appearance in the WIAA 3A District 3 tournament.  The Blazers, who fell to Seattle Prep in the first round of the 2011 WIAA 3A state tournament (Seattle Prep would go on to win their second consecutive state championship that year), had to replace five seniors in 2012 and rely on a group of talented underclassman.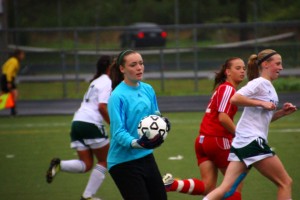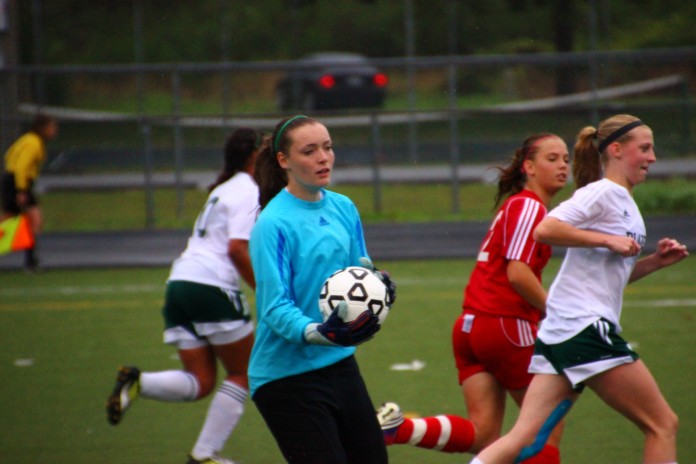 One year later, that collection of young talent lost to Enumclaw in the first round of the district tournament.  The Blazers have taken the next step towards a trip back to the state tournament after a one year absence.
The Blazers finished the 2013 regular season at 12-2-2, earning the 3A Narrows League Championship in the process.  Timberline finished ahead of their rivals at North Thurston High School and Wilson High School of Tacoma, the previous year's league champions.
Timberline began its consecutive game winning streak with a 3-1 victory over North Thurston on September 19th.  It was the first of two victories over the Rams on the year.
The Blazers first of two 1-1 ties came against Black Hills (considered one of the top 2A teams in the state) in the season opener and two games later against Yelm High School.  In the middle of the two ties was a 3-0 loss to Gig Harbor, the Blazers only loss other than the 2-1 defeat to Wilson in the season finale.
Longtime Blazers head coach Jeff Peltier said he's seen the necessary improvement in the talented sophomore and junior classes
"One of the biggest differences that I've seen coming from last year is that the juniors and sophomores have grown and stepped up," said Peltier, who has been the head girl's varsity coach for eight years. "They've always had the talent, but it's their approach to the game that has made a lot of difference."
The Timbelrine players have noticed a change from last year, specifically in the team's camaraderie and level of communication.
"We're playing more as a team and our mix of girls has a little different chemistry," said sophomore forward Leah McGee, who started as center-midfielder as a freshmen last year. "We have more girls who communicate really well."
McGee is one of several offensive playmakers that generates goals and scoring opportunities for the entire Blazer team.
Operating out of a traditional 4-4-2 format, the trio of McGee (11 goals, seven assists), junior Jade Castaneda (11 goals, five assists), and sophomore Mackenzie Williams (10 goals, four assists) paced the Blazers offense all year, giving Peltier an offensive attack the caliber he hasn't seen before.
"I don't think I've ever had two, let alone three girls score more than ten goals," noted Peltier.  "When you can rely on that firepower and have so many players who can score goals, the team is more unpredictable to the opponents.  They don't know who to focus on necessarily."
Because of the balanced scoring and playmaking ability, McGee feels she has more room to operate on the field.
"I know there will be someone who can play off the ball," said McGee, who earned all 3A Narrows League Second Team All-League honors in 2012.  "I can make more runs now, and just have a little extra space out there."
As impressive as the Blazers offense has been this fall, the Timberline defense has been equally terrific, leading to eight shutout victories on the season.
Along with her roll on offense, Williams will rotate back to the defensive side of the field to keep things clear for senior goalie and co-captain Krista Jones.  Joining Williams and Jones as the anchor of the Blazers defense is junior Ashley Martinez, the team's other captain.
Jones was the starting keeper as a freshmen for the Blazers before being re-located to a forward roll during her sophomore and junior seasons.  When last year's starting goalie did not show up for practice this year, Peltier informed Jones she would be heading back to the net.  Not surprisingly, the transition has been relatively easy for the versatile and talented Jones.
"It was easy.  I just put my stuff on and stepped back there," said Jones matter-of-factly. "Since I've played in the field, I can think about what players will be trying to do in situations, so that experience helped me a little."
"She's such a terrific athlete," said Peltier of his goalie.  "Not many girls could just go back and forth between positions like that.  It's pretty amazing."
Jones' job in the net is made much easier due to the play of Williams and Martinez.
"The defense has been great.  They keep things clean and simple," said the goalie. "They make my job easier."
As important as her play is on the field, Peltier believes Martinez has as much impact from a leadership standpoint.
"Martinez is a leader and a director for us," said Peltier.  "She's a main voice for this team, and I think she has given other girls who aren't captains the confidence to be leaders themselves."
Martinez knows how vital her communication is to the team's success.
"We see everything in front of us and we let everyone know where they need to be and what needs to happen," said Martinez, a member of the 3A Narrows League First Team in 2012. "That's our job as defenders and I think we've done a pretty good job at it."
Due to the competitive spirit of the team, and the bitter taste left over from last year's district playoff loss, Peltier and his players have noticed a beneficial, fiery attitude spread across the Blazer roster.
"We already had won the league championship, and I've got girls coming up to me saying they're angry we lost to Wilson (in the last regular season match of the year)," said Peltier. "They don't go overboard with their attitude but the fact they care so much about winning and not losing is a good thing."
"There is no girl on the team that doesn't have a winning attitude," said Martinez. "I think that's one of the differences from past years.  We hate to lose."
This competitive spirit may stem from the influence of Peltier, who can sometime become emotionally animated on the sideline.
"He's always encouraging me to push forward and keep going," said McGee.  "He can motivate us pretty easily."
While the Blazers have certainly had a strong season to this point, it will mean nothing to the team if they are unable to advance further in the playoffs.
"A year is made great by great performances in November," said Peltier.  "The girls know that – I don't have to remind them."
"We obviously can always improve but we're in a great position now," said McGee.  "We just need to take that next step."
The Timberline girls' soccer team will play against Auburn Mountainview High School in the first round of the 3A District 3 tournament on Thursday, Nov. 7 at Chevrolet Stadium in Sumner.  The game begins at 7:30 p.m.