By Katie Doolittle

You've purchased your Homecoming tickets, acquired your outfit, and selected the perfect hairstyle. By now, you've probably decided whether you're going alone, with a date, or a group of friends. Now it's time for that final important decision: before you go to the dance, where will you be having dinner?
No matter where you choose to go, there are some basic guidelines to bear in mind. These tips will make your total Homecoming experience all the more pleasurable and memorable.
Take the time to do your research! Pick a restaurant that fits your personal style and budget. Factor in money for beverages, appetizers, and desserts. And as you're calculating your probable expenses, don't forget to plan for a generous tip.
In fact, if you're going in a larger group, the restaurant will often add an automatic gratuity. That's something you may want to ask about as you're making your reservations—because yes, reservations are a must. You don't want to waste half of your special evening waiting for a table. This becomes doubly important if you're going out in a larger group. (Speaking of which: if you're going out as a group, let your server know at the outset if your group plans to split the tab!)
Before you set your reservation time, consider: do you just want to do dinner and head straight to the dance? Or do you want to build in some time to take a stroll (and perhaps some photos)? If you're going to spend significant amounts of time outside, be sensitive to the fact that ladies can get chilly in their formal- or semi-formal wear. Also, dress shoes aren't usually designed for comfort. Stashing some extra shoes or jackets in your car might make for a more enjoyable evening.
Finally, bring floss to chase away any errant bits of dinner left between your teeth. And it also wouldn't be amiss to carry a few Shout Stain Wipes to address any unfortunate spills.
The following is an excellent but by no means exhaustive list of restaurants to consider for Homecoming or any special occasion.
The Classic: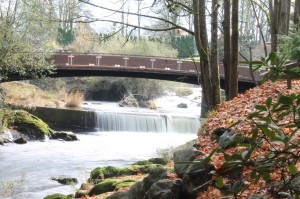 110 Deschutes Pkwy SW, Tumwater, WA 98501
(360) 943-2550
There are reasons this place is such a favorite for the 'before dance' crowd: it's got genuinely friendly service, plus the most gorgeous view in town. Plan to spend some time strolling through the nearby park and taking memorable photos. Entrées center around steak and seafood options, running anywhere from $16 to $38. You can check out their entire dinner menu here.
The Quirky Hideaway:
Trinacria   
113 Capitol Way North, Olympia, WA 98501
(360) 352-8892
It's Sicilian-style Italian food like you can't get anywhere else in town, served in a small and dimly-lit dining room full of eclectic decor. It's a budget- and vegetarian-friendly restaurant, too, with pasta dishes ranging from roughly $9 to $13. Trinacria doesn't have an official website, so do your menu-scouting here and be sure to check the attached menu photos. Final note: this tiny culinary treasure is cash only, and the most convenient ATM for the under-21 crowd is the Chase Bank further down Capitol Way.
Truly Terrific Thai: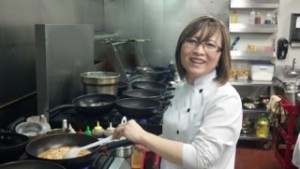 212 4th Avenue West, Olympia, WA 98501
(360) 705-1832
The food is consistently tasty across all three Lemon Grass locations in Lacey, Olympia, and Tumwater. The decor for each restaurant is quite distinct, however, so do some research ahead of time on which ambiance is right for your purposes. The menu is available online, though I can't resist recommending the Singapore Noodles or Honey Prawns. Dinner options—several of them vegetarian—range from $10 to $16.
Bodacious BBQ:
520 – 4th Ave E, Olympia, WA 98501
(360) 754-8909
The wood-fired oven and barbeque smoker at Ramblin Jacks in downtown Olympia is hard to resist. Barbecue may not be the lady's first choice when dressed to the nines, but the restaurant's extensive menu makes it a destination favorite.  A large private room will accommodate a significantly large group.
The Carnivores' Delight:
5211 Lacey Blvd SE, Lacey, WA 98503
(360) 413-9995
This brightly-painted restaurant is actually a converted house, with parking in the back. Chef Ricardo has deep culinary roots in the area, and he makes a conscious effort to serve local and sustainable food. Single dinners here range from $17 to $40, though there are also several pricier "steak for two" options. Though the menu rotates seasonally, you can always plan for multiple steak and pasta options. The specialty entrées often feature lamb or duck.
The Dynamic Duo:
1675 Marine Drive NE
Olympia, WA 98501
(360) 705-3473
Anthony's Homeport Restaurant.
704 Columbia Street NW
Olympia, WA 98501
(360) 357-9700
The same Washington-based restaurant group owns both of these restaurants, which are quite close to each other (and near the Olympia Farmers Market downtown). Entrées range from to $18 to $35, with appetizers on the pricier end. The menu for Anthony's emphasizes seafood, with several steak options, while the Hearthfire menu offers chicken, fish, and steak. Both restaurants feature great views of Puget Sound. The interior of Hearthfire is done in warmer flame colors, while Anthony's features more grey and aqua.
The Romantic Splurge:
111 Thurston Ave NW  Olympia, WA 98501
(360) 786-8466
With its smaller interior and candlelit tables, this restaurant is best for a romantic tête-à-tête or double date. Gardner's specializes in pasta and seafood, though they also have steak and poultry on the menu. Plan to spend $22 to $32 on each dinner item, with the occasional market-priced offering (meaning the price fluctuates). Also, save room and money for the excellent dessert. The server always brings a sample platter full of sumptuous treats towards the end of the meal, and it's impossible to resist temptation!
If your budget is a little tighter this dance season, check out our article about cheap dates here.