By Amy Rowley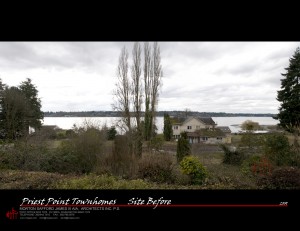 Over the past decades, East Bay neighbors have watched a yellow home, on an expansive lot be used for a variety of purposes.  The house may have been built by town founding father Edmund Sylvester although that lore is unconfirmed.  At various times, the yellow home was a space for wayward children, an alcoholic rehabilitation facility, and a home for senior citizens.
Occupying 1.5 acres on a desirable plot of land, the home most recently operated as the Bayview Inn before local investors purchased the property.
Incorporating as Mission Street Investors, Doug Heay, John Clees, Tim Dolby and Larry Poplack joined forces in 2006 to take advantage of the glorious location and redevelop the property into luxury town homes.
All four investors have operated businesses within Thurston County.  Heay, the second principal at Capital High School and a longtime coach, is also an owner of C&H Construction which is building the town homes.  One of the leading custom home builders in the area, C&H Construction is presently constructing two luxury waterfront homes.
Clees, a Tumwater attorney, is also a long time community leader and business owner.  Dolby, a recently retired dentist, is also active in the community.  He helped start the free dental clinic at the Union Gospel Mission.  Poplack is a financial advisor that has guided many businesses and local individuals, while also donating time to local non-profit organizations.
Compromising with neighbors and the City of Olympia, the team worked through a comprehensive planning process to mitigate environmental issues, such as protecting the adjacent Mission Creek and preserving water views for upland neighbors.
To work through this approval process, the team turned to Bob Wubbena.  A local resident since 1968, Wubbena operated an engineering firm for over 30 years.  Along with his wife and children, Wubbena owns and operates the Fiddlehead Marina at Percival Landing.  Outside his career, he serves as President of the Olympia Rotary Club and sits on the South Puget Sound Community Foundation board of directors.
"We are not just a developer from out of town.  We are long time community leaders that are living where we are building," says Wubbena who just signed a purchase agreement to be the first owner of a Priest Point Townhome.
Wubbena knew the other four investors and approached them at a time when the project was stalled in the permitting process.  "I asked them if I could have fifth choice (in buying a unit) if I helped them with the permits," recalls Wubbena.  "I wanted to live there more than anyone."
As the project progressed, Wubbena helped the team work through the complicated permitting process.  To achieve the area's growth management objectives and spread out costs of upgrading infrastructure such as street and utilities, the property needed to be developed as high density living quarters.
Once fully developed, the Priest Point Townhomes will hold 9 units within three buildings.  Building A will house three units, four units will be in Building B and two units will occupy Building C.  Each town home is between 3,000 – 4,500 square feet.  The homes in Buildings A and C will each be two stories while Building B will be three stories.
The private, town home residencies each have a glorious view of Puget Sound.
"In our opinion, the neighborhood is improved.  Instead of a big, old, ugly yellow house with tall trees obstructing the view, neighbors can gaze on beautiful, luxury town homes with manicured lawns," says Wubbena who helped compromise roofline concerns with surrounding neighbors.
"Priest Point Townhomes change the area.  We have turned a pretty blighted city block into housing that is attractive and useful," remarks Heay.
As the building shells are erected, town home owners get to begin the process of customizing their unit.  "It's been very rewarding to watch something go vertical on the property," notes Clees.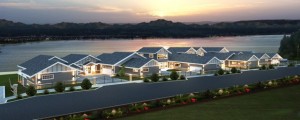 "These are custom town homes.  A buyer can dictate the entire interior.  It's currently a wide open space.  The floor plan is your own personal choice.  Put walls wherever you want them," explains Wubbena.
The serene location is ideal for urban dwellers.  An easy walk to downtown Olympia, Priest Point Townhome residents have an expansive view of the water.  A quick jaunt down Plum Street and you are on I-5 to access metropolitan cities.
"This project creates homes that take advantage of the neat things about living in Olympia," says Heay.
Gaze at a beautiful evening sunset.  Watch the traffic in the port.  Walk at Priest Point Park.  "There is nothing like these town homes in the greater Olympia area," summarizes Heay.
For more information about Priest Point Townhomes, click here.