By Kate Scriven

A long-time dream of the South Sound Estuary Association (SSEA) is now a reality.  For years, volunteers and staff have worked towards the goal of opening an Estuarium in Olympia, sharing the amazing diversity of the south Puget Sound with the residents of Thurston County in an aquarium/museum type setting.  And today, the South Sound Estuarium is open to the public.
Leihla Scharlau, Program Director at the SSEA, is positively giddy with excitement over the opening.  She, other staff and numerous volunteers, have put in countless hours to make the Estuarium dream come true.  Scharlau has learned about other estuariums around the country and the ongoing education and interaction they provided, helping visitors understand the unique properties of an estuary versus oceanfront saltwater, and knew our area needed one.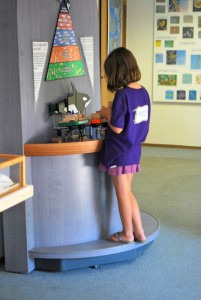 So what is an estuary?  "Estuaries are unique places where tidal salt water and fresh water from streams, rivers and creeks come together," explains Scharlau.  "The Estuarium is a place where you come to learn about the creatures that live in an estuary, how they were created and how we can care for them.  We hope to inspire and educate people about the Puget Sound Estuary, the second largest in the US, and ultimately to get it healthy again as there are areas of the estuary in real trouble."
The Estuarium is located on Washington Street, just steps from the Olympia Farmers Market.  The small tan building, with a green roof, was purchased by the Port of Olympia.  The Port granted the South Sound Estuary Association a temporary license to use the facility.  Inside, visitors can find a host of interesting estuary creatures in two salt water tanks where visitors can watch, ask questions, and identify each specimen using laminated cards.  All creatures were collected within the last week from a private beach in the Steamboat Island area using a scientific collection permit.   Visitors will see seastars, sea cucumbers, a huge species of barnacle, kelp crabs, and a tiny nudibranch that hitchhiked in on a piece of kelp.  See if you can find him…he's adorable.
Interactive displays share the unique nature of an estuary and the creatures, people included, that depend on its rich nutrients and diverse sea life.  "Estuaries are one of the most bio-diverse habitats in the world," explains Scharlau. "Scientists can trace nutrients from the watershed more than 100 miles inland up streams and rivers from, for example, an eagle catching a salmon and flying inland with it before feasting."
The Estuarium is filled with informative exhibits that share fun facts.  Many are on loan from agencies such as the Department of Ecology and the Department of Natural Resources and more exhibits will be rotated through the space.  A model of an orca whale invites visitors to help "balance" his diet by placing blocks on scales representing the nutrient density of certain types of creatures eaten by orcas.   A video room shows a rotating selection of educational movies about Estuaries, Puget Sound and videos created by Thurston County youth learning how to help keep our waterways healthy.  Specimen jars full of creatures found under the sand during "silt studies" will thrill kids that like the slightly creepy side of science.
Information on the other programs offered by the SSEA is readily available at the Estuarium.  A visit to Boston Harbor Marina for a Pier Peer or to a local beach to meet up with SSEA's Beach Naturalists is a perfect follow up to an Estuarium visit.
The Estuarium will be open through August 25, 2013.  Located at 608 Washington St. NE it is only one block south of the Olympia Farmers Market making it a fantastic stop either before or after your market shopping.  There is a suggested admission fee of $2 for those 12 and up, $1 for ages 6 to 11, under 6 are free.
You may have noted that the Estuarium will only be open for a short time.  You can help change that.  SSEA has worked hard to renovate the building, procure the proper permits, and install the exhibits, however they only have funds to keep it open for the duration of the summer.  If you love the idea of a permanent, and one day much larger, Estuarium in Olympia, please consider donating to the Estuarium fund.  With enough support, the doors will not close August 25 and the hard work of setting up this valuable community asset won't be all for just a few weeks.  You can read more about supporting the Estuarium with your dollars or by volunteering your time here.
Ultimately, the South Sound Estuary Association has one goal – get people interested in, and exploring, the South Sound Estuary, creating a bond with this fragile and essential ecosystem that will hopefully foster stewardship.  For, as Scharlau so clearly states, "If people do something, they will love it.  And, if they love it, they will take care of it."
I "did" the Estuarium on Tuesday, have visited with SSEA's Beach Naturalists at Burfoot, and have peered ove the Pier at Boston Harbor.  Yes…I love it and yes, I will take care of it.  I hope you do too.
South Sound Estuarium
608 Washington Street NE in Olympia
Hours: 10 am  – 4 pm, Thursday through Sunday.
For more photos, click here.