By Tom Rohrer

One of the perks of living in Washington is the wide and diverse array of wilderness and the scenery associated with it.  There are deserts, alpine forests, mountains, river valleys and beautiful coastal shorelines.
Spread out across this beautiful state are 117 state parks, all of which will provide free parking access this weekend in honor of National Parks Week.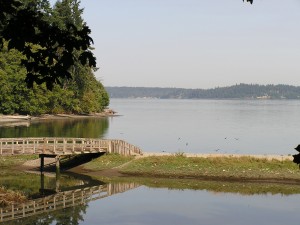 On Saturday, April 27 and Sunday, April 28, Discover Passes will not be required to park at any of the Washington State Parks, providing an opportunity for people across the state to see these beautiful areas.
Discover Passes were instituted in 2011.  For the annual cost of $30, users are able "enjoy millions of acres of Washington State-managed recreation lands – including state parks, water-access points, heritage sites, wildlife and natural areas, trails and trailheads," according to the state's website.
There are between 10-12 free days for state park admission throughout the year, and it should be noted that Discover Passes, even on free state park days, are required to access Department of Natural Resources and Department of Fish and Wildlife lands.
Last year was the first year the state held Free State Park days and Washington State Parks spokesperson Virginia Painter believes it's a great opportunity for Washington citizens to get out and see what the state has to offer
"It's cool because it gives folks who may not be able to afford to go otherwise a chance to get out there and explore a bit," Painter said. "We want people to come to us and see the benefits and see that really, the Discover Pass is a pretty good deal.  You get a lot of access for $30."
There are 21 State Parks in the South Puget Sound region alone, including some close to the Olympia area.  One is Tolmie State Park, a 105 acre marine day use park located on Nisqually Beach on the shores of the Puget Sound.   Millersylvania State Park is another located near Olympia, and has 842 acres featuring Deep Lake and a large old growth cedar forest that has ample hiking and camping opportunities.
While it's fun to explore the natural areas near home, sometimes an overnight trip is necessary to get the full exploration experience.  Painter spoke highly of a number of options for Thurston County area residents, including Ike Kinswa, which is located east of Morton.  Ike Kinswa State Park has a huge selection of camping opportunities, and Painter noted that those who travel to the park for the day will many times end up staying for an overnight adventure.
Seaquest State Park is located south of Ike Kinswa and is described by Painter as a traditional forested land coastal park.  Near Seaquest State Park is the Mount St. Helens Silver Lake visitor center, which provides visitors with background information on the eruption in 1980.
If a trip to the coast is your desired destination, Painter suggests Cape Disappointment, which she describes as an amazing park with lots of different recreational options and trails.  Cape Disappointment is located on the Long Beach Peninsula and is a 1,882 acre camping park.
Iron Horse State Park, located near North Bend and Snoqualmie past, provides access to the John Wayne Pioneer Trail, and is an ideal and vast park for alpine camping opportunities in the Cascade Mountain Range.
Lake Sammamish State Park is a day use park with nearly 7,000 feet of access to the popular lake east of Seattle that also has significant wet-land vegetation.
St. Edward State Park in Kenmore has an old Catholic seminary on it's premises along with tons of walking trails.  Painter noted that is one of the only remaining undeveloped areas on Lake Washington.
"It really depends on what you're looking for," Painter said of the selection of state parks.  "There is truly something for everyone."
For a map of South Puget Sound Washington State Parks and for maps of the entire state, click here.
For more information on the Discover Pass, visit their website.