By Jennifer Crain

When Matt Taron first visited the community art studio to watch his wife rehearsing with a samba group for the annual Procession of the Species Celebration, he didn't expect to be awestruck.
Inside, the high school English teacher and Olympia resident found "a remarkable cooperative of creativity. All ages were participating more or less equally, with what seemed to be an absence of hierarchy. I saw natural mentorship, the kind we teachers wish we could foster, where someone's curiosity and creativity eventually leads them to a problem that they can't resolve. Watching others, asking for advice, and trial and error are all so much more possible at the studio than they are in other places. It's because of common purpose, an absence of competition and mostly because it's really just for joy."
Openness and workplace creativity of the stripe that Taron experienced is just what Eli Sterling, the founder and organizer of the Procession, has in mind.
Sterling and the volunteers with Earthbound Productions say the community art studios are places to "join in," where there's an "opportunity for people to feel completely at home generating art in the presence of others."
True to that vision, the studios (this year there are two) have been centers for Procession creativity since the program started in 1995. They're "working art studios," says Sterling, where Procession participants construct costumes representing a piece of the natural world. Bedecked with animal masks, crepe-like luminaries and giant puppets from years past, the studios are a whirlwind of color, texture and spectacle (have you seen the giant geode?) and stocked with enough "art supplies, craft supplies and scavenged stuff" for participants to create new wings, masks, banners or hats to wear and wave at the annual celebration. This year the Procession will take place in downtown Olympia on Saturday, April 27 at 4:30 p.m.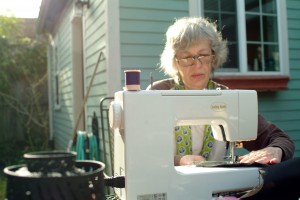 Emily Teachout's family has been among the Procession's 3,000 participants ever since they dressed up their daughter, Maggie, as a nuthatch when she was an infant. Maggie, now age twelve, says "I like seeing all the creativity and what everyone comes up with. It's great to see multiple generations of people participating."
Last year, their extended family constructed a giant manta ray that took the planning and handiwork of the whole family. A visit to the studio yielded good advice and a stretch of landscape fabric. Emily's partner, Eric, and nephew, Aaron, figured out the mechanics of suspending it. Emily's sister, Diana, thought about construction and dye and set up a sewing machine outside "for the last-minute stitches." In the end, family members and friends dressed as water as the giant creature dipped and flowed above them.
Not everyone will be able to devote the time and energy to a large project like this one and Emily says that's okay.
"Focus on the big picture and don't sweat the details," she says. "As the giant swirl of color, music, and energy that is the Procession passes by, no one notices the details. We like big group costumes because they have an impact, but the important thing is to just try participating."
Aaron Barna, Teachout's nephew, says the studio has provided him with "a lot of ideas and energy" for costumes over the years, from a caterpillar to a seal to a kayak-mounted hammerhead shark.
Personal expression is central to the studio experience, so a wide variety of materials are available to help participants make their ideas into objects of art. But Eli Sterling says the experience of community art-making lasts long after the chalk on the sidewalks has washed away.
"We have certain stereotypes about each other," he says. "One of the things that helps us to dissolve those edges is art – looking at each other while mirroring expressions of creativity and joy."
That's the reason, he says, for the Procession's three rules:
No words (written or spoken) or symbols,
No live animals, and
No motorized vehicles (motorized wheelchairs are a welcome exception).
These simple guidelines free participants to participate fully, he says; to focus on art over political agenda, on the "awe and splendor" of nature over the "shock and awe" of entertainment, on community over self.
"What it allows then is a totally different language, which is the language of art, which is the language of dance, the language of color, of creativity."
To jump into the creative stream, plan your visit to the studios:
– Browse the Procession's photo collection and dream up an idea before you and your kids walk through the doors. Then you can head straight for the drawer of animal templates or settle in to make that set of wings. However, if you need to see something up close before you can imagine creating it, don't worry. There's a lot of inspiration on site.
– It's fine to go it alone. Show up with your kids and you'll find plenty of support from volunteers and experienced participants.
– Go with a group. The energy of creating something is enhanced when you're working together. Maybe your child's preschool group is going as a troop of lemurs. Or your family wants to create a giant ostrich puppet. If so, call ahead to schedule a time to work as a group.
– The Procession is organized by element. The day of the celebration, participants organize themselves into elements of Earth, Wind, Fire and Water. Keep this in mind while you're planning your costumes.
– There is no childcare provided in the studios so keep little ones shoed and busy. Have fun as you help kids create and be aware of the potential for hurt fingers and heads (hot glue, sharp corners).
– The studios are free and open to anyone wishing to participate in the Procession. Donations to help cover the costs of materials and space are warmly accepted.
– Register online. Cost to participate in the Procession is two cans of food for the food bank.
__________
The Procession's community art studios are located in downtown Olympia:
Luminary and Special Project Studio
This studio is located where the single studio has been for the past several years, in the alley at 311 Capitol Way N. This year, it's designated for batiks, luminary classes and special projects, by appointment.
Call (360) 705-1087 to schedule.
The Whale Annex
A large, open space across the street from City Hall at 600 4th Ave. E., this studio is for giant puppet construction and is the drop-in general workshop.
Call (360) 705-1087 to schedule groups. Families and individuals can walk in.
For studio hours, see this page on the Procession website.
*Special thanks to Aaron Barna for the additional photographs.
Thrifty Thurston highlights inexpensive family fun in Thurston County.  The weekly series focuses on family-friendly activities throughout our community.  If you have a suggestion for a post, send us a note at submit@thurstontalk.com.  For more events and to learn what's happening in Olympia and the surrounding area, click here.