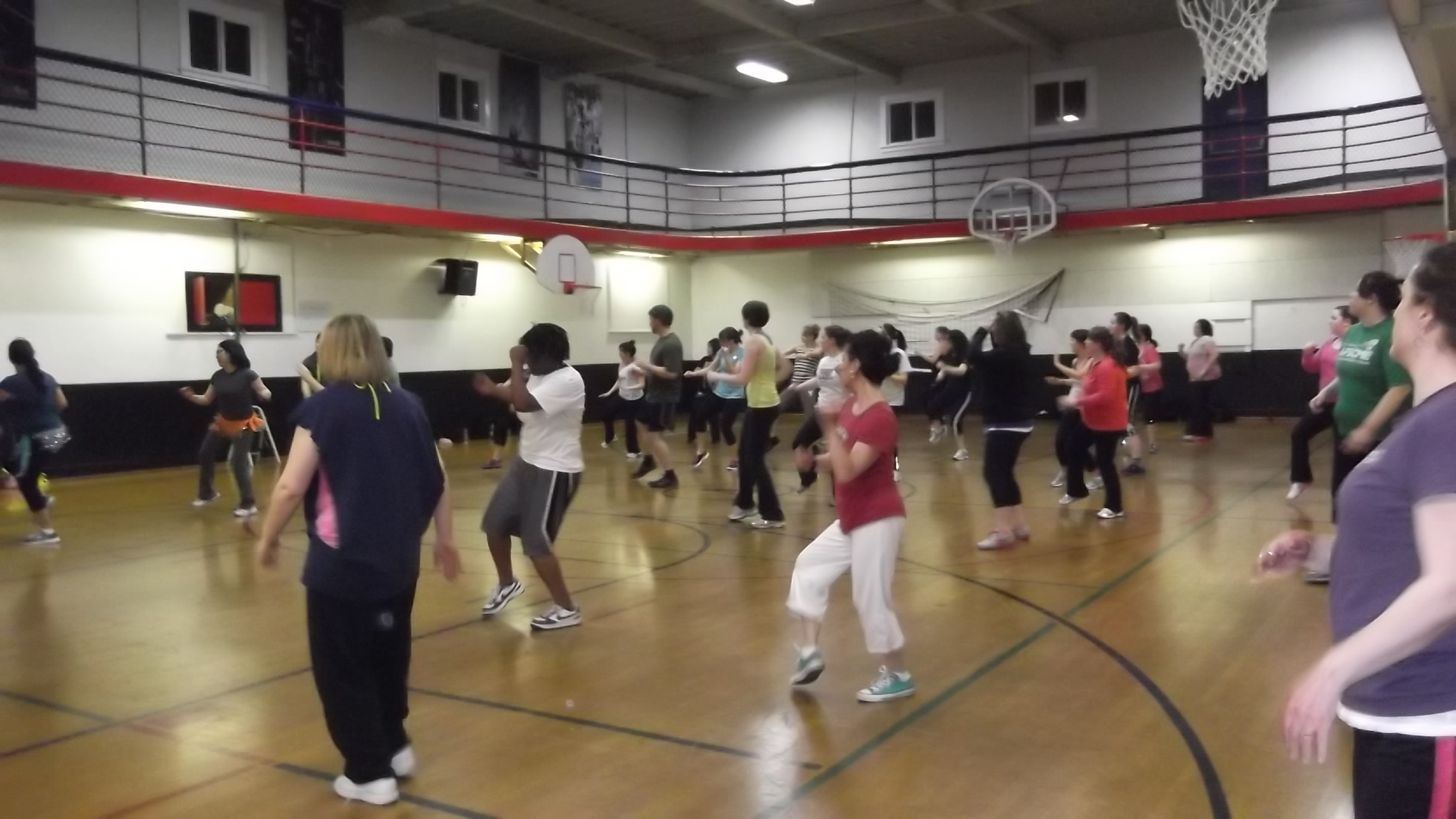 By Stacy Fisher
Olympia Downtown YMCA is already a well known institution in our community for athletics and fitness, but it is also a family destination for fun on weeknights.  The goal is that all family members will find something inspiring and fun in the evenings.  It is challenging, however, to make sure that a parent and kids ranging in age from toddlers to teenagers are all happily engaged in activities.  The Y, however, has done a wonderful job of collecting instructors and offering classes as diverse as our children's interest.
Sitting down with Amber Wetzel, Youth Development Assistant Director, and Tanya Bowers-Anderson, Youth Development Director, who lead the youth programs at the Olympia Downtown YMCA, we spoke about the current, monthly youth programs.
As Wetzel says "there is something for everybody at the Y.  Every night is family night here."
Balancing Fitness & Family Time
One of the Y's objectives for the last year has been to offer youth programs at the same time as classes geared for parents.  As you run off to join a Zumba class, you can rest assured that your kids are in a class that interests both their bodies and minds.
"We have the whole family component.  We run the classes consistently, so that you have something for your child to do while you are exercising or taking a class," comments Bowers-Anderson.
"We have the preschool age and the older age kids here.  The Y is really flexible and it's just a family night here, which is cool.  It's one stop shopping," Wetzel continues.
Kids Learning & Having Fun
The monthly line-up of class offerings is impressive.  Most of the youth programs last four weeks, and different sessions are available almost all year long.  Wetzel stresses the "small teacher to child ratio.  Our maximum per class is ten kids to maintain that individual attention and hands-on feel."  Currently, the YMCA offers youth more than a dozen monthly art, dance, music and movement classes.
Bowers-Anderson highlights her favorite classes this session.  "The science and the chess club are really great programs because they are very educational.  And math and science are the areas where the kids need that extra help.  The chess coach is very good with kids and teaches chess but he also teaches strategy.  He is teaching analytical skills and it is something that they love to do.  It's way more than a game.  It benefits them in the classroom."
The science program is offered to both younger and older aged children.  "We start at the preschool age.  Kids are learning about chemical reactions and how things work.  It gives them those educational tools before they even enter school…and they are loving it because it's fun and they get to build and experiment," adds Bowers-Anderson.
Bowers-Anderson also spoke about the new guitar lessons being offered this year.  "The instructor is in a band, and the kids think that's pretty cool.  He teaches beginning guitar, and now the adults are requesting classes as well.  It is really neat, because music is teaching kids so much."
Wetzel also spotlights the popular Gym and Swim program.  "They have an hour in the gym and an hour in the pool.  We have consistent instructors, and the kids are learning about being healthy and when they are in the pool they are learning about water safety."
Shilpa Johnson, Youth & Teen Director at the Briggs Branch YMCA, spoke about the youth and government program offered at the Y.  "It is near and dear to my heart.  I actively participate as an advisor in this program and I have a great volunteer lobbyist, Arlen Harris, that supports this program."
Pre-teen and teen-aged delegates research and write bills to present during a mock legislature.  These bills go through a similar process as real bills.  The bills are debated and voted on by the house and senate and a youth governor signs or vetoes the bills.  Participants at the Briggs YMCA form a delegation and this year they have such leadership positions as the 8th Grade Senate Chair, committee vice chairs, committee chairs and fair elections commissioners.
Johnson continues, "these delegates debate issues of local, state and national importance", all while practicing parliamentary procedure.
Shinning Light
What I found most impressive about the programs were the women in charge of it.  Their energy is contagious and they are focused on helping our community by strengthening our youth.
Both Bowers-Anderson and Wetzel spoke in unison about a new child that was recently born into one of the YMCA families.  Bowers-Anderson commented how exciting it is to watch him grow.  "He's a piece of the Y.  That's what is neat about it.  It's fun to watch these kids grow and succeed."  She comments that when training staff they emphasize "seeing that shinning light in every child.  Everyone is a winner here at the Y as long as you're trying your best.  We try to get that philosophy out there at an early age."
Participating at the Y
To participate in the South Sound YMCA youth programs, you can either be a full facility member or a program member that costs $9 annually per child ($14 for teenagers).  Registering as a program member gives your child access to a variety of classes and sport activities.  Each class has a monthly fee, ranging from $39 to $47 per month and members receive a slightly reduced rate.
The South Sound YMCA offers financial assistance. "We don't want any child not to access our programs because they can't afford it," explains Bowers-Anderson.
The youth programs are always being reviewed and redesigned to fit the needs of the community.  If you have questions about what programs are offered, more information can be found online at www.southsoundymca.org.
Olympia Downtown YMCA
510 Franklin Street SE
Olympia, WA 98501
Briggs Community YMCA
1530 Yelm Highway SE
Olympia, Washington 98501