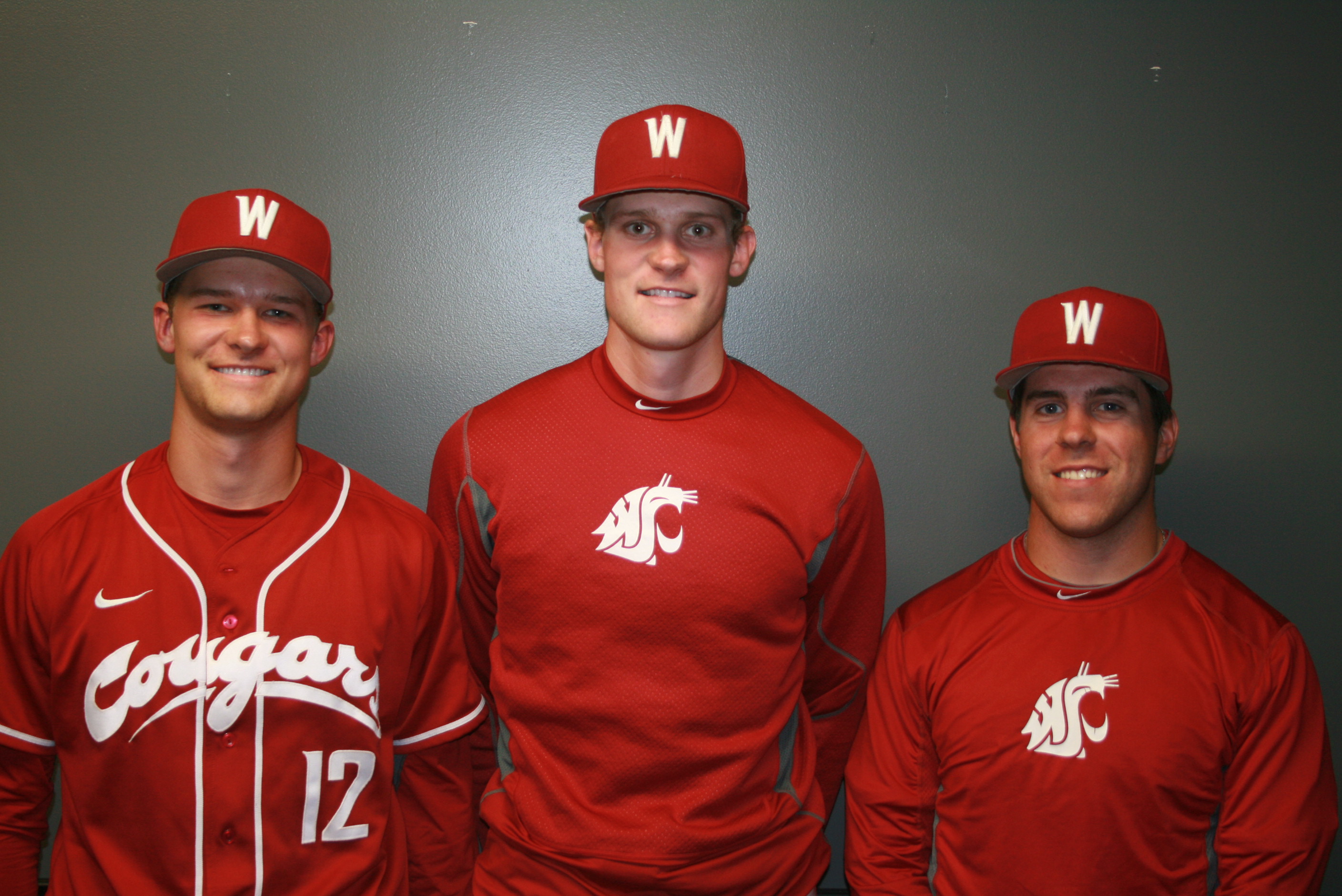 By Tom Rohrer
The Olympia area has had no trouble producing high level baseball talent throughout the years.
It's quite evident Capital High School has had no such trouble either, as the school has sent several athletes to Division I Collegiate programs and beyond.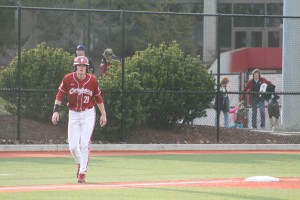 Just in the last decade and change, players such as Brett Linnenkohl (Wake Forest), Brad Jesernig (Pepperdine), Jordan Weiks (San Francisco) and Matt Fanelli (Washington State) have played high level, collegiate baseball following a successful high school career playing on Waits field.  The field is named after Bob Waits, who also had a successful playing career at WSU in both baseball and basketball and coached at CHS.
That tradition has continued for three longtime teammates and friends over in Pullman.  Twin brothers Jason and Michael Monda, and Kellen Camus (all 2010 CHS graduates) are all members of the Cougar baseball team.
Michael joined up with his brother and Camus this year following a two year stint at Lower Columbia College, reuniting the triangle once again.
"It's a blast from the past, we grew up together," said Jason Monda, a 6'4 lefthander who plays outfield, first base and pitches for the 16-10 Cougars.   "We didn't play together early on, but once we got to high school, this was our core group, and to bring it together over here is pretty cool."
"We've gone to school since kindergarten, played high school together and are now at a Division I, Pac-12 school," said Michael Monda, a catcher for WSU. "It's pretty special. It says a lot about how we grew up and how we learned the game."
The common hometown are where the similarities end for the three players and their respective careers.
Jason is a three year starter for WSU.  He has played in the prestigious Cape Cod League the last two summers and was a draft pick of the Colorado Rockies in the 2010 Major League Baseball First Year player draft.  Camus, a former walk-on for WSU, is a relief pitcher for the Cougars, and was also the starting quarterback on a series of successful Capital football teams in the late 2000s.  Michael has yet to see significant playing time for WSU, but clearly has the talent to do so, as he was an all-league performer at CHS before his standout career at LCC.  Despite their differences in positions and accolades, the bond between them is greatly appreciated by all three.
"(Jason) was a scholarship guy, had been signed for a while, and I was still looking for a school," said Camus.   "When I decided to come over here, he was the first guy I called. He was excited, I was excited.  Certainly it helped us adjust that first year, we could go to each other and just be there if need be."
After a few starts his freshmen year, Camus was moved to a relief role out of the bullpen, a role that he has flourished in ever since.  In 13 appearances out of the bullpen this season, Camus has a 3-0 record, a 1.56 earned run average, has struck out 23 batters in 17 innings.  He has become one of the, if not the most, reliable relief option for the Cougars.
"I feel most confident when he's out there on the mound in those pressure situations," said WSU head coach Donnie Marbut, who helped coach CHS to the 1998 state championship. "He's a go to guy at end of games, and keeps building and building throughout his career.  I love Kellen, and he's a player we're lucky to have."
Coach Marbut's affection for Camus's performance and attitude certainly carries over to the Monda brothers, and not just for their talent on the field.
"I always say I wish my daughters were older and could marry the Monda brothers," Marbut said. "They are two of the most unselfish guys on the team, and you can't have a good team without those types of guys. It's truly a blessing to coach them and it's clear to see where they get it from."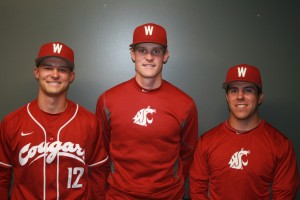 Whatever 'it' is, the Monda's inherited it from their father Greg, a former WSU baseball player who would go on to play in the minor leagues (for the Cincinnati Reds organization) after graduating in 1983.  Greg met his wife Donna while in Pullman, making the school even more special to this Cougar family.
"You're shaped by the mentors in your life, and we've been blessed to have some great ones," said Michael Monda, who, along with Jason, was coached in T-ball by their father.  "Guys like (former CHS head coach) Eric Stark, our parents, other teachers and coaches.  We've been lucky in that respect to come from a great area with great leaders."
"When it came down to make a decision, it was an easy choice," Jason Monda said of signing with WSU. "Once you're a Coug fan, you're always a Coug fan."
"It wouldn't seem right going anywhere else," said Michael Monda. "It feels like home."
Pullman will always be a home for the Monda's and Camus, along with it being a likely stepping stone for Jason's career.
A fluid and athletic player, Jason has the ability to make an extremely tough game look easy.  Graceful in the outfield, quick on the base-path and powerful enough to smack home runs far past the outlying fences (he has a team high five home runs and also leads the Cougars with 28 RBIS), Monda is one of the top all-around athletes in the extremely talent rich Pac-12 conference. A preseason third team All-American,  Monda certainly has the attention of Major League organizations and scouts, further evidenced by his participation in the Cape Cod League.  On Monday, March 25, Jason threw four shutout innings in a 3-1 victory over Brown, his first collegiate start at pitcher, a remarkable performance given that he has only seen spot relief time while at WSU.
"He's just a really talented guy, and when you're a good player and a good person and work hard, these things happen," said Marbut, who also noted the high academic performance of the Monda's and Camus. "You don't get many opportunities to coach guys like that."
While this season is far from over, the CHS trio knows their time is limited together at WSU, and are trying to make the most of this special opportunity.
"It's the relationships you make with your teammates that is most special," Jason Monda said. "Those are bonds that are life long and to have that with these guys, it's beyond special."
"To play against the best players in the country, travel to all the locations we have, it's been a great ride," said Camus.  "I'm just thankful it's not over yet, and I have guys like these two along with me."