Submitted by Small to Tall Pediatric Dentistry
Pediatric dentists strive to prevent problems before they occur by guiding parents with nutritional counseling, oral hygiene instruction, sharing ideas on stopping harmful habits, and avoiding oral trauma.  In the dental field, this is called "anticipatory guidance."
When prevention is not enough and dental problems do occur, pediatric dentists make every effort to create a positive experience while managing the issue.  In the vast majority of cases a positive experience can be created with techniques that do not use medication, yet for some children this may not be enough.  Children presenting with severe anxiety, a past history of a negative dental experience, extensive treatment needs, certain medical conditions, or very young patients may benefit from the use of sedation.
How does sedation work in a pediatric dental office?  Sedation is most typically provided at several different levels depending upon the patient's needs.   When needed, the sedatives most commonly used are:
nitrous oxide,
oral sedatives with or without nitrous oxide, or
 general anesthesia.
Nitrous oxide is an odorless gas that reduces anxiety and provides some pain relief.  When used properly, children stay completely alert and responsive.  In our office, children pick a flavored attachment to breathe the nitrous oxide.
When nitrous oxide is not strong enough, pediatric dentists may recommend the use of an oral sedative.  The direct benefits of oral sedatives are similar to those with nitrous oxide (pain relief and anti-anxiety) yet more potent.  In our office we commonly choose between several different oral sedative combinations tailored to the specific needs of the child.  One combination works incredibly well for short procedures with a very potent amnesia affect.  This is beneficial to the anxious child with limited treatment needs that would rather not remember what happened during the procedure.   Another oral sedative combination relaxes the patient and allows us to complete more treatment in a single visit than we would have otherwise.
Even the most cooperative patients can get tired after four visits!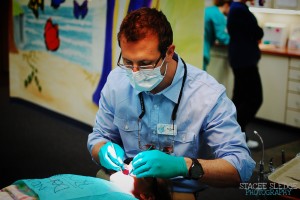 The third sedation option pediatric dentist's offer is care by an anesthesiologist who provides general anesthesia.  With general anesthesia, a patient is completely "asleep" or unresponsive to stimulus.  This is most commonly used for medical surgeries and is useful to pediatric dentists when other methods of sedation are not "strong enough."  At our office we provide this type of care both in office and at the hospital depending on the patient's needs and past medical history.
At Small to Tall Pediatric Dentistry in Olympia we strive to create a positive experience for every child no matter the circumstances.  Having a variety of treatment options available helps us facilitate this goal.
Small to Tall Pediatric Dentistry
Drs. Rowley, Ruder, and Psaltis
222 Lilly Rd NE
Olympia, WA 98506
360.459.5885