We are lucky enough to live in a world with physicians who can mend our worn out or broken bodies.  We are doubly lucky to live in a world where we can receive state-of-the-art surgical care and be back home in our beds the same day.  Procedures that, in years past, led to days recuperating in the hospital are now performed on an outpatient basis.  For some medical procedures, you visit one of the local hospitals, navigating the maze of halls, cafeterias and waiting areas.  If you happen to need an orthopaedic surgery, however, you are in luck.
Olympia Orthopaedic Associates' new facility, in West Olympia houses their world-class Olympia Surgery Center (OSC).  Accessed at the rear of the building with a dedicated parking area and entrance.  The OSC incorporates the most current technologies along with modern comforts to make outpatient procedure smooth for you, your family, and the surgical team.
Chris Ballew, RN, BSN, Clinical Director of the OSC, has been with Oly Ortho for 6 years.  He began in Oly Ortho's 6,700 square foot Mottman Road facility.  The new 22,000 square foot ambulatory surgery center opened its doors in September of 2012 and outpatient surgeries began immediately.  As we walk the halls of the surgery center, Ballew shares the benefits and amenities the new space offers:
A dedicated, spacious waiting room with free Wi-Fi, televisions, and a full time reception staff ready to answer questions and provide updates for patient's families
Dedicated Pre-Operative and Post-Operative areas for patients
Dramatically improved patient privacy both in the reception/waiting areas as well as pre-op/post-op  – both semi-private and private rooms are available for patients to meet their personal level of comfort
Upgraded technologies available to surgeons to provide top-notch care along with more efficient patient and family throughput is meant to shorten wait times.  Of course this being a new building, this is a work in progress. As a private facility, the OSC has the advantage of being owned and operated by the amazing physicians at Oly Ortho, allowing the physicians control over the level of care delivered to their patients.  "I feel very blessed that I've worked with these doctors on and off for 25 years in this community," shares Ballew.  "The care here is as good as it gets.  And our facility is unique, it's beautiful, we have room to grow and we are staffed by the best around."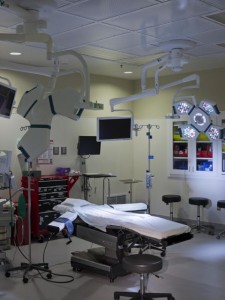 On any given day, the staff includes fifteen to twenty-two registered nurses, surgical technicians, receptionists, schedulers and administrative staff, along with two or three surgeons.  The OSC also partners with South Sound Anesthesia Associates PLLC, board certified anesthesiologists with vast experience in outpatient anesthesia – a slightly lighter level of anesthetic/ sedation allowing patients to recover faster and go home to their own beds quickly.  This is a clear benefit anyone who has experienced the after-effects of anesthesia can appreiciate.
Ballew, a registered nurse, describes his job as "a jack-of-all-trades, really.  But the bottom line for me, and all our staff, is to make sure patients are treated with kindness, care, and respect.  We do this by creating a great team, making sure we are on the same page, every day, all the time."
The partners and associates of Olympia Orthopaedic Associates made a significant commitment to the Southwest Washington community when they invested in the new Westside Clinic.  "The physicians honestly believe they can provide better care here in the OSC, because they are more in charge and in control of what is going on.  They have high expectations and we work together to meet them," says Ballew.  While hospitals are essential, Oly Ortho's facility is meant to be more personal and specialized, ensuring you are getting the best, most individualized care.   What will you find at OSC?  Ballew explains the services and benefits they provide:
A full spectrum of orthopaedic procedures – from large-scale shoulder and ACL repairs to diagnostic procedures, small fractures, and carpel tunnel repair
A smaller facility, resulting in a shorter stay and getting you home faster
Extensive follow-up post-surgery by the OSC staff with the goal of seamless communication between the outpatient center and your surgeon
Full access for family in the post-op area, helping ease the disorienting time directly following surgery that can be scary for patients.
"The main idea, for us," Ballew states, "is that we provide the services people need, which may have been spread out across town in the past.  They are all now in this one facility.  We have MRI, Spine, Physical Therapy, Pain Management, and if you happen to need surgery?  Great….we have that too.  It's full vertical care in one building, and we love it as much as the patients."
Ballew's pride in his staff and the new Outpatient Surgery Center at Oly Ortho are both evident and warranted.  "Our company-wide, number one rule is to care.  To care for and value people.  And we do, every day."
Olympia Orthopaedics Outpatient Surgery Center is located on the back side of their Westside Clinic located at 3901 Capital Mall Dr. SW in Olympia, Washington.   For questions, call 360-528-8571.