By Kate Scriven
There are standard good dental hygiene practices that we are all familiar with.  Brush  morning and night.  Floss daily (or try to at least).  Visit your dentist every 6 months for a cleaning.
But, when we become parents and are now responsible for not only our own mouth, but that of our child's, the protocols can get a little hazy.  That is where the dentists at Small to Tall Pediatric Dentistry come in.  Their goal is to partner with Thurston County parents to educate them on good dental practices for children starting at the first sign of a tooth.
With that goal in mind, Small To Tall's dentists, Drs. Scott Rowley, Ben Ruder and Greg Psaltis, have established a partnership with the Hands On Children's Museum (HOCM) and the Thurston Mason Counties Dental Society to promote pediatric dental health.  Each February, the American Dental Association (ADA) sponsors National Children's Dental Health Month and Small To Tall coordinates free dental health screenings at the HOCM.
Doctors from the Thurston-Mason Counties Dental Society volunteer their time to screen children at the Museum every Saturday during the month of February from 11am until 2 pm.  All families who visit for a screening also receive free admission to the Museum, a great perk for those who are not Museum members.
"We get a lot of dentists every year that want to participate in dental health month," says Dr, Ruder.  "Even though they may not see many children in their offices, the volunteers want to come and help, to see kids at the Museum and share information with parents that are looking for advice."
The information provided to parents by these dental professionals is tremendous.  Beyond the dental screening, which allows the dentists to assess the child's oral hygiene and potential issues to be addressed, parents learn best practices for pediatric oral health, receive advice on whether their child is due for a check-up, and recommendations on dental care providers if parents have not yet established care for their child.  Kids don't leave empty handed, either, taking home a coloring book and crayons, a new toothbrush and toothpaste and many other items in their "goodie bag".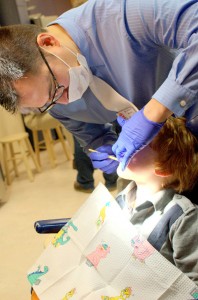 The Hands On Children's Museum has been involved in this event for over 10 years and considers it a critical component to their outreach programs for healthy living.  During the month of February, the museum will have a dental exhibit to complement the free screenings, located in the "Emergency" exhibit area on the main floor.  A dental chair, large toothbrushes and fuzzy monsters with a full set of teeth are there for children to explore as either the dentist or patient.
"We feel that role playing is wonderful in helping children feel comfortable about a dental exam," says Genevieve Chan, the Museum's Communications Manager.  "The Museum is grateful to Drs. Rowley and Ruder for organizing the screenings along with all the dentists from the Thurston-Mason Counties Dental Society who donate their time.  It's important for parents to have access to this information and the Museum loves to be able to offer free admission for participants."
Children's Dental Health Month is recognized by offices across the country, allowing thousands of children access to dental care that might not otherwise come in.  With early dental care playing a vital role in establishing lifelong habits for good oral health, it's important to educate children and their parents about dental health when they are young.
Small to Tall's dental team increase their already established outreach programs during the month of February, visiting schools and preschools to talk with the students about dental health.  With fun, hands-on presentations including a flossing activity involving pillowcases and rope and of course some "sugarbugs", kids go away with an excitement about their teeth that they may not have had before.
Dr. Rowley and Dr. Ruder are both fathers of young children and know first-hand the importance of keeping kids teeth healthy as well as how to entertain a room full of 4 year olds – an effective combination.
With over 150 screenings completed last year at the HOCM and more anticipated this year in their new, bigger facility, it's clear that this outreach project is needed, and appreciated, here in Thurston County.  The collaboration among the dentists, including donations of time and supplies, speaks to how important children's dental health is to these professionals.   The exam chairs, generously donated by Burkhart Dental Supply, will be well used this month as children take their turn for a dental screening.  And when families finish, they will leave armed with knowledge about how to best care for their child's teeth, resources for additional help, and maybe even a relationship with a new dentist for their child.
For more information and resources for National Children's Dental Health Month, visit the ADA website or Small To Tall Pediatric Dentistry.   Small to Tall and the Hands On Children's Museum thanks this year's dental volunteers – Drs. Theresa Madden, Rob Perlot, Venn Peterson, Bill Busacca, Jared Persinger, Suzie Winans, Spenser Cammack, Chuck Fankhauser, Duke Watson, Devi Vijay, Scott Rowley and Ben Ruder.