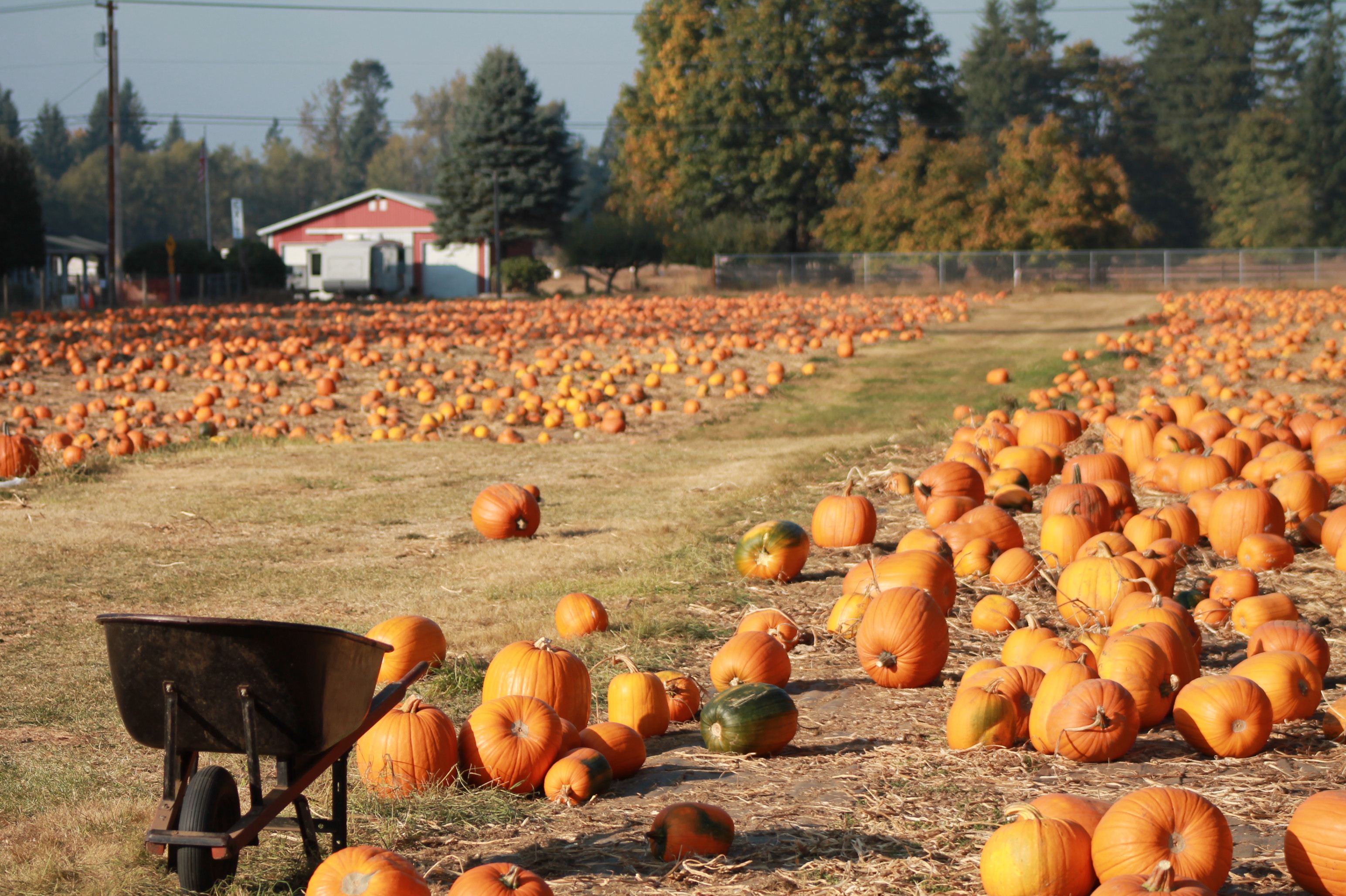 Editor's Note: You have found our 2012 pumpkin patch story.  For 2013 details on local Olympia-area pumpkin patches, click here. 
A visit to the pumpkin patch is the consummate October activity.  Preschoolers head to the pumpkin patch with their classes.  Families visit on the weekends to entertain kids with the myriad of activities offered at local patches.  Pick up an extra pumpkin to round out Fall and Halloween decorations.
Here is detailed information about our community's favorite places to grab a pumpkin this season.  Throw on your boots, grad a homemade treat, and enjoy an autumn tradition.
Hunter's Family Farm
7413 Yelm Hwy SE
Olympia, WA 98513
360.456.0466
Open daily 9:00 am – 6:00 pm through Sunday, October 28th
Activities include wagon rides, hay maze, corn maze, pumpkin sling shot, carousel, and pony rides.
Lattin's Country Cider Mill and Farm
9402 Rich Road SW
Olympia, WA 98501
360.491.7328
Open daily 9:00 am – 5:00 pm through the last weekend in October
A trip to Lattin's isn't complete without an extremely popular apple fritter.   Taste their award-winning cider or visit the country store to round out your visit to Lattin's pumpkin patch.  Sample fresh-picked apples, visit farm animals and savor delicious apple treats.
141 Nisqually Cut Off Road SE
Olympia, WA 98513
360.459.4023
Open daily 10:00 am – 6:00 pm
Find the perfect pumpkin for carving or cooking.  Travel through the 5-acre corn maze or explore one of the many Harvest Festival activities such as visiting farm animals, jumping in hay, or taking a covered hay ride.  Pick up roasted corn or a caramel apple on your departure.
Pigman's Organic Produce Patch
10633 Steilacoom Road SE
Olympia, WA 98513
360.491.3276
Open Monday – Saturday 10:00 am – 6:00 pm and Sundays 1:00 pm – 6:00 pm
Jan and Dean Pigman use their six acres of certified organic property in the lush Nisqually Valley to grow a wide variety of fruits and vegetables.  Visit Pigman's to find heirloom varieties of pumpkins.  Travel to this farm if you want a more mellow experience or to source a unique variety of pumpkin to round out your front porch display.
Thrifty Thurston highlights inexpensive family fun in Thurston County.  The weekly series focuses on family-friendly activities throughout our community.  If you have a suggestion for a post, send us a note at submit@thurstontalk.com.  For more events and to learn what's happening in Olympia and the surrounding area, click here.