By Kate Scriven

As soon as the calendar passes from September to October, thoughts turn from visits to the fair and one last weekend on the water to down vests, hot cocoa and that time honored family tradition – a visit to the pumpkin patch.  And whether your family is looking for a more rural experience at a true working farm or a more carnival like atmosphere with rides, petting zoos and tasty treats, there is something for everyone in Thurston County.
Just don't forget to don your rubber boots for the adventure.  One thing we can usually count on during our pumpkin hunting is a little light drizzle and a lot of mud.  Welcome to Fall in the Pacific Northwest!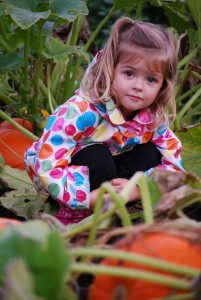 If you are looking for a full day of fun, Hunter Family Farm won't disappoint.  With a large range of activities for all ages, starting September 28, the whole family will enjoy Hunter's.  The farm is open weekdays with limited activities and many more available on weekends.  Click here for full details.  Opened in 1993, the family operation has grown through the years to include a corn maze, pony rides, quad rides, petting zoo, a carousel and more.  Entry to the farm is free, but each activity has a small fee.  Decorative gourds and holiday décor are also available in the farm's holiday shop.
Hours: September 28 – October 31
Daily 9 a.m. – 6 p.m.
7413 Yelm Highway SE
Olympia, WA 98513
360-456-0466
Head to the Nisqually River area of Thurston County to visit Schilter Family Farm for harvest season fun.  Tell Dad they have a "Pumpkin Blaster" made just for adults and he'll be packing the kids in the car as fast as he can.  The pumpkin patch can be accessed without admission but all other activities on the farm require an activities pass starting at $5 per person.  With family passes (starting at $20 on weekdays) available for groups up to six people and allowing unlimited access to activities, the day can be quite affordable for an active group.   Choices abound on the farm including delicious food, corn mazes, a hay jump, hay rides and a gorgeous demonstration garden.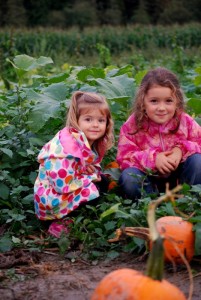 Hours: September 28 – October 30
Daily 10 a.m. – 6 p.m. and 10 a.m. – 4 p.m. on October 31
141 Nisqually Cutoff Road SE
Olympia, WA 98513
360-459-4023
Lattin's Country Cider Mill and Farm
The star of the show at Lattin's is the glorious Washington apple.  With their Apple Fest running now through the end of October, visits to the farm are sure to be filled with apple fritters, cider and crunchy, sticky caramel apples.  However, their fields full of orange pumpkins are just as tempting and make a nice combination event for the family.  Pick your pumpkin, enjoy the farm animals, and listen to the bluegrass music.  Tractor rides are available to the fields or trust your rubber boots to get your on your way.
Hours:   Monday – Saturday 9 a.m. to 5:30 p.m. plus Sundays  9 a.m. to 4 p.m.
9402 Rich Road SE
Olympia, WA 98501
(360) 491-7328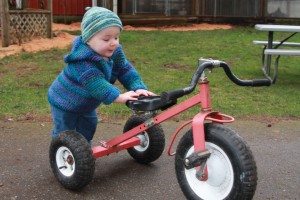 Pigman's Organic Produce Patch
If your family is after a true farm visit, you'll love a trip to Pigman's.  No mazes or pony rides here.   Local farmers Jan and Dean Pigman have been working their land in the Nisqually Valley for over 23 years and supply produce to the Olympia Farmer's Market as well as the Thurston County Food Bank.   Their pumpkins are certified organic and will make beautiful jack-o-lanterns, but also healthy pies.  Visit their farm to cut your prize from the vine.  Bring along some bread crusts and they'll even let you feed their chickens.
Hours:  Monday – Saturday 10 a.m. – 6 p.m. and Sunday 1 p.m. – 6 p.m.
10633 Steilacoom Road SE
Olympia, WA 98513
360-491-3276
Rutledge Corn Maze and Produce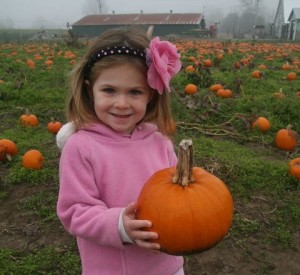 While the Rutledge Corn Maze is best known for its extensive, Seahawks-themed corn maze, the farm also has a five-acre pumpkin patch with a wide variety of sizes to choose from.  Horse-drawn hayrides to the patch are available on weekends and tractor rides upon request.  The farm also sells an abundance of produce grown on-site including a variety of winter squashes, corn, and carrots.  They also offer harvest décor for purchase including cornstalks, hay bales and decorative gourds.  Grab a pumpkin before or after enjoying the main attraction, the awesome corn-maze.
Hours:  Daily 10 a.m.  – 8 p.m.  October 3 – October 31
302 93rd Ave SE
Tumwater, WA 98501
360-357-3700
Thrifty Thurston highlights inexpensive family fun in Thurston County.  The weekly series focuses on family-friendly activities throughout our community.  If you have a suggestion for a post, send us a note at submit@thurstontalk.com.  For more events and to learn what's happening in Olympia and the surrounding area, click here.