By Mary Ellen Psaltis
Vegetables have gotten a bad rap. Children are scolded, "Eat your vegetables," which makes me think if they tasted great no one would ever have to be reminded. Unfortunately, vegetables show up overcooked, mushy, limp and lifeless. How can a pungent over-boiled broccoli spear compare to a sultry, juicy strawberry? Under these circumstances – it can't. But it can stay in the race if you begin with the freshest produce you can find and treat it with tender cooking. (Don't kill it.)
Even though I am not a farmer or even a gardener, I reap the benefits by subscribing to a CSA. Community Supported Agriculture (CSA) is a program to pay a farmer early in the season for a share of the farm. The reward is a weekly bag of produce that changes with the season. The planting, weeding, watering and picking are left to the farmer; I get to prepare and then eat it.  (Read more about local CSA's in this post.)
My CSA is with Pigman's Organic Produce Patch, owned by Jan and Dean Pigman. For twenty-three years they have been working the fertile land in the Nisqually Valley to produce a surprisingly wide range of vegetables, fruits and herbs. Their six acres produces enough for seventy-three farm shares, stocks their stall at the Farmer's Market and some produce at the local Olympia Coop. A weekly bag might include spinach, garlic scapes, turnips with attached greens, berries, an herb, peas, corn, rhubarb, leeks…you get the idea – it's a long list of possibilities.
Eating more vegetables can be easy. Many vegetables may be eaten raw. I am forever changed by Pigman's carrots; they are sweet delights. My extensive comparison tastings with store bought varieties – both traditionally farmed and organically farmed – find that all other carrots fall far short. In this case, local carrots taste a lot better. Shelled peas can be steamed a few moments, but you can pop them into a salad without any cooking. Some peas pods are meant to be eaten – again, no cooking necessary. You can toss them into your wok at the last minute. Broccoli requires no cooking, but briefly steaming will soften the stems and deepen the color to a rich green.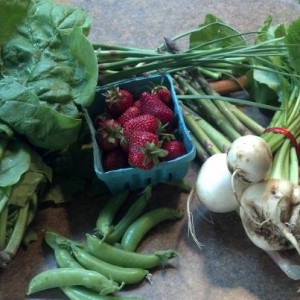 I usually steam my other vegetables, like asparagus and green beans, for just a few minutes. Greens (the tops of beets, turnips, chard, kale, etc.) are optimum choices for optimum health – but may take a little time to develop a taste for them. I did not grow up on greens but have looked for ways to include them in my meals. I have found that they work well in risotto if you remove the biggest veins and most of the stalks. Chopped greens also melt into soups.
A cooking stone is the right tool for roasting vegetables. Roasting brings out the sweetness hidden in vegetables and softens them. All that is required for successful roasting is a spritz of olive oil and a little salt – then put them in the oven. Roast vegetables can be cut into a salad, served along side any meat dish and fully enjoyed on their own.  I did not fully believe the difference between roasted and steamed or raw until I tasted them myself.
You probably won't like every vegetable that you try – that's fine. But experimenting with the ones you know (and a few you don't) can significantly increase the variety of flavors that show up on your plate. The Farmer's Market overflows with possibilities. Be daring. Eat whatever is the day's special.
Eat Well Be Well.
Vegetables Ideas:
Pigman's has u-pick strawberries and raspberries, and later in the year  – pumpkins.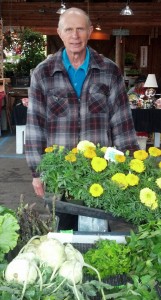 You can also get pickling cucumbers. Call the farm for details.
Fresh spinach and sliced strawberries create a solid base for a summer-inspired salad.
Kohlrabi: Use this bulbous vegie like radish in a salad or chop for a stir-fry.
Basil: Place a few leaves inside your sandwich. It's not crunchy like lettuce but the taste can bring a thought of Italy to mind.
Presto – It's Pesto: Chop basil and walnuts or pine nuts then add in olive oil, pressed garlic and Parmesan cheese. Freeze in small batches. I like to use Press and Seal – it wraps up exactly the amount of I have any stores flat.