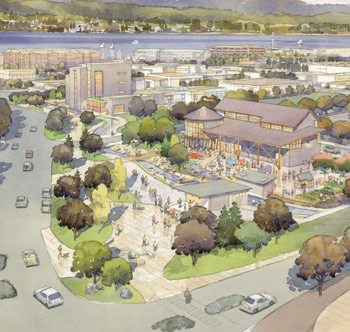 By Stacee Sledge

Kids and parents alike are eager for the upcoming opening of Olympia's new Hands On Children's Museum. But local business owners and others invested in our region's economic health can be equally excited – the New Museum's economic impact will be deeply felt.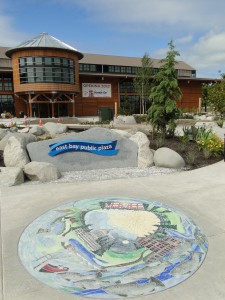 The current museum, which has ably entertained and educated children for 25 years, has always made a sizeable difference to our local economy. A 2009 study showed the museum was responsible for bringing in $6 million each year to Olympia and its surrounding communities.
But with the New Museum set to open in November in the revitalized East Bay area, that number is expected to climb to $9 million annually, and the resulting influx of money will help support and further grow Olympia's downtown area.
The current museum attracts 162,000 visitors each year; the New Museum is expected to draw 215,000.
"I see the museum not only as something that's going to be a gem in our community to serve families, but also an economic driver," says Renée Sunde, Marketing and Business Development Director of the Thurston County Economic Development Council. "Major attractions like the Hands On Children's Museum are an incredibly important part of any economic fabric in a community."
Increased Tourism Dollars
The primary economic impact of the Hands On Children's Museum is the tourism dollars it draws into the community.
According to Hands On Children's Museum Executive Director Patty Belmonte, 35 percent of visitors to the current museum travel in from outside Thurston County. "That can be from New York, a different country, or Hoquiam," she says.
The vast majority of these travelers eat a meal in an area restaurant during their visit. "You may also see them filling up their gas tank," says Belmonte, "and hopefully shopping and going to other attractions, like Wolf Haven or Painted Plate, doing activities that families like to do."
The Hands On Children's Museum website includes suggestions for family-friendly places to play, shop, eat, and stay.
"One of the things we know from tourism research is that visitors are willing to stay longer and spend more in the community if you can provide more for them to see and do," says Belmonte.
The Hands On Children's Museum has long had a deserved reputation as a great destination for a day trip.
According to Belmonte, a typical visit to the current museum is about two to three hours. But the new space – which will be significantly larger at 28,000 square feet and include an outdoor space – will see visits of four hours and more.
"People start thinking about a visit to Olympia in a whole different way," says Belmonte. "Now an overnight and weekend stay starts to look a lot more interesting."
With many families looking for economy hotels, and easy freeway access, properties in Tumwater and Lacey will see an uptick in business as well, impacting the economy of the entire region.
The New Museum's location also opens up possibilities that simply weren't as easily accessible at the Capitol Campus site.
"We'll be even more connected to downtown now," says Belmonte. "The Olympia Farmers Market is in easy walking distance, as well as shops and restaurants and walking trails. Now we'll be able to suggest that visitors, 'have an ice cream cone and walk Percival Landing, visit cute shops downtown or have lunch at Rambling Jacks," says Belmonte.
"We'll be able to send families within a few minutes of our facility in several different directions throughout the Port peninsula and downtown.
Increased Tax Revenues And Job Opportunities
The New Museum will bring new money into the city and county via additional property, sales, and lodging tax revenues. "All of those pieces play into the economic benefit of the Museum being in downtown Olympia," says Sunde.
A 2009 economic impact study showed that the New Museum would contribute $90,000 in taxes annually.
"The New Museum has also provided construction jobs and will provide ongoing new jobs because we'll increase our staff," says Belmonte.
Vendors who will cater events at the new location will also benefit, as well as area restaurants that will need additional workers.
"There's this tremendous spin-off that happens with more jobs," says Belmonte.
Revitalization of East Bay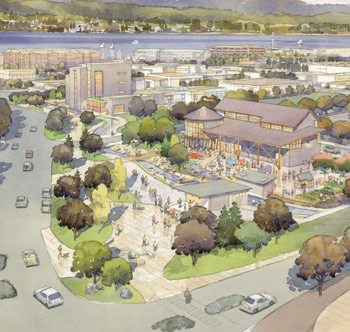 Community and regional leaders agree: the New Hands On Children's Museum is the most significant project in the City of Olympia in 18 years.
The museum is the anchor project in a new mixed-use development that includes the LOTT WET Center, and the new the East Bay Plaza, a public space showcasing art, reclaimed water features, and green space.
By partnering with the Port of Olympia, LOTT, and the City of Olympia, the New Hands On Children's Museum has become a centerpiece to a revitalized, re-energized East Bay creating a cluster of projects that will draw visitors from outside of the area. "A destination development is something we haven't had in Olympia," explains Belmonte.
"Research shows that a key indicator of economic health is families in the downtown core," says Belmonte. "If you have a downtown core that feels safe enough for families to come into you're likely to have a healthier, more thriving downtown.
The Port of Olympia started doing public outreach in 2004 with the goal of redeveloping the East Bay area, which had languished for many years.
"What we heard from the public was that they wanted a public gathering area and mixed-use development that would focus on creating a vibrancy to downtown," says Mike Reid, Senior Manager, Business Development at the Port of Olympia.
Reid says the plaza is a central piece to the revitalization of East Bay, and that the New Museum is equally essential. "The New Museum helps revitalize the area and get good pedestrian traffic through there."
Further development in East Bay is on the horizon. The Port is working with Lorig, a Seattle development firm who has taken out an option on the large parcel of land immediately across from the New Hands On Children's Museum.
"They're spending this year doing their homework to determine the best use for that property in this marketplace," says Reid. Early indications are that the firm is evaluating whether or not a hotel is the right fit for the property.
The Port's biggest goal is to create an active revenue-generating, job-based development, but also a catalyst for further development throughout downtown.
"We're hoping this spurs other investors who aren't even on Port property to come in and look at Olympia as a good place to invest their money," says Reid.
Sunde, with the Thurston County Economic Development Council agrees, and knows the importance of the new Hands On Children's Museum to the overall renewal of East Bay and surrounding downtown Olympia areas.
"When you have something like the Museum that is built in a community, it is going to attract additional development," she says. "We're already seeing that interest around East Bay and I think that's eventually going to impact downtown Olympia in a positive way, as well."