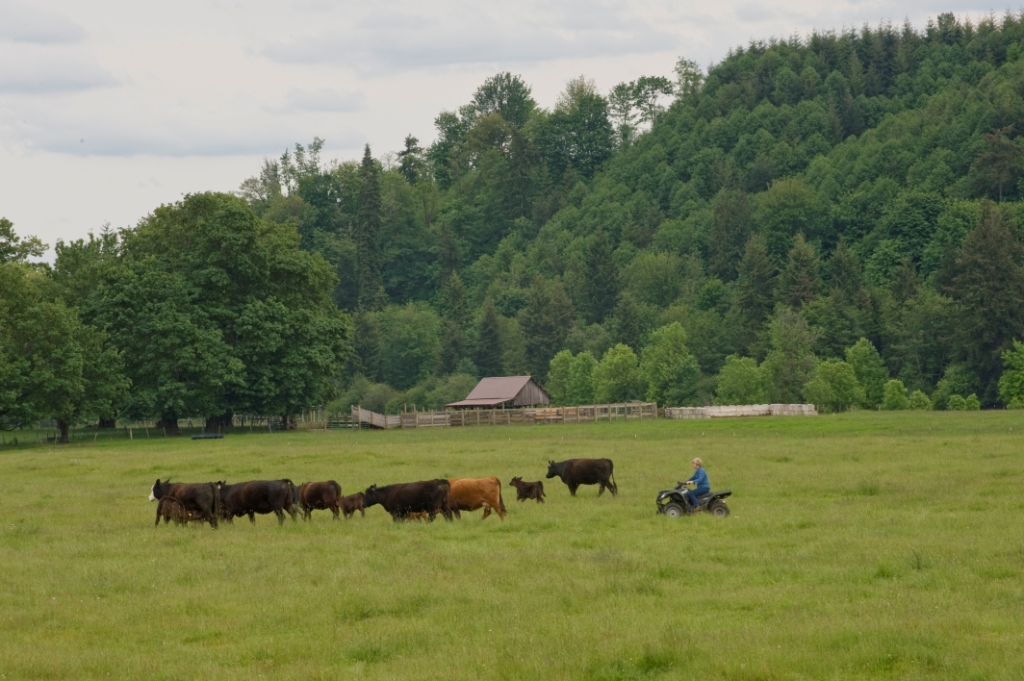 By Amy Rowley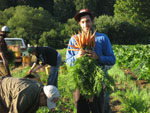 I am a hobby gardener.  I like to raise crops that my kids can pick directly from the garden (think "easy to grow" carrots and sugar snap peas).  My gardening skills look impressive but that's truly a result of a strategically placed garden bed to maximize sunlight and  the benefit of an automatic watering system (aka my husband).
In reality, I'm quite lazy once the seeds start sprouting.  I don't pay attention to the soil acidity, weed frequently, and leave the fertilizer to my chickens.  Basically, my family just harvests and consumes.
Real farmers – now that's where I am in awe.  Thurston County is blessed with some highly skilled, hard working farmers, ranchers, and food producers.  With a focus on eating local foods, Olympia is sprouting up to support agriculture.
Preserving Farm Land
Connie Allison is right in the middle of the efforts to raise awareness about Thurston County farm land.  Allison is the Tumwater Farmers Market manager, coordinator of the local Farm Map, and a flower grower with her daughter.  She is also a member of the South of the Sound Community Farm Land Trust (SSCFLT).
SSCFLT was formed over 20 years ago to link the common goals of several groups – local farmers, agriculture preservation supporters, affordable housing advocates, and active citizens concerned about sustainable land use.
A community land trust is created to acquire and hold land for the benefit of a community.  In this case, SSCFLT purchases farm land and leases it back to farmers, with a focus on maintaining a viable agriculture industry.  "This process creates sustainable agriculture and economic stability.  We're able to maintain a local agriculture base," reports Allison.
Educating New Farmers
Enterprise for Equity, which helps people with limited incomes start and sustain a business, offers a widely popular "agripreneur" business training program.  "Our agri-preneurship training program helps people who want to grow, process and distribute local food to our neighbors, schools, and restaurants.  We help these entrepreneurs learn the tools to become more profitable in their small businesses with training, micro-loans, and support," says Lisa Smith, Executive Director of Enterprise for Equity.  A few of the program's graduates sell at the Tumwater Farmers Market.
"The economic downturn has given some people the opportunity to live their dream of being a farmer.  The stereotypical image of 'who is a farmer' is being replaced by a family farm that grows a diversity of crops, practices great farming methods and provides a direct benefit to our community," states Allison.  (Check out this previous post about Community Supported Agriculture, or farm share boxes.)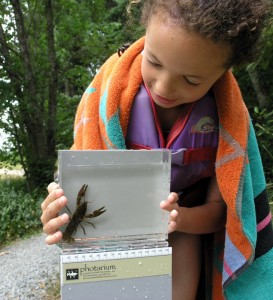 Circle Hawk Farm is an example of how one farmer uses her land to provide a variety of learning opportunities.  "Our educational farm is teaching people of all ages how to sustainably grow food," says owner Shelly Bentley who adds that the farm "demonstrates the balance between growing and preserving an ecosystem."
Here is a sampling of how Bentley incorporates learning into the daily farm operations:
Komachin Middle School students visit the property to test water quality in Spurgeon Creek two times a year.  The creek  passes around the property.  Komachin and South Sound Green also honor Martin Luther King Day of Caring by spending time at the farm and helping in the Riparian Restoration Area, wetland mitigation site, and gardens.
An edible forest garden demonstration site is used for homeowners to learn how to replace their lawns with edible plants.
Internships are offered to educate college students about sustainable gardening practices, land conservation, and fish and wildlife habitat restoration.  Food grown by the interns is donated to the Thurston County Food Bank.
Swallow Circle Summer Camp provides an ecological and art-oriented camp option for children between the ages of 4-12.
Interpretive plant identification signage is located in the wetland mitigation site.  The signage was designed and built by Evergreen State College interns.
"As farms disappear from our landscape and our life experience, so do they disappear from our mental map negatively affecting our civic intelligence.  In other words, if you know (physically, intellectually, & culturally) that sweet carrots require rich living soil than you're going to vote & advocate to protect farmland or prevent soil erosion and entice a new generation of farmers.  Who doesn't love a sweet carrot?!" remarks Kim Gaffi, GRuB's Executive Director.  GRuB has been been running agriculture-based alternative education, employment and drop-out prevention programs for the past 15 years.  The farm creates an empowering, nurturing, and safe environment for youth.
Marketing Crops
There is a national trend towards tourists choosing to skip traditional attractions in favor of saving the local community's agriculture.  "With a focus on local food and good eating, visitors are becoming more interested in rural sites and the pastoral landscape," comments Allison.
Local farms are using the agri-tourism trend to help sustain their operations.  Some farmers choose to hold events on location so people can taste local food.  Helsing Junction Farm hosts a three-day local music fest in Rochester.  Many farms, such as GRuB, are set up to tour school groups.  Colvin Ranch arranges an annual party in mid-May that includes education, prairie walks with a naturalist and local vendors.
Area wineries frequently throw gatherings to highlight their wine paired with local food.  Take, for example, Walter Dacon Winery's Memorial Day festivities that feature Taylor Shellfish steamer clams.
"It's our experience as farmers that people profoundly enjoy connecting with farms.  Farms enrich our lives as does access to fresh vegetables, fruit and other farm products," states Helsing Junction Farm's co-owner Annie Salafsky.
"Our philosophy is to stay as close to the customer as possible.  I enjoy having the direct one-on-one relationship with the customer.  Everything we sell has our name on it," says Fred Colvin, owner of family-operated Colvin Ranch in Tenino.
Colvin, who raises cattle on part of his family's original homestead, sells about 60% of his production directly to consumers.  The remainder is sold to local co-op's and the Mark Restaurant.
"There is a segment of the population that is moving away from eating prepared foods.  They are sitting down for a family meal and it's important for these people to know how food is raised," adds Colvin.
"Farm land is a key component of the foundation for a solid economy," summarizes Allison.
"Preserving land and eating local is part of a positive feedback loop.  When we see and eat food growing in our community, we're reminded of where food really comes from, and thereby make better choices as a citizenry about the future of local agriculture and farmland," says Gaffi.
Salafsky adds, "having a thriving food shed is an important part of food sovereignty – something we all should be aiming for."
"I love how our area farms are all connected.  We take care of each other, but it's really because of the support from local people that are willing to buy our food that we can make it," adds Bentley.
For more information, visit these links:
South of the Sound Community Farm Land Trust